STPP Yogyakarta Siap Transformasi jadi Politeknik Pembangunan Pertanian
Agricultural Extension Schools in Indonesia are Ready for Transformation into Polytechnic
Editor : M. Achsan Atjo
Translator : Dhelia Gani

PUBLISHED: Minggu, 15 April 2018 , 04:35:00 WIB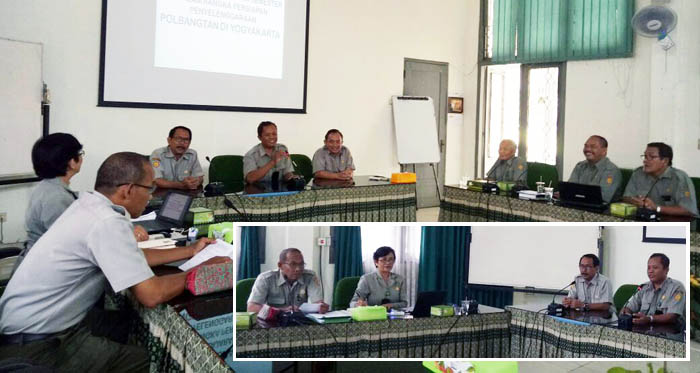 Wakil Ketua STPP Yogyakarta, Radjiman SP (tengah) mewakili Ketua Ali Rachman memimpin rapat terkait persiapan menjadi Polibangtan didampingi Kabad Administrasi Umum, Irwan Johan Sumarno (kiri) Foto: istimewa
Yogyakarta (B2B) - Sekitar 30 peserta di lingkup Badan Penyuluhan dan Pengembangan SDM Pertanian (BPPSDMP) dan Sekolah Tinggi Penyuluhan Pertanian - STPP Yogyakarta selama dua hari, 12 dan 13 April, mengikuti penyusunan rencana pembelajaran semester - RPS dan bahan ajar dalam persiapan transformasi menjadi Politeknik Pembangunan Pertanian - Polibangtan.

Wakil Ketua STPP Yogyakarta, Radjiman mewakili Ali Rachman mengatakan persiapan transformasi tersebut sesuai amanah UU Pendidikan Tinggi No 12/2012, yang mengisyaratkan kelembagaan pendidikan tinggi di Kementerian Pertanian RI mengerucut pada perubahan kelembagaan menjadi pendidikan vokasional atau politeknik.

"RPS dan bahan ajar harus disiapkan menyikapi perubahan STPP menjadi Polibangtan sehingga perlu kesiapan mulai dari kurikulum, RPS, bahan ajar, sarana dan prasarana dan lainnya sehingga STPP Yogyakarta pada tahun ajaran baru 2018/2019 siap menerima mahasiswa baru Polibangtan," kata Radjiman yang didampingi Kabad Administrasi Umum STPP Yogyakarta, Irwan Johan Sumarno, Kamis (12/4).

Menurutnya, transformasi pendidikan pertanian tidak hanya menyangkut transformasi kelembagaan, juga menyangkut tranformasi penyelenggaraan pembelajaran, tenaga pengajar, program dan kerjasama dalam mempersiapkan perubahan STPP di bawah kendali tugas BPPSDMP) menjadi Polibangtan.

Kepala BPPSDMP Kementan, Momon Rusmono dalam berbagai kesempatan mengingatkan bahwa Polibangtan bertumpu pada ilmu-ilmu pertanian terapan yang mengadopsi konsep ´teaching factory´ dengan orientasi pada produksi dan bisnis, maka politeknik akan menghasilkan tenaga vokasi terampil dan bukan sekadar penyuluh pertanian.

Dia mengharapkan lulusan Politani dapat menghasilkan beragam inovasi di bidang pertanian yang dapat diterapkan di lapangan, sehingga mampu memberikan terobosan untuk mendukung kedaulatan pangan, dengan melakukan penyesuaian seperti penyiapan program studi baru, prasarana dan sarana hingga penambahan tenaga pengajar.

"Tentunya, dosen kami tambah dan prasarana maupun sarana akan disiapkan untuk mendukung teaching factory," kata Momon.

Selain STPP Yogyakarta ada sembilan STPP lain yang akan transformasi menjadi Polibangtan yakni Sekolah Tinggi Penyuluhan Pertanian dan Perkebunan - STPP Medan (Sumut); Sekolah Tinggi Penyuluhan Pertanian dan Peternakan (STPP) di Bogor (Jabar), Magelang (Jateng), Malang (Jatim), Gowa (Sulsel), Manokwari (Papua); Sekolah Menengah Kejuruan - Pertanian Pembangunan - SMK-PP Negeri Banjarbaru (Kalsel), Sekolah Menengah Kejuruan Pertanian Pembangunan - SMKPPN Sembawa (Sumsel), dan SMK Pertanian Pembangunan Negeri - SMKPPN Kupang (NTT).

Radjiman menambahkan Polibangtan akan mengintegrasikan proses pembelajaran dengan produksi dan menumbuhkan jiwa wirausaha pada pelajar dan mahasiswa melalui model pembelajaran utama adalah teaching factory dan teaching farm (TEFA).

"Kementan menerapkan TEFA sebagai pembelajaran yang berorientasi produksi dan bisnis. Targetnya, adalah proses penguasaan keahlian atau keterampilan yang dilaksanakan berdasarkan prosedur dan standar bekerja yang sesungguhnya, untuk menghasilkan produk atau jasa sesuai kebutuhan konsumen," kata Radjiman.

Prinsip dasar TEFA adalah mengintegrasikan pengalaman dunia kerja ke dalam kurikulum sekolah, yang merupakan perpaduan dari pembelajaran berbasis produksi dan pembelajaran kompetensi.

"Semua peralatan dan bahan serta pelaku pendidikan disusun dan dirancang untuk melakukan proses produksi dengan tujuan menghasilkan produk atau jasa," kata Radjiman.
Yogyakarta (B2B) - Senior officials the Director General of Agricultural Extension and Human Resource Development in the Indonesian Agriculture Ministry for two days, 12 and 13 April, discuss semester learning plan or RPS and teaching materials before transformation into agricultural development polytechnic or Polibangtan.

Deputy Rector of STPP Yogyakarta Radjiman said the transformation is in accordance with the Act of Higher Education Number 12/2012, which suggests higher education in the ministry of agriculture to institutional change into vocational or polytechnic education.

"Teaching materials should be prepared to respond to the change of STPP into Polibangtan so it needs readiness starting from the curriculum, RPS, teaching materials, facilities and infrastructure," Radjiman said.

According to him, the transformation of agricultural education is not only about institutions, as well as transformation of learning, lecturers, programs and cooperation into Polibangtan.

Indonesian Agriculture Ministry prepares the development of 10 agricultural polytechnics across the country based on applied agricultural sciences with a ´teaching factory´ approach with production and business orientation, so that polytechnics can produce skilled vocational workers and not just agricultural extension workers, according to senior official.

Director General of BPPSDMP Momon Rusmono expects the graduates to apply their knowledge to the farmers, so that it can support the increase of food production.

"Obviously, we will add lecturers, infrastructure and facilities to support teaching factory," Mr Rusmono said.

The 10 schools are the College for Agriculture and Plantation - STPP Medan (North Sumatera); College of Agricultural Extension and Livestock - STPP in Bogor (West Java), Magelang (Central Java), Malang (East Java), Gowa (South Sulawesi), Manokwari (Papua); College of Agricultural Extension - STPP Yogyakarta; Vocational High School - Agricultural Development - SMK-PP Banjarbaru (South Borneo), Sembawa (South Sumatera) and Kupang (East Nusa Tenggara).

Radjiman said the Polibangtan will integrated learning process with production and entrepreneurship to students through teaching factory and teaching farm, or TEFA.

"The ministry will implement TEFA as learning-oriented production and business. The goal, is the process of mastering skills based on actual procedures and working standards for products and services according to the needs of consumers," he said.

The basic principle of TEFA is the integration of work experience into the school curriculum as a combination of production-based learning and competence.

"Equipment and teachers are designed for the process of making products or services," Radjiman said.