Mobilisasi Alsintan, STPP Yogyakarta Dorong Efektivitas UPJA Purworejo
Indonesian Ministry Reminded the Farmers Optimized Agricultural Machinery
Editor : M. Achsan Atjo
Translator : Dhelia Gani

PUBLISHED: Sabtu, 31 Maret 2018 , 18:59:00 WIB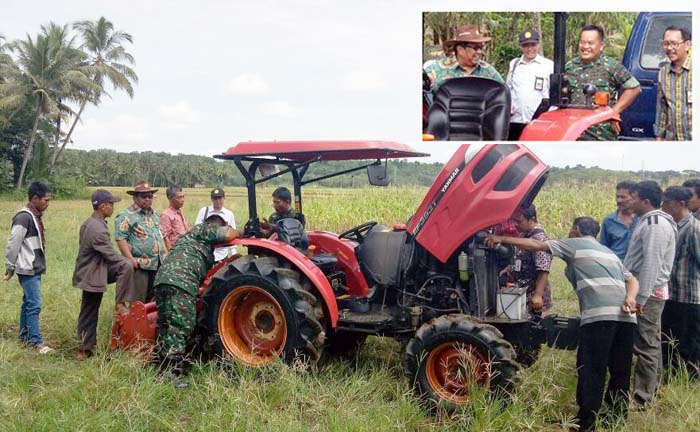 REFRESH PENGELOLAAN: Kegiatan refresh pengelolaan Alsintan UPJA Madu Traktor ditinjau PJ OPA Yogyakarta, Ali Rachman didampingi Koordinator Tim Alsintan, Irwan JS dan Babinsa Koramil (inset) Foto2: Humas STPP Yogyakarta
Purworejo, Jateng (B2B) - Menteri Pertanian RI Andi Amran Sulaiman kerap mengingatkan kepada para petani penerima bantuan alat mesin pertanian (Alsintan) untuk pandai merawat Alsintan sebagai milik publik, yang dibeli dengan uang rakyat karena perawatan yang baik akan membuat jangka waktu pemanfaatannya bisa lebih lama untuk mendukung peningkatan produksi pangan strategis, dan melakukan mobilisasi pemanfaatan Alsintan.

Seruan itu disampaikan oleh Penanggung Jawab Penanggung Jawab Optimalisasi Pemanfaatan Alsintan - PJ OPA Yogyakarta, Ali Rachman saat kunjungan kerja di usaha pelayanan jasa Alsintan (UPJA) Madu Traktor di Desa Kemadu, Kecamatan Kutoarjo, Kabupaten Purworejo, Provinsi Jawa Tengah, Rabu (28/3) didampingi Koordinator Tim Alsintan STPP Yogyakarta, Irwan Johan Sumarno; dan para instruktur Alsintan di antaranya Rajendra Rohiyat, Kodrad Winarno dan Budi Wijayanto; dan Koordinator Balai Penyuluhan Pertanian - BPP Kutoarjo, Ekowati SP.

"Arahan Mentan, pengelola UPJA diharapkan mendukung mobilisasi Alsintan semaksimal mungkin. Caranya, apabila pekerjaan di sawah telah rampung maka Alsintan dipindahkan ke petani atau kelompok tani lainnya, dengan cara meminjamkan atau menyewakan, dan sebagian uang sewa dimanfaatkan untuk perawatan dan perbaikan Alsintan," kata Ali Rachman yang juga menjabat Ketua STPP Yogyakarta jurusan penyuluhan pertanian (Jurluhtan).

Dia mengapresiasi kegiatan refresh pengelolaan UPJA Madu Traktor untuk meningkatkan kinerja pemanfaatan Alsintan ke depan mendukung peningkatan produksi pangan strategis khususnya padi, jagung, dan kedelai atau Pajale.

"STPP Yogyakarta bersikap terbuka mendukung optimalisasi Alsintan yang dicanangkan Mentan Amran Sulaiman melalui kegiatan pelatihan didukung SDM berkualitas di bidang mekanisasi pertanian dari Jurluhtan," kata Ali Rachman.

PJ OPA Yogyakarta merujuk pada wilayah kerja komando resort militer - Korem 072/Pamungkas di bawah kendali Kodam IV/Diponegoro yang meliputi 10 komando distrik militer (Kodim) dan satu batalion infanteri - Yonif 403/Wirasada Pratista yakni Magelang, Wonosobo, Temanggung, Purworejo, Kebumen, Bantul, Gunung Kidul, Kulon Progo, Sleman, dan Yogyakarta.

Seperti diberitakan pertengahan Februari lalu di Pontianak, Kalbar (20/2), Kepala Badan Penyuluhan dan SDM Pertanian (BPPSDMP) Momon Rusmono menyatakan bahwa Pemerintah RI akan melakukan monitoring dan evaluasi pemanfaatan alat mesin pertanian (Alsintan) khususnya 113.515 unit traktor roda dua dan 6.280 roda empat, dan 17.684 mesin panen (combine harvester) di 13 provinsi, yang dihibahkan Kementerian Pertanian kepada para petani pada 2016 dan 2017.

"Dirjen PSP yang punya Alsintan dan saya sebagai kepala BPPSDMP ditugasi oleh Mentan untuk optimalisasi Alsintan yang sudah dihibahkan kepada petani melalui Poktan, Gapoktan, brigade Alsintan kabupaten dan provinsi maupun di Kodim dan Korem, juga unit usaha jasa pelayanan Alsintan atau UPJA," kata Momon Rusmono di Pontianak, Selasa (20/2) pada rapat pimpinan (Rapim) tentang luas tambah tanam Provinsi Kalimantan Barat.

Sekretaris BPPSDMP, Andriko Noto Susanto pun mengingatkan bahwa Alsintan yang diterima petani dibeli dari uang rakyat oleh Kementerian Pertanian RI, dan Presiden Joko Widodo menginstruksikan memanfaatkan anggaran di kementerian untuk mendukung petani sebagai penyedia utama pangan di negeri ini, karena tanpa kerja keras petani maka bangsa Indonesia akan kelaparan sehingga mengganggu stabilitas dan keamanan negara.

UPJA Madu Traktor
Ekowati SP selaku Koordinator BPP Kecamatan Kutoarjo, Kabupaten Purworejo mengapresiasi dukungan STPP Yogyakarta mendukung UPJA setempat meningkatkan efisiensi dan efektivitas pemanfaatan Alsintan untuk kepentingan petani dan peningkatan produksi pertanian.

"Kami sangat bersyukur dan terima kasih pada perhatian STPP Yogyakarta menyambangi UPJA di Kutoarjo, sehingga memberi keyakinan pada kami tidak bekerja sendirian, tapi negara hadir di sini diwakili Pak Ali Rachman dan tim untuk memperhatikan dan mendukung kami bekerja," kata Ekowati SP.

Ali Rachman mengingatkan lagi tentang instruksi Mentan Amran Sulaiman khususnya kapasitas kerja Alsintan per hari seperti traktor roda dua (TR2) adalah 0,3 hektar, 2 hektar untuk TR4, mesin panen kecil/combine harvester (CHK) 0,6 hektar, 1,2 hektar untuk ukuran sedang (CHS) dan yang besar (CHB) adalah 2 hektar.

Irwan Johan Sumarno selaku Koordinator Tim Alsintan STPP Yogyakarta menyerukan UPJA Madu Traktor untuk merawat Alsintan bantuan pemerintah, pemanfaatan maksimal diikuti perawatan kebersihan dan mesin secara berkala, harga sewa terjangkau petani, mengubah sudut pandang dari sistem individu menjadi kelompok sehingga hamparan sawat lebih luas, memanfaatkan combine harvester akan membuat hasil panen padi lebih bersih dan meminimalisir losses gabah kering panen (GKP).

"Kegiatan dilanjutkan dengan pertemuan lapang untuk praktik perawatan dan mobilisasi traktor di wilayah Gapoktan Madu Makmur di Desa Kemadu," kata Irwan JS melalui pernyataan tertulis.
Purworejo of Central Java (B2B) - Indonesian Agriculture Minister Andi Amran Sulaiman often reminds the farmers who receive agricultural machinery assistance program or Alsintan purchased with people´s money because good care will make longer use to support improved strategic food production and utilization Alsintan mobilization.

It was stated by the Person in Charge of Alsintan for Yogyakarta province or the PJ OPA Ali Rachman while working visit in Madu Traktor agricultural machinery service business or UPJA in Kemadu village of Kutoarjo subdistrict in Purworejo district of Central Java province on Wednesday (March 28) Team Coordinator of the STPP Yogyakarta, Irwan Johan Sumarno supported by instructors Rajendra Rohiyat, Kodrad Winarno and Budi Wijayanto; and Coordinator of Agricultural Counseling Center of BPP Kutoarjo, Ekowati SP.

"The ministerial instruction, UPJA manager is expected to support the mobilization of Alsintan as much as possible. "Utilization of the Alsintan must be optimal. No one is stuck. While it is processing the soil ... tractor two and four wheels that work, the rice transplanter automatic break," Mr Rachman said.

He appreciated the refresh activity of UPJA Madu Traktor management to improve the utilization performance of Alsintan in the future to support the increase of strategic food production especially rice, corn, and soybean or Pajale.

"The STPP Yogyakarta opening up to other UPJAs in his work area interested in undergoing training in STPP Yogyakarta, it as instructed Agriculture Minister Andi Amran Sulaiman," Mr Rachman said.

PJ OPA Yogyakarta refers to the working area of the military resort command or Korem 072/Pamungkas ie Magelang, Wonosobo, Temanggung, Purworejo, Kebumen, Bantul, Gunung Kidul, Kulon Progo, Sleman, and Yogyakarta.

Previously reported, Director General of Agency for Agricultural Extension and Human Resources Development or BPPSDMP Momon Rusmono, Tuesday (February 20) reminded that Indonesian government will monitor and evaluate the utilization of agricultural machinery, in particular 113,515 units of two-wheeled tractors and 6,280 four-wheelers, and 17,684 combine harvests in 13 provinces, granted by the agriculture ministry to farmers in 2016 and 2017.

"I was assigned by agriculture minister for optimization of farm machinery which has been granted to farmers through farmer groups, combined farmer groups, grantee groups in provinces to districts and cities, army and agricultural machinery services or UPJA," said Mr Rusmono in Pontianak.

The Secretary of BPPSDMP Andriko Noto Susanto Alsintan received farmers who was purchased of public money by the Indonesian Agriculture Ministry, and President Joko Widodo instructed the utilization of state budget at the ministry to support farmers as the main food provider in the country.

Madu Traktor Unit Services
Ekowati SP as the coordinator in Kecamatan Kutoarjo appreciated the support of STPP Yogyakarta to support the local UPJA to improve efficiency and effectiveness of Alsintan utilization for farmers´ benefit and increase agricultural production.

"We are very grateful to the attention of STPP Yogyakarta to visit here, so we are sure not to work alone, but the country present here represented Mr. Rachman and the team to support our work," Ekowati said.

Mr Rachman recalled Minister Sulaiman´s instructions on the work capacity of Alsintan per day such as 2-wheeled tractor machine is 0.3 hectare, 2 hectare for 4 wheel tractor, 0.6 hectares for small combine harvester, 1.2 hectares for medium, and 2 hectares for big combine harvester.

Irwan Johan Sumarno as coordinator of STPP Yogyakarta team called UPJA Madu Traktor to take care of government assistance, maximum utilization, periodic maintenance of the machine, affordable rental rates, group work so that the expanse of the wider nurses, utilizing combine harvester will make the rice harvest cleaner and minimize the losses of dry grain harvest.

"The activity was continued with field meetings for the practice of tractor maintenance and mobilization in Kemadu village," Mr Sumarno said in a written statement.