Dirjen Suwandi Target Peningkatan Ekspor Tanaman Pangan Segar
Indonesia`s Fresh Food Crop Exports is Expected to Increase this Year
Reporter : Gusmiati Waris
Editor : Cahyani Harzi
Translator : Dhelia Gani

PUBLISHED: Selasa, 13 Agustus 2019 , 02:17:00 WIB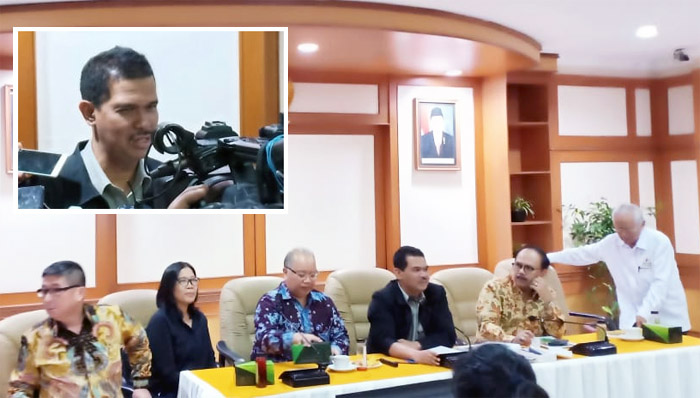 DISKUSI EKSPOR: Dirjen Tanaman Pangan Suwandi [jaket hitam] memimpin diskusi di kantornya di Jakarta, dan menjawab pers [inset atas] Foto2: B2B/Mya
Jakarta [B2B] - Kementerian Pertanian RI berupaya meningkatkan ekspor tanaman pangan segar, setelah realisasi ekspor Semester I 2019 mencapai 14.924 ton senilai Rp170 miliar dan ditargetkan meningkat dua kali lipat pada Semester II 2019 dari hasil panen berikutnya untuk komoditas beras organik, beras ketan, jagung, kedelai, kacang tanah, kacang hijau, ubi kayu, ubi jalar dan talas.
"Kementan memperkirakan meningkat dua kali lipat, karena panen berikutnya belum selesai. Bisa dua kali lipat volume dan nilai ekspornya kalau sampai Desember 2019," kata Dirjen Tanaman Pangan, Suwandi kepada pers di Jakarta, Senin sore [12/8].
Dia tidak menampik bahwa Indonesia belum mengekspor beras medium dan premium, namun potensi ekspor dari besar khusus: organik, ketan dan merah, tergolong prospektif ke sejumlah negara seperti Amerika Serikat, Singapura, Timor Leste dan Australia. Volumenya sekitar 119,47 ton senilai US$221.500.
Optimisme tersebut diakui Suwandi karena dukungan kementerian terkait dan pemangku kepentingan khususnya eksportir, Kementerian Luar Negeri, Dewan Jagung Nasional, dan Kamar Dagang dan Industri Indonesia [Kadin] dan kalangan internal Ditjen TP hadir pada kegiatan diskusi dan tukar informasi lapangan yang juga dihadiri sejumlah wartawan media massa cetak, elektronik dan online.
Dirjen Suwandi yang dilantik Mentan pada akhir Juli lalu mengakui bahwa pelibatan banyak pihak sangat vital untuk mendorong pertumbuhan ekspor komoditas pertanian khususnya dari tanaman pangan segar. Mengacu pada data yang dilansir Pusat Data dan Informasi [Pusdatin] bahwa ekspor beras khusus mencapai 8.679 ton sejak 2014 hingga Juni 2019 atau 0,99% dari total ekspor tanaman pangan segar yang mencapai 874.440 ton.
"Dari pertemuan ini, kami berupaya memetakan potensi sekaligus membimbing dan memfasilitasi eksportir untuk memenuhi kualitas produksi yang diinginkan eksportir, hal itu sesuai arahan Mentan Amran Sulaiman," kata Suwandi.
Direktur Amerika II Kemenlu, Darianto Harsono mengingatkan tentang peluang ekspor komoditas pertanian ke Argentina menyusul kunjungan kenegaraan Presiden Mauricio Macri di Jakarta, belum lama ini.
"Warga Amerika Selatan saat ini peduli kesehatan khususnya beras organik, sehingga Indonesia berpeluang menawarkan produk kemasan healthy food," kata Darianto Harsono.
Sementara Kadin dan eksportir mengapresiasi kegiatan diskusi yang digagas Dirjen Suwandi untuk menyamakan persepsi dan sinergi, yang diharapkan menjadi agenda rutin, dan melibatkan unit kerja eselon satu Kementan.
Jakarta [B2B] - Indonesian Agriculture Ministry seeks to increase exports of fresh food crops, after realization of First Semester 2019 exports reached 14,924 tons equivalent to IDR170 billion, and targeted to double in the Second Half of 2019 of the next harvest for organic rice, glutinous rice, corn, soybeans, peanuts, green beans, cassava, sweet potatoes and taro.