Belajar, Kunci Tingkatkan Kompetensi SDM Pertanian: Kepala BPPSDMP
Education Key to Improve the Quality of Indonesian Agricultural HR: Official
Editor : M. Achsan Atjo
Translator : Dhelia Gani

PUBLISHED: Rabu, 08 Agustus 2018 , 23:48:00 WIB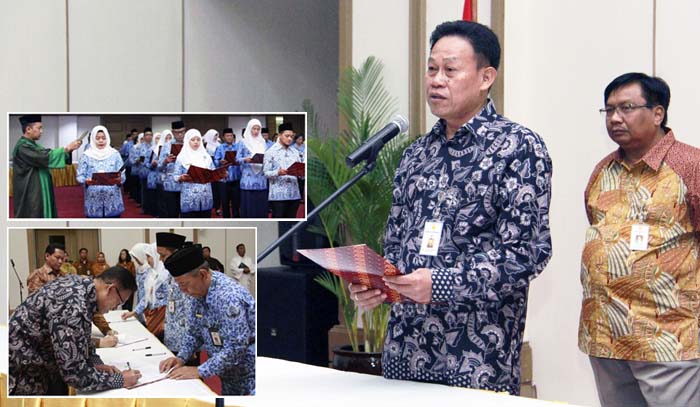 Kepala BPPSDMP Kementan, Momon Rusmono didampingi Direktur Polbangtan Yogya - Magelang, Ali Rachman memberi arahan pada 54 pejabat fungsional yang dilantik dan teken SK (Foto2: Humas BPPSDMP/Pito)
Jakarta (B2B) - Sedikitnya 54 pejabat fungsional di lingkup Badan SDM Pertanian - Kementerian Pertanian RI dilantik oleh Kepala Badan Penyuluhan dan Pengembangan SDM Pertanian (BPPSDMP) untuk ditempatkan pada unit pelaksana teknis (UPT) di seluruh Indonesia, demi mendukung kinerja abdi negara di sektor pertanian mencapai swasembada pangan strategis.
"Tidak ada cara lain untuk meningkatkan kompetensi selain belajar ... belajar, dan belajar," kata Kepala BPPSDMP Kementan, Momon Rusmono saat melantik 54 widyaiswara di Jakarta, Selasa (7/8).
Menurutnya, jabatan fungsional tidak kalah strategis dari jabatan struktural, karena ke depan, semua akan diarahkan ke fungsional khusus, dan hal terpenting adalah tunjangannya kelak setara dengan pejabat struktural.
Momon Rusmono mengingatkan, "pejabat fungsional harus mampu memotivasi diri sendiri, karena atasan saudara adalah profesi Anda sendiri. Keluarkan semua kemampuan yang ada untuk meningkatkan kapasitas institusi dan pribadi."
Tampak hadir Sekretaris BPPSDMP Kementan, Andriko Notosusanto; Kepala Pusat Penyuluhan Pertanian (Pusluhtan) Siti Munifah; Direktur Polbangtan Yogyakarta - Magelang, Ali Rachman; Kepala Balai Besar Pelatihan Peternakan - BBPP Kupang, Adang Warya; Kepala Sekolah Menengah Kejuruan Pertanian Pembangunan - SMKPP Kupang, Cornelis Kaho; dan Kepala Balai Pelatihan Pertanian - BPP Lampung, Bhakti Poerwadikarta.
Jakarta (B2B) - At least 54 functional officials of Directorate General of Agricultural Extension and HR Development at the Agriculture Ministry or the BPPSDMP Kementan inaugurated by the Director General Momon Rusmono to support performance of agricultural extensionist and civil servants across the country to achieve strategic food self-sufficiency.
"There is no other way to improve competencies other than learning ... learning and learning," said Mr Rusmono while inaugurating 54 lecturers here on Tuesday (August 8).
According to him, functional officials are as important as structural officials, for the future, will be directed to a specific functional, and the important thing is that the salary will be the same as structural officials.
Mr Rusmono reminded, "functional officials must be able to motivate themselves, because your boss is your profession. Improve the ability to increase institutional and personal capacity."
It was attended by number of high officials of the directorate general of agriculture HR.