Karantina Bintang Klub, Barcelona Tuntut Potong Gaji Pemain 70% per Pekan
Barcelona`s Quarantined Superstars Refuse to Take a 70 per cent Wage Cut
Editor : Ismail Gani
Translator : Dhelia Gani

PUBLISHED: Jum'at, 27 Maret 2020 , 00:47:00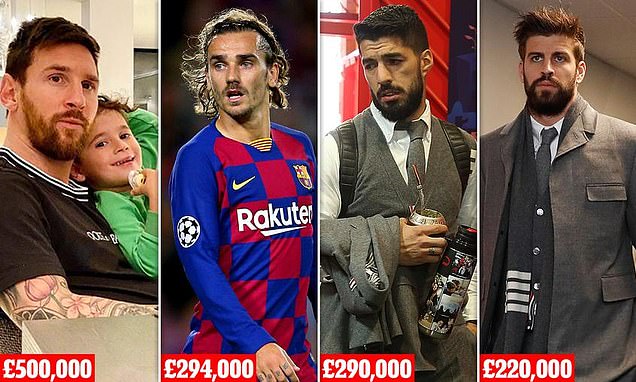 BINTANG BARCELONA: Lionel Messi, Antoine Griezmann, Luiz Suarez dan Gerard Pique [Foto2: MailOnline]
DEWAN DIREKSI Barcelona menempuh risiko memulai konflik dengan bintang-bintang mereka yang dikarantina setelah mencoba menempuh putusan radikal untuk memotong upah mereka hingga 70% karena krisis virus Corona yang memicu kekacauan di Spanyol.
Direktur klub akan membahas masalah ini dalam konferensi video hari ini [Kamis] di mana staf sementara yang tidak bermain, dan olahragawan amatir, dan penerapan pemotongan upah di seluruh klub - termasuk pemain - akan memicu perdebatan hebat.
Sampai saat ini belum ada persetujuan dari para bintang untuk melanjutkan pemotongan gaji selama Spanyol masih diblokade [lockdown].
Media setempat, Diario Sport melaporkan pada Kamis bahwa ada perbedaan pendapat tentang sejauh mana pemain harus dipotong gajinya akibat pertandingan dihentikan selama tiga bulan.
Pemotongan gaji 70% akan secara dramatis mengurangi gaji bintang-bintang terbesar Barca, Lionel Messi saat ini mendapatkan gaji pokok Rp32 miliar per pekan sebelum pajak, tidak termasuk bonus atau hak komersial.
Antoine Griezmann mengantongi Rp20 miliar per pekan, Luiz Suarez membawa pulang Rp22 miliar per pekan, dan Gerard Pique menghasilkan Rp15 miliar setiap tujuh hari.
Dalam pertemuan konferensi video pada Jumat pekan lalu, pemotongan gaji para pemain diperdebatkan dan obrolan grup WhatsApp di antara para direktur dan para pemain terus mengalami peningkatan.
Tetapi setiap kali ada komunikasi antara kedua kelompok, para pemain - yang dipimpin oleh kapten Messi, Pique, Sergio Busquets dan Sergio Roberto - belum menjelaskan bahwa mereka akan mendukung proposal, setidaknya tidak pada angka potongan gaji 70 persen yang masih mengambang seperti dilansir MailOnline.
BARCELONA'S BOARD are at risk of starting a war with their quarantined stars after attempting to push through radical plans for them to take huge wage cuts of as much as 70 per cent as the coronavirus crisis continues to cause havoc in Spain.
Club directors are due to discuss the matter in a video conference today (Thursday) where the temporary laying-off non-playing staff, and amateur sportsman, and the implementation of a wage-cut across the entire club – including players – will be up for debate.
As of yet there has been no green light from the dressing room to go ahead with slashing salaries for as long as the country remains in lockdown.
Diario Sport reported on Thursday that there are differences of opinion about the degree to which players should pay the price for the consequences of the season stopping three months short.
A cut of 70 per cent would dramatically reduce the wages of Barca's biggest stars, with Lionel Messi currently earning a basic salary of £500,000 a week before tax, not including any bonuses or image rights.
Antoine Griezmann pockets £294,000 a week, Luiz Suarez takes home £290,000 a week, and Gerard Pique earns £220,000 every seven days.
In a video conference meeting last Friday, cutting players' wages was broached and WhatsApp group chats among directors and players have been in overdrive ever since.
But whenever there has been communication between the two groups, the players - led by captains Messi, Pique, Sergio Busquets and Sergio Roberto - have yet to make it clear they would back the proposal, at least not at the 70 per cent figures floated.