Lionel Messi Tiru Gaya Maradona Angkat Trofi Piala Dunia
Lionel Messi into the Air by His Team-Mates with the Trophy - just as Diego Maradona
Editor : Ismail Gani
Translator : Novita Cahyadi

PUBLISHED: Senin, 19 Desember 2022 , 14:30:00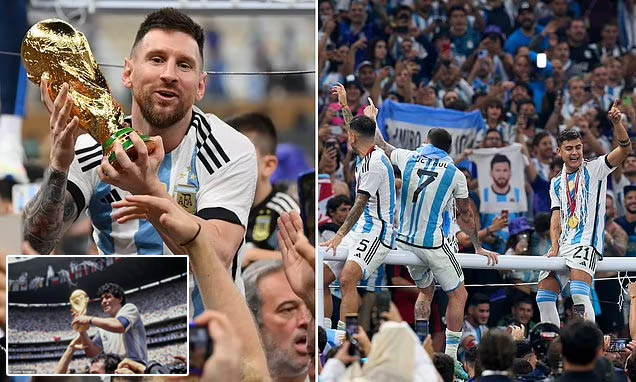 PIALA DUNIA 2022: Kapten tim Argentina Lionel Messi (kiri) merayakan juara Piala Dunia 2022 dengan berpose sama seperti, yang dilakukan Diego Maradona pada 36 tahun lalu. (Foto: MailOnline)
PEMAIN Paris Saint-German, Lionel Messi melakukan selebrasi dengan liar di lapangan dan skuadnya memberikan salah satu foto ikonik Piala Dunia setelah mengalahkan Prancis melalui adu penalti di final.
Gol-gol dari Lionel Messi dan Angel Di Maria membawa Argentina unggul 2-0 sebelum dua gol Kylian Mbappe, yang hanya selisih satu menit, menyamakan kedudukan dan mengirimnya ke perpanjangan waktu.
Namun, Argentina dan Messi akhirnya menang, menambah kejayaan 1978 dan 1986 dengan menang 4-2 melalui adu penalti.
Kekacauan merajalela saat para pemain Argentina berangkat ke arah yang berbeda setelah penalti kemenangan dicetak sebelum mereka semua berkumpul kembali saat mereka memulai pesta terbaik sepanjang masa di lapangan bersama teman dan keluarga.
Perayaan kemudian dibawa ke privasi ruang ganti mereka, meski konten dirilis oleh berbagai tokoh yang hadir.
Membangkitkan semangat tahun 1986 - tidak hanya melalui caranya, seperti Diego Maradona 36 tahun lalu, kadang-kadang membawa tim - Messi diangkat tinggi-tinggi di atas bahu berbagai individu dan berparade di sekitar lapangan saat ia menggenggam hadiah yang paling didambakannya .
Mengamankan hadiah sepak bola termegah pada malam yang penuh drama di Qatar, Messi menyamai prestasi Maradona dan dalam prosesnya memastikan tempatnya di samping mendiang legenda di jajaran pemain hebat Argentina sejati.
Sementara Messi tenggelam dalam sanjungan dari orang-orang yang menahannya tinggi-tinggi, tiga rekan satu timnya mengambil tanggung jawab sendiri untuk memanjat di atas salah satu kerangka gawang.
Leandro Parades, Rodrigo De Paul dan Paulo Dybala bertengger di atas salah satu mistar gawang saat mereka menikmati atmosfer di depan gawang Argentina yang penuh sesak, yang dilansir MailOnline.
Foto itu memperlihatkan mereka tampak memimpin nyanyian dari atas bingkai gawang - meski jaring telah dilepas, mungkin sebagai suvenir untuk dibawa tim kembali ke Buenos Aires. De Paul tampaknya memiliki sebagian darinya dililitkan di lehernya.
ARGENTINA'S players celebrated wildly on the pitch and provided one of the iconic World Cup pictures after beating France on penalties in the final.
Goals from Lionel Messi and Angel Di Maria had given Argentina a 2-0 lead before two Kylian Mbappe goals, barely a minute apart, levelled the game and sent it to extra-time.
With France looking the more likely to grab a winner, Messi struck again. However, with just minutes remaining France won a penalty - which Mbappe duly dispatched, ensuring he became the first player to score a World Cup final hat-trick since Geoff Hurst.
However, Argentina and Messi eventually prevailed, adding to the glories of 1978 and 1986 by winning 4-2 on penalties.
Chaos reigned all around as Argentina's players set off in different directions after the winning penalty was scored before they all reconvened as they kickstarted what must be the best party of all time on the pitch with friends and family.
Celebrations were then taken to the privacy of their dressing room, though content was released by various figures present.
Evoking the spirit of 1986 - not just through the way he has, like Diego Maradona 36 years ago, carried the team at times - Messi was held aloft atop of various individuals' shoulders and paraded around the pitch as he clutched the prize he craved most.
Securing football's grandest prize on a night packed full of drama in Qatar, Messi matched the achievements of Maradona and in the process ensured his place alongside the late legend in the pantheon of true Argentinian greats.
While Messi soaked in the adulation from those holding him aloft, three of his team-mates took it upon themselves to clamber on top of one of the goal frames.
Leandro Parades, Rodrigo De Paul and Paulo Dybala perched on the top of one of the crossbars as they revelled in the atmosphere in front of the packed Argentina end.
The photograph showed them appearing to lead the chants from atop of the goal frame - though the net had been removed, perhaps as a souvenir for the team to take back to Buenos Aires. De Paul appeared to have part of it draped around his neck.
Argentina supporters inside the ground far outnumbered those supporting France, with thousands of Argentinians having travelled to Qatar for the tournament.
They led the raucous chants as the players laughed, danced and played with their children on the pitch while the World Cup circus began to wind down in front of their very eyes.
Argentina's full squad are expected to return to the country as soon as possible to enjoy a parade through Buenos Aires. The flight from Qatar to Argentina will take roughly 21 hours.