PSSI Umumkan Turnamen Pramusim Liga 1 Digelar Juni 2022
PSSI Announces Pre-Season League 1 Tournament Held June 2022
Editor : Ismail Gani
Translator : Novita Cahyadi

PUBLISHED: Rabu, 25 Mei 2022 , 00:57:00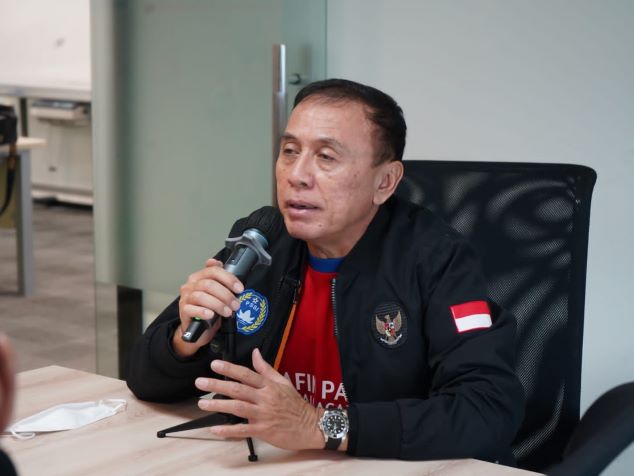 PERTANDINGAN PRAMUSIM: Ketua Umum PSSI Mochamad Iriawan saat berdiskusi dengan PT LIB terkait turnamen pramusim Liga 1.
Jakarta [B2B] - PSSI dan PT LIB akan menggelar turnamen pramusim jelang digelarnya Liga 1 2022/2023. Rencananya, turnamen ini akan diikuti semua klub Liga 1 dan berlangsung pertengahan Juni-Juli 2022.
Musim lalu, PSSI dan PT LIB menggelar turnamen pramusim dengan titel Piala Menpora dan berlangsung di empat stadion di Pulau Jawa. Untuk pramusim ini amat mungkin juga akan berlangsung di empat kota. Namun, stadion mana yang akan dipakai belum diputuskan oleh PSSI dan PT LIB.
"Hari ini saya rapat dengan jajaran LIB untuk membahas beberapa hal. Salah satunya soal turnamen pramusim, Liga 1 dan 2. Sudah ada beberapa hal yang disepakati dan ada yang belum. Kita akan terus matangkan hal ini," kata Ketua Umum PSSI Mochamad Iriawan.
Menurut Iriawan, untuk turnamen pramusim akan diselenggarakan mulai pertengahan Juni hingga pertengahan Juli dengan penonton. Namun, belum diputuskan berapa persen yang boleh masuk stadion termasuk terkait vaksinasi dan booster.
"Kita akan koordinasi dengan pemerintah. Dalam hal ini Kemenpora, Kemenkes, BNPB, Satgas Covid-19, dan Kepolisian soal berapa persen penonton yang boleh masuk stadion. Kita akan ikut apa yang diputuskan oleh pemerintah," imbuh Iriawan.
Sedangkan untuk Liga 1 dan 2, Iriawan menambahkan musim ini ada tiga klub dari Liga 2 yang promosi ke Liga 1 dan ada 3 klub juga dari Liga 1 yang degradasi ke Liga 2.
"Saya kira Liga 1 dan 2 musim ini akan berjalan seru dan ketat karena sudah diperbolehkan ada penonton. Agar kompetisi berjalan seru,adil, fairplay, dan enak ditonton, PSSI dan PT LIB tetap akan memakai asisten wasit tambahan di belakang gawang." tutup Iriawan.
Jakarta [B2B] - PSSI and PT LIB will hold a pre-season tournament ahead of Liga 1 2022/2023. The plan, this tournament will be followed by all League 1 clubs and will take place in mid-June-July 2022.
Last season, PSSI and PT LIB held a pre-season tournament with the title Menpora Cup and took place in four stadiums on the island of Java. For this pre-season very likely will also take place in four cities. However, which stadium will be used has not been decided by PSSI and PT LIB.
"Today I met with LIB ranks to discuss several things. One of them is about the pre-season tournament, League 1 and 2. There have been several things that have been agreed upon and some have not. We will continue to work on this," said PSSI General Chair Mochamad Iriawan.
According to Iriawan, the pre-season tournament will be held from mid-June to mid-July with spectators. However, it has not yet been decided how many percent are allowed to enter the stadium, including related to vaccinations and boosters.