Dunia Sorot Kemenangan Indonesia atas Singapura di Semifinal Piala AFF 2020
Indonesia Score in Extra Time to Overcome Singapore in Suzuki Cup Semi-final
Editor : Ismail Gani
Translator : Novita Cahyadi

PUBLISHED: Senin, 27 Desember 2021 , 01:28:00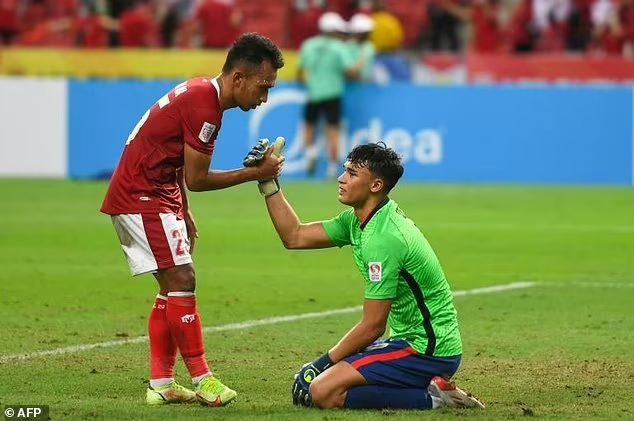 LAGA DRAMATIS: Irfan Jaya dari Indonesia (kiri) menghibur Ikhsan Fandi dari Singapura setelah leg kedua semifinal Piala Suzuki AFF (Foto: AFP)
TIM NASIONAL Indonesia berhasil melangkah ke final Piala Suzuki AFF 2020, usai mengalahkan Timnas Singapura dengan skor 4-2 di National Stadium Singapura, pada Sabtu [25/12].
Tuan rumah Singapura menyia-nyiakan kesempatan melangkah ke final dikarenakan Faris Ramli gagal mengeksekusi penalti pada waktu tambahan 30 menit dan Indonesia memanfaatkan waktu tambahan 30 menit ketika Irfan Jaya dan Egy Maulanan Vikri mencetak gol ke gawang Singapura.
Indonesia yang belum pernah memenangkan kompetisi tersebut, namun saat ini mendapatkan kesempatan kembali untuk mengakhiri kemarau panjang mereka di final pekan depan melawan Thailand.
Menyusul hasil imbang 1-1 di leg pertama, Indonesia memimpin pada menit ke-11 ketika Witan Sulaeman memanfaatkan pertahanan yang buruk untuk mengumpan bola untuk Ezra Walian untuk memanfaatkannya.
Tembakan Ricky Kambuaya tepat di atas mistar gawang dan tendangan bebas Ramai Rumakiek dihentikan oleh Hassan Sunny saat Garuda mencoba memanfaatkan keunggulan mereka, seperti dikutip AFP yang dilansir MailOnline.
Singapura mendapat pukulan telak di masa tambahan waktu ketika Safuwan Baharudin secara kontroversial dikeluarkan dari lapangan setelah ia mendapat kartu kuning kedua setelah berduel dengan bek Indonesia.
Kemudian, Lions segera kembali menyamakan kedudukan saat Indonesia berjuang untuk membersihkan tendangan bebas Shahdan Sulaiman dan Song Ui-young melepaskan tembakan ke gawang setelah perebutan mulut gawang.
Indonesia hampir mengembalikan keunggulan mereka ketika tembakan Rizky Ridho membentur mistar gawang pada menit ke-60 dan mereka mendapat dorongan lebih lanjut ketika Irfan Fandi juga menerima kartu merah karena menjatuhkan Irfan Jaya saat ia memasukkan bola ke gawang.
Kendati demikian, sembilan pemain Singapura bangkit dan unggul pada menit ke-74 ketika Shahdan Suleiman melepaskan tendangan bebas melengkung dari jarak 20 meter.
Indonesia memanfaatkan keunggulan dua pemain mereka saat Pratama Arhan menggiring bola ke gawang tiga menit menjelang pertandingan usai untuk menyamakan skor sekali lagi.
Singapura masih memiliki peluang untuk memenangkan pertandingan di waktu normal ketika mereka mendapat hadiah penalti di menit-menit terakhir, namun upaya jinak Faris dapat digagalkan oleh kiper Nadeo Argawinata.
Tuan rumah akan menyesali peluang yang hilang itu ketika Irfan memasukkan bola dari jarak dekat di menit pertama perpanjangan waktu sebelum Egy menambahkan satu gol lagi di akhir babak pertama untuk membawa Indonesia unggul dua gol.
Tim tuan rumah berjuang dengan gagah berani tetapi mereka dikurangi menjadi delapan orang ketika Hassan dikeluarkan dari lapangan pada menit terakhir perpanjangan waktu karena melakukan pelanggaran di luar kotaknya.
INDONESIA scored twice in extra time to overcome eight-man Singapore 4-2 at the city state's National Stadium on Saturday, as they reached the AFF Suzuki Cup final for the sixth time.
The hosts wasted an opportunity to win the semi-final when Faris Ramli missed a stoppage-time penalty and Indonesia capitalised in the extra 30 minutes as Irfan Jaya and Egy Maulana Vikri netted against the tiring Lions.
The Indonesians have never won the competition, but they will get their chance to end their drought in next week's final against Thailand or Vietnam.
The Thais hold a two-goal lead after the first leg of that tie.
Following a 1-1 draw in the first leg, Indonesia took the lead after 11 minutes when Witan Sulaeman capitalised on poor defending to square the ball for Ezra Walian to tap home.
Ricky Kambuaya shot just over the crossbar and Ramai Rumakiek's free-kick was stopped by Hassan Sunny as the Garuda tried to build on their advantage.
Singapore suffered a huge blow in stoppage time when Safuwan Baharudin was controversially sent off after he was shown a second yellow card following a tussle with an Indonesian defender.
But the Lions immediately got back on level terms as Indonesia struggled to clear Shahdan Sulaiman's free-kick and Song Ui-young fired home after a goalmouth scramble.
Indonesia nearly restored their lead when Rizky Ridho fired against the crossbar on the hour and they received a further boost when Irfan Fandi also received a red card for bringing down Irfan Jaya as he bore down on goal.
But Singapore's nine men rose to the occasion and went ahead in the 74th minute when Shahdan Suleiman curled in a superb free-kick from 20 metres.
Indonesia capitalised on their two-man advantage as Pratama Arhan scrambled the ball home three minutes from time to level the score once again.
Singapore still had a chance to win the game in regulation time when they awarded a last-minute penalty, but Faris' tame effort was kept out by goalkeeper Nadeo Argawinata.
The home side would rue that missed opportunity as Irfan turned the ball in from close range in the first minute of extra-time before Egy added another at the end of the first period to put Indonesia two goals up.
The home side battled gallantly but they were reduced to eight men when Hassan was sent off in the final minute of extra time for a foul outside his box.