Pemerintah akan Bangun Fasilitas Olahraga di IKN
Indonesian Govt will Build Various Sports Facilities at IKN
Editor : Ismail Gani
Translator : Novita Cahyadi

PUBLISHED: Kamis, 04 Agustus 2022 , 14:13:00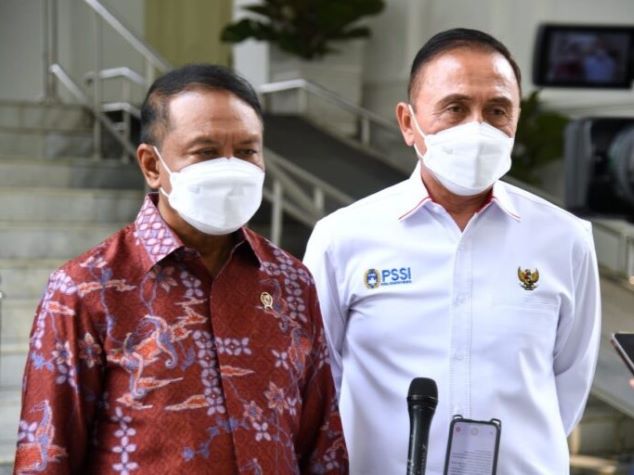 INFRASTRUKTUR: Pembangunan infratruktur ini berkaitan dengan rencana pengajuan Indonesia sebagai tuan rumah Olimpiade 2036 kelak. (Foto: Setpres RI)
Jakarta [B2B] - Pemerintah akan membangun berbagai fasilitas olahraga, baik fasilitas utama maupun fasilitas pendukung secara lengkap, khususnya pusat pelatihan sepak bola atau training center di Ibu Kota Nusantara [IKN].
Hal tersebut disampaikan oleh Presiden Joko Widodo saat menerima Menteri Pemuda dan Olahraga [Menpora] Zainudin Amali dan Ketua Umum Persatuan Sepak Bola Seluruh Indonesia [PSSI] Mochamad Iriawan di Istana Merdeka, Jakarta, Rabu [3/8].
"Bapak Presiden setelah melihat perkembangan sepak bola nasional makin baik, maka beliau memberikan arahan kepada saya dan Ketua Umum PSSI segera akan membangunkan training camp sepak bola kita, di situ semuanya sudah lengkap, dan akan dilakukan di Ibu Kota Nusantara, ibu kota negara yang baru," ujar Menpora dalam keterangannya.
Menpora melanjutkan, pembangunan ini juga berkaitan dengan rencana pengajuan Indonesia sebagai tuan rumah Olimpiade 2036 kelak.
"Sekaligus beliau beberapa waktu yang lalu sudah memberikan arahan kepada saya untuk kita bidding menjadi tuan rumah Olimpiade 2036, tetapi proposal itu sudah mencantumkan pelaksanaannya ada di IKN," imbuhnya.
Dalam kesempatan yang sama, Ketua Umum PSSI Mochamad Iriawan menambahkan bahwa pihaknya merasa gembira dengan gagasan Presiden Jokowi yang ingin membangun pusat pelatihan sepak bola di IKN. Menurutnya hal tersebut merupakan hal yang ditunggu-tunggu oleh masyarakat di Tanah Air.
"Ini yang ditunggu-tunggu oleh publik. Sekali lagi, terima kasih Pak Presiden atas atensi kepada sepak bola dan insyaallah sepak bola Indonesia akan terus baik dan maju," ujar Ketua Umum PSSI.
Turut mendampingi Presiden dalam pertemuan tersebut yaitu Sekretaris Kabinet Pramono Anung.
Jakarta [B2B] - The government will build various sports facilities, both main facilities, and complete supporting facilities, especially a soccer training center or training center in the Indonesian Capital City [IKN].
This was conveyed by President Joko Widodo when he received the Minister of Youth and Sports [Menpora] Zainudin Amali and the General Chair of the All-Indonesian Football Association [PSSI] Mochamad Iriawan at the Merdeka Palace, Jakarta, Wednesday [3/8].
"Mr. President, after seeing the development of national football getting better, he gave directions to me and the General Chairperson of PSSI to immediately build our soccer training camp, where everything is complete, and will be carried out in the Capital of the Archipelago, the new capital city of the country. " said the Minister of Youth and Sports in his statement.
Menpora continued, this development is also related to Indonesia's proposal to host the 2036 Olympics in the future.