Menpora: Liga 1 Dilanjutkan tanpa Penonton
Menpora: League 1 Continues without Spectators
Reporter : Kemal Agus Praghotsa
Editor : Ismail Gani
Translator : Novita Cahyadi

PUBLISHED: Rabu, 07 Desember 2022 , 15:24:00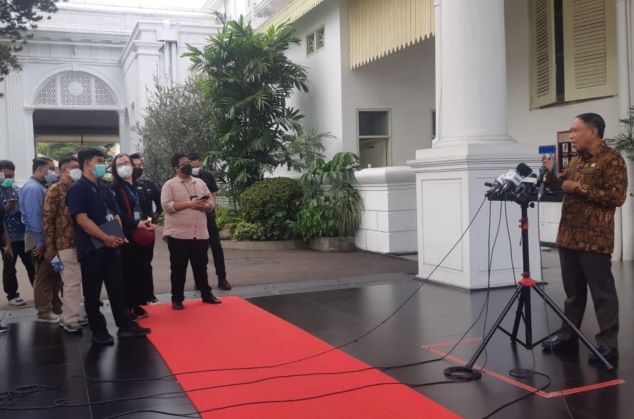 TANPA PENONTON: Menteri Pemuda dan Olahraga Zainudin Amali saat memberikan keterangan pers usai mengikuti Sidang Kabinet Paripurna yang dipimpin oleh Presiden RI Joko Widodo (Jokowi)
Jakarta [B2B] - Menteri Pemuda dan Olahraga [Menpora] Zainudin Amali menyampaikan pemerintah akan kembali melanjutkan kompetisi sepak bola Liga 1 Indonesia setelah sempat tertunda akibat tragedi Kanjuruhan di Jawa Timur yang menelan korban jiwa.
"Kemarin pemerintah yang diwakili Pak Menko Polhukam kemudian saya mendampingi dan Pak Kapolri sudah mengumumkan dilanjutkan kembali kompetisi sepak bola yang tersisa yang sempat ditunda karena ada kejadian di Kanjuruhan," ujarnya pada keterangan pers usai mengikuti Sidang Kabinet Paripurna yang dipimpin oleh Presiden RI Joko Widodo [Jokowi], Selasa [6/12].
Menpora menjelaskan, kompetisi tersebut akan dilaksanakan di Jawa Tengah dan DI Yogyakarta dengan menggunakan sistem gelembung atau bubble yaitu tanpa ada penonton.
"Dan sekarang kan masih bubble ya, bubble dengan tanpa penonton. Masih dilakukan di Jawa Tengah dan sekitarnya," jelasnya.
Lebih lanjut, Menpora mengungkapkan keputusan digulirkannya kembali kompetesi Liga 1 ini karena adanya kebutuhan para pemain tim nasional [timnas] sepak bola Indonesia untuk terus menjaga kesiapan dan terus mengasah kemampuan agar tetap prima jelang Piala Dunia U-20.
"Ada kebutuhan tim nasional kita yang butuh untuk harus ada kompetisi, apalagi kita kita akan ikut di Piala Dunia U20 karena kita tuan rumahnya, dan beberapa kegiatan lain yang sangat membutuhkan kesiapan tim nasional," ucapnya
Menurutnya, meskipun timnas asuhan Shin Tae yong ini sudah melakukan sejumlah try out di beberapa negara namun jangan sampai performanya turun akibat tidak adanya kompetisi.
"Jangan sampai dia sudah di TC di luar negeri begitu kembali kan harus dikembalikan kepada klubnya masing-masing, kemudian tidak ada kompetisi maka pasti ini perform-nya akan turun lagi," ungkapnya
Zainudin berharap dengan adanya transformasi ini dunia persepakbolaan di Indonesia akan semakin baik, baik dari segi tata kelola dan ekosistem sehingga akan membuat pembinaan-pembinaan kedepannya juga menjadi baik.
"Jadi itu mudah-mudahan ini akan semakin baik tata kelola dan ekosistem dalam persepakbolaan nasional," pungkasnya.
Jakarta [B2B] - Minister of Youth and Sports [Menpora] Zainudin Amali said the government would resume the Indonesian League 1 football competition after being delayed due to the Kanjuruhan tragedy in East Java which claimed lives.
"Yesterday, the government represented by the Coordinating Minister for Political, Legal and Security Affairs and then I accompanied and the Chief of Police announced that the remaining football competitions would resume which had been postponed due to an incident at Kanjuruhan," he said in a press statement after attending a Plenary Cabinet Meeting chaired by Indonesian President Joko Widodo. Jokowi], Tuesday [6/12].
The Menpora explained that the competition would be held in Central Java and DI Yogyakarta using a bubble system, that is, without any spectators.
"And now it's still a bubble, yes, a bubble without spectators. It is still being carried out in Central Java and its surroundings," he explained.