Ditekuk Atletico Madrid, Indonesia All Star Gagal Masuk ke Final IYC 2021
Indonesia All Star Failed to Enter IYC 2021 Final
Editor : Ismail Gani
Translator : Novita Cahyadi

PUBLISHED: Senin, 18 April 2022 , 03:24:00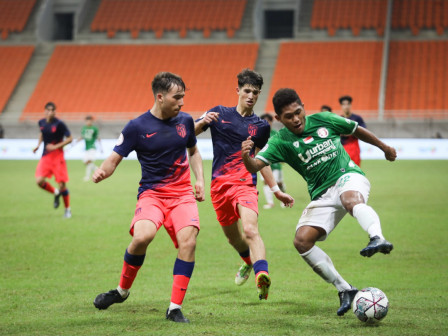 IYC 2021: Salah satu pemain Indonesia All Star sedang dihadang pemain dari Atletico Madrid U-18.
Jakarta [B2B] - Langkah Tim Indonesia All Star U-20 untuk melaku ke babak final International Youth Championship [IYC] 2021 harus terhenti, usai kalah 2-2 dari Atletico Madrid U-18 dalam laga lanjutan di Jakarta International Stadium [JIS], pada Minggu [17/4].
Tim Garuda besutan Ilham Romadhona ini, sempat unggul lebih dahulu melalui gol yang diciptakan melalui sundulan Fajar Fathur Rahman pada menit ke-18.
Tertinggal satu gol membuat tim asuhan Daniel Perez makin agresif melancarkan serangan. Hasilnya, Ninte Natter Carungal berhasil membobol gawang Tim Indonesia All Star yang dikawal Ahludz Dzikri Fikri pada menit ke-26.
Skor imbang jadi 1-1 membuat pertarungan semakin sengit. Di sisa waktu 45 menit babak pertama, kedua kesebelasan saling serang. Namun, hingga babak pertama usai kedudukan tak berubah 1-1.
Di babak kedua, kedua tim bermain lebih agresif. Hingga pada menit ke-76, tendangan keras Ivan Hernandez Nunez berhasil merobek gawang Indonesia All Star, sehingga merubah skor menjadi 2-1.
Pasukan Garuda mencoba menyamakan kedudukan dengan serangan sporadis ke lini pertahanan Atletico Madrid. Namun, hingga wasit Aprisman Aranda meniup peluit panjang tanda laga usai, skor 2-1 untuk Atletico Madrid tak berubah.
Dengan hasil ini, Atletico Madrid akan menghadapi Barcelona di babak final.
Jakarta [B2B] - The Indonesian U-20 All Star Team's move to advance to the 2021 International Youth Championship (IYC) final had to be stopped, after losing 2-2 to Atlético Madrid U-18 in the follow-up match at the Jakarta International Stadium (JIS), on Sunday ( 17/4).
The Garuda team, made by Ilham Romadhona, took the lead through a goal created by Fajar Fathur Rahman's header in the 18th minute.
Left behind by one goal made Daniel Perez's team more aggressive in launching attacks. As a result, Ninte Natter Carungal managed to break into the Indonesian All Star Team, which was escorted by Ahludz Dzikri Fikri in the 26th minute.
The score ended at 1-1, making the battle even more intense. In the remaining 45 minutes of the first half, both teams attacked each other. However, until the first half ended the position did not change 1-1.
In the second half, both teams played more aggressively. Until in the 76th minute, Ivan Hernandez Nunez's hard kick managed to tear the Indonesia All Star goal, thus changing the score to 2-1.
Garuda troops tried to equalize with sporadic attacks on the Atletico Madrid defense. However, until referee Aprisman Aranda blew the long whistle to mark the end of the match, the score of 2-1 for Atletico Madrid did not change.
With this result, Atletico Madrid will face Barcelona in the final round.