Brian `Queen` May Ungkap 10 Tahun Pembuatan Film `Bohemian Rhapsody`
Brian May Reveals it Took almost 10 Years to Make Bohemian Rhapsody Biopic
Editor : Ismail Gani
Translator : Novita Cahyadi

PUBLISHED: Minggu, 07 Oktober 2018 , 17:04:00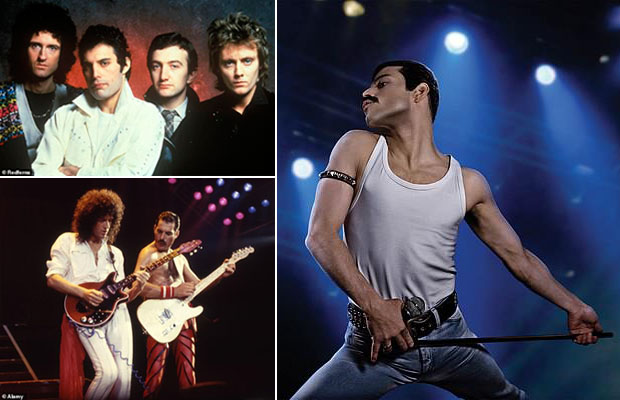 SEGERA BEREDAR: Film riwayat hidup (biopic) Freddy Mercury ´Bohemian Rhapsody´ diputar perdana di Inggris 24 Oktober dan seluruh dunia 2 November 2018 (Foto2: MailOnline)
BUTUH WAKTU hampir sepuluh tahun bagi Queen untuk membuat film biografi Freddie Mercury berjudul ´Bohemian Rhapsody´, seperti dituturkan Brian May yang mengaku butuh waktu selama itu untuk "memastikannya dilakukan dengan benar."
Gitaris rock, 71, juga memuji pemeran utama aktor utama Rami Malek, 37, untuk memerankan mendiang vokalis Queen, bahkan Brian May memuji Rami Malek berakting ´tanpa cela.´
Berbicara dengan The Mirror, dia menguraikan tentang film yang sangat diantisipasi: ´Kami memiliki satu kesempatan untuk membuat film Freddie dan ini dia.´
Tetapi dia cepat mengakui: ´Saya berupaya meyakinkan apakah film harus dibuat lantaran Freddie sangat unik - tapi jika bukan kami maka orang lain yang akan melakukannya. Dan kami ingin memastikan itu dilakukan dengan benar.´
Dari penampilan Rami, Brian menjelaskan bahwa aktor tersebut ´secara naluriah menemukan kepekaan dan ketidakamanan batin Freddie yang menyeimbangkan dan mendorong bintang rock, inovator, dan hati yang kuat.´
Dia kemudian menambahkan bahwa tidak ada orang lain yang "bisa melakukan pekerjaan yang lebih baik" untuk menggambarkannya di layar perak.
Produksi film dimulai dengan band pada 2010, dan Sacha Baron Cohen, 46, sebelumnya ditetapkan untuk berperan sebagai Freddie Mercury tetapi ditarik keluar karena ´perbedaan kreatif´, sementara Ben Whishaw, 37, juga sempat menjadi kandidat.
Freddie meninggal pada usia 45 pada 24 November 1991 akibat mengidap pneumonia bronkial yang berkembang karena komplikasi dari AIDS, setelah didiagnosis dengan penyakit itu hanya 24 jam sebelumnya.
Cuplikan pertama untuk film ini menerima banyak kritik karena pengabaian identitas seksual Mercury yang tampak samgat jelas, karena berisi adegan-adegan di mana ia bermain mata dengan seorang wanita, sementara tidak mengacu pada hubungan sesama jenisnya.
Di film trailer, Freddie ditunjukkan bertemu dengan teman sejawatnya Mary Austin (Lucy Boynton), dan itu hanya trailer terakhir yang mengisyaratkan hubungannya dengan pria, karena band ini coba menguak kemunculan perdana mereka hingga mencapai puncak ketenaran seperti dilansir MailOnline.
Berbicara kepada majalah Attitude pada September, Rami Malek mengatakan tentang tanggapan penggemar: ´Sayang sekali banyak yang berkomentar setelah satu menit teaser di mana Anda hanya ingin melihat musik. Itu sulit. ´
Dia juga menyampaikan klaim bahwa film itu tidak mengungkap penyakit Freddie Mercury, sebagaimana ia jelaskan: ´Film itu perlu didekati dengan cara yang halus. Anda tidak bisa menghindarinya.´
"Itu adalah momen penting untuk dimiliki dalam film, yang pada akhirnya sangat menyedihkan tetapi juga memberdayakan dengan berbagai cara."
IT TOOK almost ten years for Queen to make the Freddie Mercury biopic Bohemian Rhapsody, as Brian May admitted it had to take that long to ´make sure it [was] done right.´
The iconic musician, 71, also commended lead actor Rami Malek, 37, for his take on the late singer in the film, even going so far as to call it ´flawless.´
Speaking with The Mirror, he said of the hotly-anticipated movie: ´We have one shot to make the Freddie movie and this is it.´
But he was quick to admit: ´I took a bit of convincing whether the film should be made because Freddie was so unique – but if we don´t somebody else will. And we want to make sure it is done right.´
Of Rami´s performance Brian explained that the actor ´instinctively found Freddie´s inner sensitivities and insecurities that balanced and drove the powerful rock star, innovator, and liver of life.´
He then added that there was no one else who ´could have done a better job´ of portraying him on the silver screen.
Production on the film began with the band in 2010, and Sacha Baron Cohen, 46, was previously set to play Freddie but pulled out due to ´creative differences´, while Ben Whishaw, 37, was also linked to the role.
Freddie died at the age of 45 on 24th November 1991 from bronchial pneumonia which he developed as a complication from AIDS, after being diagnosed with the disease just 24 hours beforehand.
The first trailer for the film received a lot of criticism for its seemingly overt erasure of Mercury's sexual identity, as it contained scenes where he flirted with a woman, while making no reference to his same-sex relationships.
In the trailer, Freddie was shown meeting his lifelong companion Mary Austin (Lucy Boynton), and it was only the final trailer that hinted at his relationships with men, as the band navigated their rise to fame.
Speaking to Attitude magazine in September, Rami said of the fan response: ´It´s a shame that people are making remarks after a minute teaser where you just wanna see the music. It´s difficult.´
He also addressed claims that the film doesn´t show Mercury´s illness, as he explained:´The film needed to approach it in a delicate manner. You can´t shy away from it.
´It was an important moment to have in the film, one that ultimately is very sad but also empowering in a way.´