Scarlett Johansson Tuding James Franco Terlibat Kekerasan Seksual
Scarlett Johansson Calls Out James Franco after Actor was Accused of Sexual Misconduct
Editor : Ismail Gani
Translator : Novita Cahyadi

PUBLISHED: Minggu, 21 Januari 2018 , 20:40:00 WIB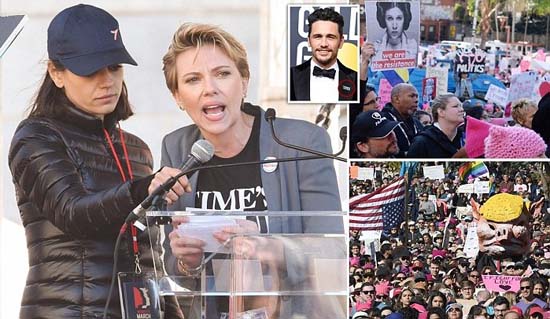 KEKERASAN SEKSUAL: Scarlett Johansson (kiri) berbicara di Women´s March di Los Angeles, total 10.000 orang mengikuti unjuk rasa di seluruh AS seperti Washington DC, New York, LA, Park City, Utah, Chicago, Austin, dan Texas. (Foto2: MailOnline)
SCARLETT JOHANSSON menyampaikan kritik keras pada Sabtu di unjuk rasa wanita atau Women´s March di Los Angeles, kepada James Franco setelah menyatakan dukungannya pada korban kekerasan seksual melalui gerakan Time´s Up Movement.

´Bagaimana jadinya bila seseorang menyatakan dukungannya pada organisasi yang mendukung korban kekerasan seksual sementara kelakuannya tidak pantas terhadap wanita yang tidak bedaya?" kata bintang Avengers, di depan kerumunan besar setelah aktris Mila ´Black Swan´ Kunis memberinya kesempatan bicara.

Pernyataan tersebut dilontarkan saat ribuan wanita berunjuk rasa di Washington untuk memperingati setahun setelah March Women yang bersejarah digelar pada 21 Januari 2017, sehari setelah pelantikan Presiden Donald Trump.

Tahun ini, pawai juga mengambil momentum gerakan Me Too dan Time´s Up menentang kekerasan seksual yang dipicu perlawanana terhadap ´orang kuat´ Hollywood.

Total 10.000 orang mengikuti unjuk rasa di kota-kota utama di seluruh AS termasuk Washington DC, New York, LA, Park City, Utah, Chicago, Austin, dan Texas.

Berbicara pada aksi Women´s March di Los Angeles, Natalie Portman mengatakan bahwa pada usia 13, dia mengalami ´kekerasan seksual´ dari penggemar dan media yang mempengaruhi perjalanan hidupnya sepanjang karirnya.

Aktris pemenang penghargaan tersebut menjelaskan bahwa dia berusia 12 tahun saat bermain di film pertamanya, ´The Professional´, di mana ia berperan sebagai seorang gadis muda yang berteman dengan pria sukses dengan harapan membalas dendam pembunuhan orang tuanya.

Saat film ini dirilis setahun kemudian, dia mengatakan bahwa dia senang bisa membuka surat penggemar pertamanya. Namun di dalam surat yang ditulis seseorang kepadanya tentang ´fantasi pemerkosaan´ kepada dirinya seperti dilansir MailOnline.
SCARLETT JOHANSSON delivered a powerful speech on Saturday at the Women´s March in Los Angeles, calling out James Franco for claiming to support the Time´s Up Movement.

´How could a person publicly stand by an organization that helps to provide support for victims of sexual assault while privately preying on people who have no power?´ the Avengers star asked, in front of the massive crowd as Black Swan actress Mila Kunis held up a microphone to her.

It comes as thousands of women march on Washington to commemorate a year since the historic Women´s March on January 21 2017, a day after Trump´s inauguration.

This year, the marches also take on the momentum of the Me Too and Time´s Up movements against sexual misconduct which were sparked with allegations against Hollywood heavyweights.

Ten of thousands marched in cities across the US including Washington DC, New York, LA, Park City, Utah, and Chicago and Austin, Texas.

Speaking at the LA Women´s March Natalie Portman said that at the age of 13, she experienced ´sexual terrorism´ from fans and the media that impacted the way she went about the rest of her career.

The award-winning actress explained that she turned 12 on the set of her first film, ´The Professional,´ in which she played a young girl who made friends with a hit man in hopes of avenging her parents´ murders.

When the movie was released a year later, she said she was excited to open her first fan letter. But inside the letter a man had written to her about a ´rape fantasy´ he had about her.