Iyeth Konsisten Dorong Musik Melayu Populer Lagi
Iyeth Consistently Push for Malay Music to be Popular
Reporter : Tito Kartolo
Editor : Wijaya O
Translator : Intan Permata Sari

PUBLISHED: Selasa, 27 November 2012 , 08:19:13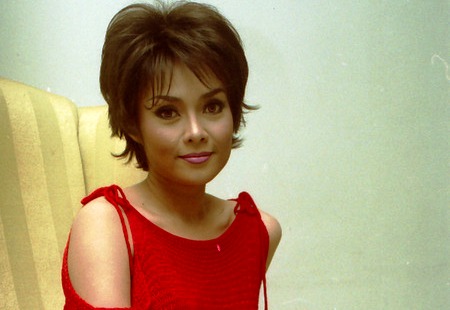 Iyeth Bustami (Foto: kapanlagi.com)
MESKIPUN lagu Melayu masih di-nomor dua-kan, penyanyi Iyeth Bustami meyakini musik Melayu akan kembali berjaya.

"Suatu saat pasti berputar lagi. Dari awal memang mau besarin musik Melayu, tapi bukan kemasan Melayu klasik. Harus dikolaborasikan, harus dipikirkan sesuai dengan jaman," kata Iyeth yang ditemui B2B di sela HUT Ke-70 Kelompok Usaha Bakrie di Jakarta Jakarta Utara, Minggu (24/11) dini hari.

Konsistensi itu pula yang membuat pelantun Timang-timang Anakku Sayang mendapat banyak order. Misalnya saat didaulat untuk menyanyikan lagu Timang-Timang Anakku Sayang dalam konser Sejuta Karya Anak Bangsa yang merupakan perayaan HUT Ke-70 Kelompok Usaha Bakrie.

"Aku respek sekali, mereka benar-benar harapkan aku nyanyi di acara ini, membawakan lagu Timang-Timang Anakku Sayang. Tersentuh, merasa sangat diperlukan untuk membawakan lagu itu. Aku bilang acara ini bagus, terkonsep, kemasan bener-bener sesuatu," puji Iyeth.
ALBEIT Malay music is still down on the list, singer Iyeth Bustami believes that it will rule someday.

"Someday the hands of time will turn. At first I really want to popularize Malay music, but not the classical version. There must be a collaboration and must keep up with the time," said Iyeth in the event of 70th anniversary of Bakrie Group in North Jakarta on Sunday night (24/11).

This consistency gets her a lot of invitations. The singer sang Timang-timang Anakku Sayang in a concert entitled Sejuta Karya Anak Bangsa in the anniversary.

"I respect it very much. They really expect me to sing in this event, singing the song. I am deeply touched that I am invited to sing the song. In my opinion, this event is good, nice concept, and it is really something," praised Iyeth.