Vaksin Covid-19? Beijing Tutupi Temuan Ilmuwan China Penguak Genetika Virus Corona
Beijing Authorities Hushed Up the Findings of a Scientist who Unlocked the Genetic Make-up of the Coronavirus
Editor : Ismail Gani
Translator : Novita Cahyadi

PUBLISHED: Minggu, 12 April 2020 , 09:31:00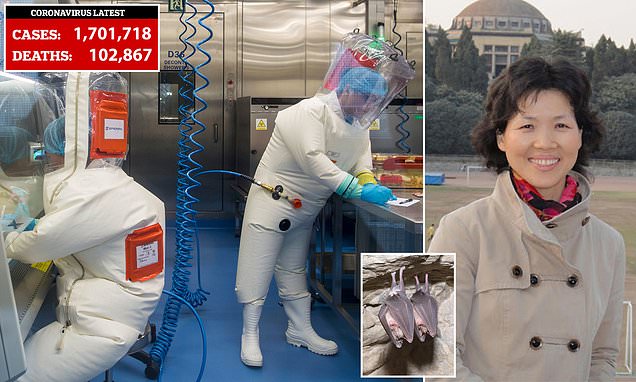 DIBERANGUS: Shi Zhengli [kanan] dijuluki ´Wanita Kelelawar´ China setelah bertahun-tahun ekspedisi perburuan virus yang sulit di gua-gua lembab yang telah menguak serangkaian penemuan ilmiah penting [Foto2: MailOnline]
SEORANG ilmuwan Cina yang merupakan salah satu pakar terkemuka dunia tentang virus Corona 'diberangus' setelah mengungkap komposisi genetik penyakit baru, yang sangat penting untuk mengembangkan tes diagnostik dan vaksin Covid-19.

Pengungkapan itu akan memicu kekhawatiran baru tentang penutupan pandemi Cina setelah meletus di kota Wuhan. Para kritikus berpendapat bahwa pimpinan Partai Komunis menggagalkan upaya untuk menahan wabah sebelum menjangkiti seluruh dunia.

Di tengah pengungkapan tersebut adalah Shi Zhengli, yang dikenal sebagai 'Wanita Kelelawar' China setelah bertahun-tahun melakukan ekspedisi perburuan virus yang sulit di gua-gua lembab yang telah menyebabkan serangkaian penemuan ilmiah penting.

Ahli virologi Shi Zhengli dipanggil kembali ke laboratorium super ketat di Wuhan pada akhir tahun lalu setelah kondisi pernapasan baru yang misterius di kota itu diidentifikasi sebagai virus corona baru - dan dalam tiga hari dia menyelesaikan pengurutan gennya.

Pekerjaan timnya, dan beberapa terobosan lain di hari-hari berikutnya, mengindikasikan virus itu terkait dengan kelelawar tapal kuda yang ditemukan lebih dari 1.000 mil jauhnya di Yunnan, sebuah wilayah di Cina selatan.

Temuan mereka menunjukkan itu mirip dengan SARS, penyakit pernapasan yang memicu epidemi di 33 negara setelah muncul dari Cina pada 2002.

Gao Yu, seorang wartawan China dibebaskan minggu lalu setelah 76 hari dikurung di Wuhan, mengatakan dia berbicara dengan Shi selama penahanannya dan mengungkapkan: 'Kami mengetahui kemudian lembaganya menyelesaikan pengurutan gen dan tes terkait sejak 2 Januari tetapi dimusnahkan.'

Mail on Sunday mengetahui bahwa pada hari yang sama, Yanyi Wang, direktur Institut Virologi Wuhan, mengirim email kepada staf dan pejabat kunci yang memerintahkan mereka untuk tidak mengungkapkan informasi tentang penyakit tersebut.

Dia memperingatkan, sesuai dengan kebocoran di media sosial yang dikonfirmasi oleh para aktivis dan media Hong Kong, bahwa 'informasi yang tidak tepat dan tidak akurat' menyebabkan 'kepanikan umum' - diperkirakan merujuk pada delapan dokter yang mengungkap peringatan tentang virus Corona kepada warga setempat telah mengakibatkan mereka ditangkap.

Wang mengatakan Komisi Kesehatan Nasional secara tegas mensyaratkan bahwa setiap tes, data klinis, hasil tes, kesimpulan yang terkait dengan epidemi tidak boleh diunggah pada media sosial, juga tidak [akan] diungkapkan kepada outlet media apa pun termasuk media resmi pemerintah, atau harus [itu] diungkapkan kepada lembaga mitra. '

Delapan hari kemudian, sebuah tim yang dipimpin oleh seorang profesor di Shanghai yang menerima sampel dari pasien yang terinfeksi, menerbitkan urutan genom pada platform akses terbuka.

Laboratoriumnya ditutup untuk 'perbaikan' dua hari kemudian.

Pada saat itu, masyarakat diberitahu bahwa tidak ada kasus baru telah dilaporkan di Wuhan selama lebih dari seminggu dan tidak ada bukti yang jelas tentang penularan manusia, meskipun puluhan petugas kesehatan mulai jatuh sakit dengan penyakit ini.

Dalam ceramah online bulan lalu, Shi Zhengli mengatakan timnya menemukan pada 14 Januari bahwa virus baru itu dapat menginfeksi orang - enam hari sebelum fakta ini diungkapkan oleh China.

Pada hari yang sama, Organisasi Kesehatan Dunia [WHO] mengeluarkan tweet yang mendukung bantahan China terhadap penularan kepada manusia.

Tim Shi Zhengli merilis datanya yang mengidentifikasi penyakit pada 23 Januari di portal ilmiah sebelum dipublikasikan bulan berikutnya oleh jurnal Nature.

Dikatakan, urutan genomik 96 persen identik dengan virus lain yang mereka temukan pada kelelawar tapal kuda di Yunnan.

Shi adalah seorang spesialis dalam penyakit, yang muncul dan telah mendapat pengakuan global untuk penelitian yang menyelidiki hubungan antara kelelawar dan virus Corona, dibantu oleh tim ekspedisi untuk mengumpulkan sampel dan penyeka di jaringan gua jinak di China selatan.

Dia adalah bagian penting dari tim yang melacak SARS hingga kelelawar tapal kuda melalui musang, makhluk seperti kucing yang sering dimakan di Cina seperti dilansir MailOnline.
A CHINESE scientist who is the one of the world's leading experts on coronaviruses was 'muzzled' after unravelling the genetic composition of the new disease, which is crucial for developing diagnostic tests and vaccines.

The revelation will fuel fresh concerns over China's cover-up of the pandemic after it erupted in the city of Wuhan. Critics argue that Communist Party chiefs frustrated efforts to contain the outbreak before it exploded around the world.

At the centre of the new claims is Shi Zhengli, known as China's 'Bat Woman' after years spent on difficult virus-hunting expeditions in dank caves that have led to a series of important scientific discoveries.

The virologist was called back to her highsecurity laboratory in Wuhan at the end of last year after a mysterious new respiratory condition in the city was identified as a novel coronavirus – and within three days she completed its gene sequencing.

Her team's work, and several other breakthroughs in subsequent days, indicated the virus was linked to horseshoe bats found more than 1,000 miles away in Yunnan, a region of southern China.

Their findings showed it was similar to SARS, a respiratory disease that sparked an epidemic in 33 countries after emerging from China in 2002.

Gao Yu, a Chinese journalist freed last week after 76 days of lockdown in Wuhan, said he spoke to Shi during his incarceration and revealed: 'We learned later her institute finished gene-sequencing and related tests as early as January 2 but was muzzled.'

The Mail on Sunday has learned that on that same day, Yanyi Wang, director of the Wuhan Institute of Virology, sent an email to staff and key officials ordering them not to disclose information on the disease.

She warned, according to a leak on social media confirmed by activists and Hong Kong media, that 'inappropriate and inaccurate information'was causing 'general panic' – thought to refer to eight whistle-blowing doctors whose warnings to local citizens had led to their arrest.

Wang said the National Health Commission 'unequivocally requires that any tests, clinical data, test results, conclusions related to the epidemic shall not be posted on social media platforms, nor shall [it] be disclosed to any media outlets including government official media, nor shall [it] be disclosed to partner institutions.'

Eight days later, a team led by a professor in Shanghai who received samples from an infected patient, published a genome sequence on an open access platform.

His laboratory was closed for 'rectification' two days later.

At the time, the public was being told that no new cases had been reported in Wuhan for more than a week and there was no clear evidence of human transmission, although dozens of health workers were starting to fall ill with the disease.

In an online lecture last month, Shi Zhengli said her team found on January 14 that the new virus could infect people – six days before this fact was revealed by China.

On the same day, the World Health Organisation issued a tweet backing China's denials of human transmissions.

Shi's team released its data identifying the disease on January 23 on a scientific portal before publication the next month by the journal Nature.

It said the genomic sequence was 96 per cent identical to another virus they found in horseshoe bats in Yunnan.

Shi is a specialist in emerging diseases and has earned global acclaim for work investigating links between bats and coronaviruses, aided by expeditions to collect samples and swabs in the fetid cave networks of southern China.

She was a key part of the team that traced SARS to horseshoe bats through civets, a cat-like creature often eaten in China.