PJ Upsus Jabar Antisipasi 6.350 Ha Sawah Terdampak Kekeringan di Indramayu
Indonesian Agriculture Ministry Anticipate Drought Rice Fields in West Java
Editor : M. Achsan Atjo
Translator : Dhelia Gani

PUBLISHED: Rabu, 01 Agustus 2018 , 00:09:00 WIB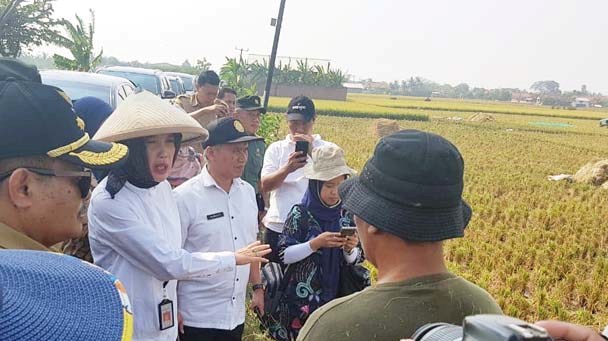 PJ Upsus Pajale Jabar, Banun Harpini (bercaping) dialog dengan petani saat memantau sawah terancam puso di Kabupaten Indramayu, Jabar (Foto: Humas Barantan)
Indramayu, Jabar (B2B) - Kementerian Pertanian RI mendapati sedikitnya 6.350 hektar sawah di Kabupaten Indramayu, Provinsi Jawa Barat terancam gagal panen atau puso apabila dalam tujuh hari ke depan tidak terairi oleh irigasi, dan didapati sekitar 258 hektar sawah yang dinyatakan puso meskipun tanaman padi tersebut sudah 60 hari lalu ditanam oleh petani.
Hasil identifikasi Kementan, lahan yang terancam puso kategori kekeringan berat mencapai 1.195 hektar, 1.095 hektar kekeringan sedang, dan 3.107 hektar kekeringan ringan dengan menyiapkan langkah antisipatif sejak dini untuk mengatasi dampak kekeringan akibat cuaca ekstrim.
Hal itu dikemukakan oleh Penanggung Jawab Upaya Khusus Swasembada Padi, Jagung, dan Kedelai Jawa Barat (PJ Upsus Pajale Jabar) Banun Harpini saat meninjau sarana irigasi di tiga kecamatan: Kandanghaur, Losarang, dan Gabuswetan pada Selasa (31/7). Turut hadir Wakil Bupati H Supendi; Kepala Balai Besar Wilayah Sungai (BBWS) Cimanuk -Cisanggarung, Bob Arthur Lambogia; Kepala Dinas Pertanian Pemkab Indramayu, H Eddy Mulyadi S; Dandim 0616/Indramayu, Letkol Kav Agung Nur Cahyono dan sejumlah pejabat Kementan.
"Kami mengecek langsung kondisi lapangan, evaluasi penanganan masalah air di tiga kecamatan, dan siapkan langkah antisipasi untuk memperkecil dampak cuaca ekstrim yang diperkirakan bakal datang hingga 2,5 bulan ke depan," kata Banun Harpini, yang juga menjabat Kepala Badan Karantina Pertanian (Barantan) Kementan.
Menyikapi 258 hektar sawah yang puso, dia langsung mengidentifikasi kelompok tani yang terdampak puso, dan segera mengusulkan pengajuan klaim asuransi pertanian ke Jasindo atau bank terkait, dan meminta pejabat di Direktorat Jenderal Prasarana dan Sarana Pertanian - Ditjen PSP Kementan untuk percepatan proses pembayaran klaimnya.
Banun Harpini juga mengimbau petani yang belum mengikuti program asuransi pertanian, untuk segera bergabung di musim tanam berikutnya, dan para petani untuk disiplin melaksanakan tanam serentak per golongan air.
Dari hasil koordinasi di lapangan, Kementan dan Pemkab Indramayu meminta BBWS Cimanuk - Cisanggarung untuk mengaliri sawah di tiga kecamatan terdampak selama tujuh hari tanpa gilir giring, dan menugaskan Kepala PSDA Kabupaten Indramayu untuk mengawal gelontoran air tersebut.
Dandim Letkol Kav Agung Nur Cahyono memerintahkan kepada Koramil Gabus Wetan untuk menangkap oknum pencuri air yang diduga mengomersilkan air. "Air sumber kehidupan petani, maka tidak boleh ada mafia yang memain-mainkan air."
Indramayu of West Java (B2B) - Indonesian Agriculture Ministry found at least 6,350 hectares of rice fields in Indramayu district, West Java province threatened crop failure or the puso if in the next seven days not irrigated by irrigation, and found about 258 hectares of rice fields declared puso although the rice plant was 60 days ago grown by farmers.
Identification of the ministry that heavy dry rice fields 1,195 hectares, 1,095 hectares of moderate drought, and 3,107 hectares of mild drought with early anticipation of extreme weather impacts in Indramayu district.
It was states by Person in Charge of National Increase Food Production for West Java province or PJ Upsus Jabar, Banun Harpini while reviewed irrigation facilities in Kandanghaur, Losarang and Gabuswetan districts on Tuesday (July 31). Also attended Deputy Regent H Supendi; Head of the Central River Region Cimanuk -Cisanggarung or the BBWS Cimanuk - Cisanggarung, Bob Arthur Lambogia; Head of Indramayu Agriculture Office, H Eddy Mulyadi S; and Commander of Indramayu´s Military Resort Command, Lt. Col. Cav Agung Nur Cahyono and number of ministry officials.
"We monitor the field conditions, evaluate the handling of water problems in three sub-districts, and prepare the anticipation to minimize the impact of extreme weather, is expected to come 2.5 months ahead," said Mrs Harpini who also serves as the Directorate General of Indonesian Agriculture Quarantine Agency or Barantan.
In response, she identified farmer groups affected by puso, and immediately propose the filing of agricultural insurance claims to Jasindo or related banks, and asked the officials of Directorate General of Infrastructure and Agricultural Facility or Ditjen PSP Kementan, to simplify the payment process insurance claims.
Mrs Harpini urged farmers to utilize agricultural insurance, to join in the next planting season, and rice farmers are asked to be disciplined using irrigation water.
From field coordination, BBWS Cimanuk - Cisanggarung was asked to channel water to drought-stricken fields in three subdistricts for seven days, and assigns relevant officials to oversee the utilization of irrigation water.
Lt. Col. Cav Agung Nur Cahyono instructed his subordinates to catch thieves suspected of illegally trading water. "Water sources of farmer´s life, do not try to steal water for sale."