Pemkab Cilacap Apresiasi Capaian Target Upsus LTT Oktober - Maret 2018
Indonesia`s Cilacap Considered Successful in Developing Agricultural Extension
Editor : M. Achsan Atjo
Translator : Dhelia Gani

PUBLISHED: Rabu, 02 Mei 2018 , 00:10:00 WIB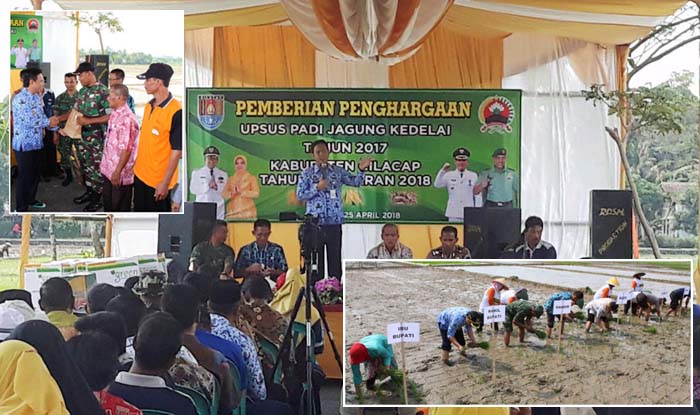 Foto2: Humas STPP Magelang
Cilacap, Jateng (B2B) - Pemerintah Kabupaten Cilacap mengapresiasi kinerja Tim Upsus luas tambah tanam (LTT) atas capaian target LTT Cilacap periode Oktober 2017 hingga Maret 2018 sebagai hasil kerja keras para petani, dinas pertanian, TNI AD, Polri, perguruan tinggi dan pihak-pihak terkait di bawah kendali Ketua Sekolah Tinggi Penyuluhan Pertanian - STPP Magelang, Ali Rachman, Penanggung Jawab Upsus Pajale Kabupaten Cilacap.

Apresiasi tersebut dikemukakan Wakil Bupati Cilacap, Syamsul Auliya Rachman atas capaian LTT Cilacap sebagai pengejewantahan koordinasi intensif dan kerjasama semua pihak terkait, sehingga dapat mendukung Cilacap memenuhi kebutuhan pangan secara mandiri hari ini dan esok dari tanahnya sendiri.

"Para petani di Cilacap sebagai pelaku utama produksi pangan harus memiliki jiwa wirausaha dengan melakukan banyak inovasi di bidang pertanian," katanya pada rapat koordinasi dan pemberian penghargaan kepada SDM berprestasi di Desa Sikampuh, Kecamatan Kroya, belum lama ini.

Dia mengingatkan bahwa petani juga harus memiliki kepekaan dalam memanfaatkan lahan yang dimiliki untuk membuka usaha lain seperti subsektor perikanan dan peternakan. Tentunya, petani dengan jiwa wirausaha akan lebih berdaya dan bermanfaat bagi keluarga, masyarakat, bangsa dan negara mendukung swasembada pangan.

Kepemilikan lahan pertanian maupun lahan pekarangan dapat dimanfaatkan dengan sebaik-baiknya, misalnya, budidaya ikan di lahan sawah mina padi, menanam cabe di pekarangan rumah, pengembangan budidaya unggas.

"Menjadi petani harus bisa menyesuaikan dengan alam. Inovasi tersebut diharapkan dapat meningkatkan pendapatan petani," kata Syamsul Auliya Rachman.

Dia juga mengapresiasi kinerja penyuluh pertanian lapangan (PPL) yang peranannya sangat strategis untuk membantu petani, dan Cilacap memiliki jumlah PPL berusia muda yang relatif banyak dan diharapkan dapat menjadi penggerak pembangunan pertanian bersama TNI AD.

Dalam kesempatan tersebut, Pemkab Cilacap memberikan bantuan alat mesin pertanian (Alsintan) kepada petani, penyuluh dan bintara pembina desa (Babinsa) yang berprestasi.

Sementara Liaison Officer - LO Upsus Pajale Kabupaten Cilacap, Budi Wijayanto menilai arahan Wakil Bupati Syamsul AR sejalan dan mendukung pencapaian visi Kementerian Pertanian RI yakni ´terwujudnya kemandirian pangan dan kesejahteraan petani´ dengan program kegiatan UPSUS LTT Pajale, pengembagan wirausaha muda pertanian, pemanfaatan alsintan, pemanfaatan pekarangan sebagai kawasan rumah pangan lestari (KRPL) dan program bedah kemiskinan rakyat sejahtera - Bekerja sebagai solusi pengentasan kemiskinan dan meningkatkan kesejahteraan petani dan peternak.
Cilacap, Central Java (B2B) - The Cilacap district government appreciates performance of extensification team of rice cultivation or LTT for achievement of Cilacap LTT target for the period of October 2017 to March 2018, as the hard work of the farmers, the offices of the agricultural service, Army, Police, universities and related parties under the control of Person in Charge of increase strategic food production for Cilacap.

Cilacap deputy regent, Syamsul Auliya Rachman said his appreciation to LTT Cilacap as the intensive coordination and cooperation of all related parties, so as to support Cilacap meet the food needs independently today and tomorrow from its own land.

"Farmers in Cilacap as the main actors of food production must have entrepreneurial spirit with various innovations in agriculture," Mr Rachman said in Sikampuh village of Kroya subdistrict, recently.

He reminded that farmers should also be sensitive to utilizing land for other businesses such as fisheries and livestock sub-sector. Of course, farmers with entrepreneurial spirit will be more empowered and beneficial for families, communities, nations and countries to support food self-sufficiency.

Ownership of agricultural land and urban farming can be utilized for fish cultivation in paddy field of rice mina, planting chilli in yard of house, and development of poultry farming.

"Farmers must be able to adjust to nature, which is expected to increase farmers´ income," Mr Rachman said.

He also appreciated the performance of agricultural extension agents who have a strategic role to help farmers, and many young agriculture extension workers in Cilacap so as to be the driving force for agricultural development with the Army.

On the occasion, Cilacap regency provides agricultural machinery to farmers, extension workers and the best village counselor in Cilacap.

While Liaison Officer of Upsus Pajale of Cilacap regency, Budi Wijayanto acknowledged the policy of Cilacap district government to support the achievement of Indonesia agriculture ministry for the independence of food and the welfare of farmers, development of young agricultural entrepreneurs, utilization of agricultural machinery, urban farming and poverty alleviation.