Dosen Polbangtan, BPPSDMP Sertifikasi Kompetensi Penyuluhan Pertanian
Indonesia Seeks to Improve the Competence of Agricultural Lecturers
Editor : M. Achsan Atjo
Translator : Dhelia Gani

PUBLISHED: Senin, 12 November 2018 , 00:11:00 WIB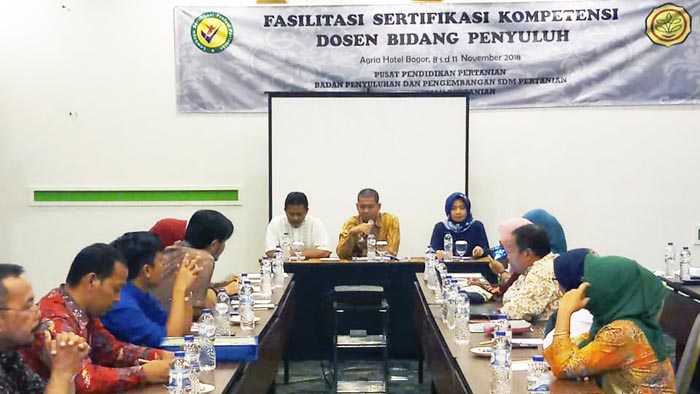 INSTRUKSI MENTAN: Sesba BPPSDMP Kementan selaku Plt Kapusdiktan, Andriko NS memberikan arahan untuk meningkatkan kualitas pendidikan dan lulusan Polbangtan (Foto2: BPPSDMP/Surahman)
Bogor, Jabar (B2B) - Meningkatkan kompetensi dosen Politeknik Pembangunan Pertanian (Polbangtan) menjadi fokus Badan Penyuluhan & Pengembangan SDM Pertanian (BPPSDMP) terkait sertifikat kompetensi dosen Polbangtan, khususnya dosen penyuluhan pertanian dalam pelaksanaan Tri Dharma Perguruan Tinggi, untuk melaksanakan pendidikan dan pengabdian masyarakat.
Pelaksana Tugas (Plt) Kepala Pusat Pendidikan Pertanian (Pusdiktan) Andriko Noto Susanto mengatakan mulai tahun ini secara bertahap Pusdiktan bekerja sama dengan Lembaga Sertifikasi Profesi (LSP) akan melaksanakan sertifikasi kompetensi bagi dosen Polbangtan.
Hal itu sesuai instruksi Menteri Pertanian Andi Amran Sulaiman saat peluncuran Polbangtan pada 18 September 2018 bahwa dosen pendidikan vokasi harus memiliki sertifikat kompetensi sesuai bidang ilmu dan keahliannya.
"Tantangan Mentan untuk menjadikan Polbangtan sebagai politeknik pertanian terbaik harus kita wujudkan. Penguatan dosen sebagai tenaga pendidik kita laksanakan secara terencana dan terstruktur," kata Andriko NS, yang juga menjabat Sekretaris BPPSDMP Kementan saat membuka kegiatan ´Fasilitasi Sertifikasi Kompetensi Dosen Bidang Penyuluh´ di Bogor, belum lama ini.
Menurutnya, sertifikasi kompetensi dosen sesuai amanah UU Guru dan Dosen No 14/2005 dan Keputusan Kepala Badan BPPSDMP No 152/2016 tentang ´persyaratan dosen perguruan tinggi di Kementan´.
Andriko NS mengingatkan bahwa penguatan dosen ditempuh dengan rekrutmen melalui jalur Calon PNS (CPNS) maupun alih fungsi PNS Kementan non-dosen menjadi dosen, pelaksanaan studi banding ke lembaga pendidikan sejenis di mancanegara, pelaksanaan magang di lembaga pelatihan pertanian, lembaga pendidikan vokasi maupun dunia usaha seperti Politeknik Manufaktur Bandung, Balai Uji Mutu dan Sertifikasi Pakan, balai besar pelatihan pertanian, Japfa Comfeed, dan East West Seed.
Kegiatan utama lainnya adalah bimbingan teknis Program Keterampilan Dasar Teknik Instruksional disingkat Pekerti dan approach applied atau AA, bimbingan teknis penulisan karya ilmiah, workshop kurikulum pendidikan tinggi, dan sertifikasi pendidik bagi dosen sebagai syarat umum bagi dosen.
"Melalui fasilitasi sertifikasi kompetensi dosen bidang penyuluhan pertanian akan mendukung pelaksanaan Tri Dharma Perguruan Tinggi, meningkatkan mutu penyelenggaraan pendidikan Polbangtan dan lulusan Polbangtan yang berkualitas," kata Andriko NS.
Bogor of West Java (B2B) - Indonesian government seeks to improve the competence of lecturers in Agricultural Development Polytechnic or the Polbangtan, by requiring the competency certificate of agricultural extension lecturers under coordination of Directorate General of Agricultural HR Development or the BPPSDMP to carry out education and community service.
Acting Director of Agricultural Education Center or the Pusdiktan, Andriko Noto Susanto said the Pusdiktan starting 2018 in collaboration with Professional Certification Institutions or the LSP will carry out competency tests for Polbangtan lecturers to obtain competency certificates.
Agriculture Minister Andi Amran Sulaiman at the launch of Polbangtan, mid September 2018, said that vocational education lecturers must have certificates of science and expertise competency.
"Minister Sulaiman challenges us to develop Polbangtan as the best agricultural polytechnic in Indonesia. The quality of lecturers must be planned and structured, "said Mr Susanto, who also served as the Secretary of BPPSDMP here recently.
According to him, lecturer competency certification is regulated through Law Number 14/2005 of Teacher and Lecturer, and the Decree of the Director General of BPPSDMP Number 152/2016.
Mr Susanto reminded that the recruitment of lecturers from prospective civil servants, the assignment of civil servants in the ministry to become lecturers of Polbangtan, comparative study to similar educational institutions abroad, internship in agricultural training institutions, vocational education institutions and private companies.
The other main activity is technical guidance on basic instructional techniques or the Pekerti and approach applied, technical guidance writing scientific work, vocational higher education curriculum workshops, and lecturer competency certification.
"The competency test of agricultural extension lecturers will improve quality of education and teaching at the Polbangtan," Mr Susanto said.