ISO 9001:2015, Sistem Manajemen Mutu STPP Yogyakarta Diakui ISO Jenewa
Indonesian´s Agricultural Extension College Achieved ISO 9001: 2015 Certificate
Editor : M. Achsan Atjo
Translator : Dhelia Gani

PUBLISHED: Selasa, 08 Mei 2018 , 00:29:00 WIB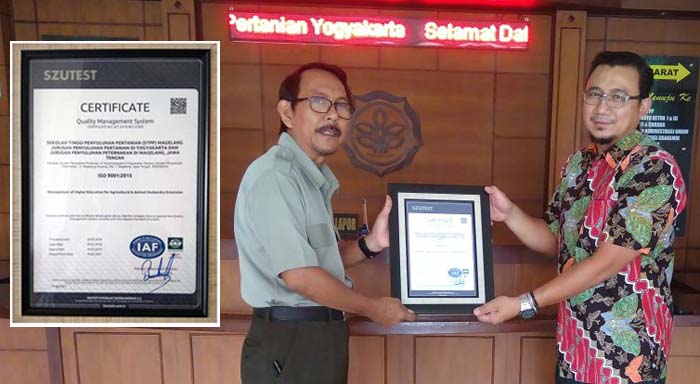 Sertifikat ISO 9001:2015 diserahkan oleh perwakilan konsultan ISO di Indonesia, Ivar Kusriadi (kanan) kepada Ketua STPP Yogyakarta Ali Rachman diwakili Kabag Administrasi Umum, Irwan Johan Sumarno (Foto: Humas STPP Yogyakarta)
Yogyakarta (B2B) - Sekolah Tinggi Penyuluhan Pertanian - STPP Yogyakarta meraih Sertifikat ISO 9001:2015 sebagai pengakuan atas standar kualitas yang ditetapkan oleh International Standard Organization (ISO), STPP Yogyakarta dinyatakan memenuhi persyaratan dari ISO yang didirikan pada 1947 dan bermarkas di Jenewa, Swiss.
Sertifikat ISO 9001:2015 diserahkan oleh perwakilan konsultan ISO di Indonesia, Ivar Kusriadi kepada Ketua STPP Yogyakarta Ali Rachman yang diwakili oleh Kabag Administrasi Umum, Irwan Johan Sumarno di Yogyakarta, Senin (7/5).
Irwan JS mengatakan bahwa sebelum meraih Sertifikat ISO 9001:2015, STPP Yogyakarta pada 18 Desember 2015 meraih ISO 9001:2008 setelah mengikuti serangkaian kegiatan yang dipersyaratkan untuk mendapatkan sertifikat sistem manajemen mutu dari EQA nomor QU150943.
"Sertifikat ISO 9001:2015 merupakan standar persyaratan untuk memperagakan kemampuan organisasi meningkatkan ´kepuasan pelanggan´ melalui penerapan sistem manajemen mutu secara efektif, termasuk proses pengendalian yang berkelanjutan," kata Irwan JS mewakili Ali Rachman melalui pernyataan tertulis kepada B2B.
Dia menambahkan, persyaratan yang diminta ISO bukan hanya mempersiapkan dokumen-dokumen sistem manajemen mutu saja, tapi bagaimana menyiapkan SDM untuk melakukan perubahan mindset, karena kegiatan pendidikan seperti halnya STPP Yogyakarta merupakan bentuk layanan/jasa pendidikan yang harus dilakukan dan harus dicapai tingkat mutunya secara berkelanjutan.
"Seperti penerapan ISO 9001:2008, maka langkah penerapan ISO 9001:2015 juga hampir sama, yang membedakan hanya ada beberapa penambahan dan penyesuaian pada klausul ISO 9001:2015, dengan adanya risk management," kata Irwan JS.
Yogyakarta (B2B) - Yogyakarta´s Agricultural Extension College or the STPP Yogyakarta achieved ISO 9001: 2015 Certificate, in recognition of the quality standards of the International Standard Organization (ISO), and ISO is an international institution established in 1947 based in Geneva, Switzerland.
ISO 9001: 2015 certificate submitted by the representative of ISO consultant in Indonesia, Ivar Kusriadi to the Rector of STPP Yogyakarta, Ali Rachman represented by Head of General Affairs, Irwan Johan Sumarno here on Monday (May 7).
Mr Sumarno said before got the ISO 9001: 2015, the STPP Yogyakarta on December 18, 2015 achieved ISO 9001: 2008 after following a series of activities required to obtain quality management system certificate from EQA number QU150943.
"The ISO 9001: 2015 certificate is a standard requirement to demonstrate the ability of organization to improve ´customer satisfaction´ through the implementation of effective quality management system, including ongoing control processes," Mr Sumarno said represented Mr Rachman through a written statement to the B2B.
He added that the requirements requested by ISO not only prepare the documents of quality management system, but how to prepare human resources to change the mindset, because educational activities as well as STPP Yogyakarta is a form of educational service that must reach sustainable quality level.
"As an ISO 9001: 2008, the implementation of ISO 9001: 2015 is almost the same, which distinguishes the addition and adjustment clause of ISO 9001: 2015, especially risk management," Mr Sumarno said.