Standar ASUH Barantan, Peredaran Daging Celeng Diawasi `Quarantine Trackers
Indonesian Agricultural Quarantine Applies ASUH`s Food Supervision Standards
Reporter : Gusmiati Waris
Editor : Cahyani Harzi
Translator : Dhelia Gani

PUBLISHED: Sabtu, 05 Januari 2019 , 00:42:00 WIB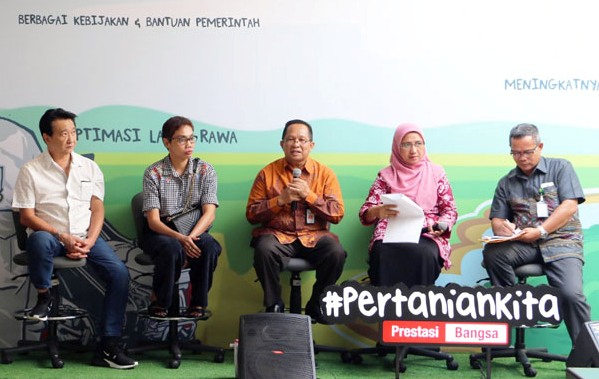 DISKUSI PUBLIK: Karantina Hewan dan Keamanan Hayati Hewani Barantan, Agus Sunanto (batik coklat); Kabid Keswan Bengkulu, Nopiyeni; Kapus Kepatuhan, Kerjasama dan Informasi Barantan; Indah Sofianti (Foto: B2B/Mya)
Jakarta (B2B) - Kementerian Pertanian RI tingkatkan pengawasan peredaran pangan oleh Badan Karantina Pertanian (Barantan) dengan menerapkan standar aman, sehat, utuh dan halal disingkat ASUH, seperti diterapkan pada pengawasan peredaran daging celeng dengan quarantine trackers, alat pemindai lokasi Global Positioning System (GPS) yang dipasang dalam segel di kontainer atau mobil pengangkut daging celeng.
Hal itu dikemukakan Pelaksana Harian (Plh) Barantan, Agung Hendriadi; dan Kepala Pusat Karantina Hewan dan Keamanan Hayati Hewani Barantan, Agus Sunanto pada ´Bincang Asyik Pertanian´ (Bakpia) di Jakarta, Jumat (4/1).
"Standar ASUH merupakan instrumen pengawasan peredaran pangan yang bertumpu pada humanware, hardware, dan software yang saling terkait," kata Agung H, yang juga menjabat Kepala Badan Ketahanan Pangan (BKP).
Menurutnya, humanware adalah keterampilan dari insan karantina didukung para pemangku kepentingan memanfaatkan hardware sebagai perangkat vital meningkatkan pengawasan peredaran pangan, yang bersandar pada pemanfaatan aplikasi teknologi informasi sebagai implementasi dari software.
Agus Sunanto menguraikan tentang peredaran daging celeng yang meresahkan masyarakat, Barantan bersama instansi daerah menggagas quarantine trackers, maka daging yang disertifikasi oleh dinas peternakan dan karantina di daerah asal daging celeng akan dipasangi pemindai lokasi GPS.
"Pergerakan kendaraan pengangkut daging celeng akan dipantau secara online oleh petugas karantina dan istansi terkait, dan segel elektronik akan dibuka di tempat tujuan akhir. Kalau pemindai rusak atau dibongkar paksa maka GPS akan memberi notifikasi, sehingga dapat mencegah distribusi daging celeng ke tempat tujuan ilegal," kata Agus S.
Menurutnya, Provinsi Bengkulu dan Sumatera Selatan khususnya di Kabupaten Prabumulih dan Banyuasin adalah penghasil terbesar daging celeng yang menjadi hama bagi lahan pertanian dan target para pemburu. Sementara permintaan tertinggi datang dari Jakarta, Tangerang, dan Pangkalpinang di Provinsi Bangka Belitung.
Agus S mengakui lalu lintas daging celeng tidak dapat dihindarkan lantaran ada supply and demand, pemerintah melalui Barantan hanya dapat mengatur lalu lintas daging celeng agar tidak meresahkan masyarakat yang tidak mengonsumsinya.
"Khusus di Jakarta, daging celeng digunakan untuk pakan hewan di Kebon Binatang Ragunan dan konsumsi. Masalah besar muncul, kalau daging celeng dioplos, nah itu yang kita fikirkan agar tidak meresahkan sekaligus merugikan masyarakat yang tidak mengonsumsi," kata Agus S.
Jakarta (B2B) - Indonesia Agriculture Ministry improved control food distribution by Agriculture Quarantine Agency or the Barantan by implementing safe, healthy, intact and halal standards called the ASUH, as applied to the supervision of distribution of wild boar meat with quarantine trackers Global Positioning System on transport trucks.
It was stated by Director General of Barantan, Agung Hendriadi; and and Director of the Animal Quarantine and Biosafety Center,Agus Sunanto here on Friday (December 4).
"The ASUH standard is a food circulation control instrument that relies on humanware, hardware, and software," Mr Hendriadi said.
According to him, humanware is a skill of quarantine personnel supported by stakeholders with hardware as a vital device to increase food circulation monitoring, which relies on information technology applications.
Mr Sunanto describes distribution of wild boar meat or the celeng that is troubling the community,Barantan and related institutions in the regions initiated quarantine trackers, then meat certified by the livestock service and quarantine in the place of origin of the meat will be fitted with quarantine trackers
"The celeng meat will be monitored online by quarantine officers and related institutions, and digital devices will be opened in the destination city. If the location scanner is damaged or forcibly removed, the GPS will have a notification, so that it can prevent the celeng meat distribution to illegal destinations," he said.
According to him, Bengkulu and South Sumatra provinces, especially in Prabumulih and Banyuasin regency are the biggest producers of celeng, which is a pest for agricultural land, while the highest demand came from Jakarta, Tangerang and Pangkalpinang in Bangka Belitung Province.
Mr Sunanto admitted that the celeng meat traffic was unavoidable because there was supply and demand, the government through Barantan only regulates the distribution of celeng meat does not disturb the community.
"Especially in Jakarta, celeng meat is used as food for animals in Ragunan Zoo and consumption. The problem arises if celeng meat is mixed with halal meat. The important thing is not to worry and harm the people who don´t consume it," he said.