Kelola Kearsipan 2018, ANRI Tetapkan Kementan Peringkat 5 `Predikat Baik`
Indonesian National Archives Agency Establish Best Ministries Manage Archives
Reporter : Gusmiati Waris
Editor : Cahyani Harzi
Translator : Dhelia Gani

PUBLISHED: Jum'at, 26 Oktober 2018 , 00:42:00 WIB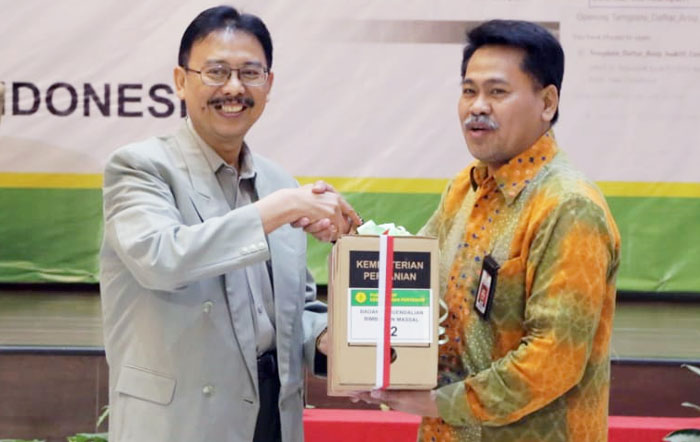 DIGITALISASI ARSIP: Sekjen Kementan, Syukur Iwantoro (kiri) dan Deputi bidang Pembinaan Kearsipan ANRI, Andi Kasman mewakili Kepala ANRI, Mustari Irawan (Foto2: Humas Kementan)
Jakarta (B2B) - Arsip Nasional RI (ANRI) menetapkan Kementerian Pertanian RI di peringkat 5 pengelolaan kearsipan 2018 dari 34 kementerian setelah melalui pengawasan kearsipan eksternal dari ANRI, atau naik dari peringkat 12 hasil pengawasan kearsipan tahun lalu. Saat ini Kementan didukung 155 pejabat arsiparis di seluruh Indonesia dan siap menyongsong digitalisasi kearsipan.
"Kementan mendukung perubahan paradigma bahwa arsip bukan berada di ´belakang´ maka kita harus mengubah mindset dan paradigma, nyata bahwa arsip ada mulai dari baris terdepan organisasi hingga ia menjadi sejarah. Kementan membuktikannya, naik dari peringkat 12 dan naik ke peringkat lima tahun ini," kata Sekjen Kementan, Syukur Iwantoro di Jakarta, Kamis (25/10) pada peluncuran Tata Naskah Dinas Elektronik (TNDE) untuk mendukung penerapan e-Government bidang kearsipan Kementan.
Dia menambahkan, "arsip adalah darah organisasi, dan sistem kearsipan adalah urat nadinya."
Syukur mengatakan pihaknya tengah mempersiapkan berbagai tools untuk menjawab perubahan di era industri 4.0. Selain mengembangkan program aplikasi pengelolaan arsip, kementerian juga telah menyiapkan kebijakan pengelolaan kearsipan seperti tata naskah dinas, klasifikasi arsip, jadwal retensi arsip, klasifikasi keamanan dan akses arsip yang merupakan instrumen wajib sebagai dasar pengelolaan arsip.
Dia mengakui saat ini Kementan didukung 155 pejabat arsiparis di seluruh Indonesia, namun sebarannya pada tiap eselon satu masih belum merata dan dinilai kurang memadai. "Saat ini sedang dilakukan proses menyiapkan analisis rencana kebutuhan arsiparis, yang kami siapkan untuk menyusun formasi peta jabatan arsiparis."
"Prestasi Kementan dari peringkat 12 ke 5 merupakan capaian luar biasa, maka dari hasil evaluasi ANRI, Kementan didukung infrastruktur, kita ajak kerjasama untuk pilot project dalam rangka e-arsip sebagai tonggak penyelenggaraan kearsipan modern di Kementan," kata Deputi bidang Pembinaan Kearsipan ANRI, Andi Kasman mewakili Kepala ANRI, Mustari Irawan.
Dalam kesempatan tersebut, Sekjen Kementan meluncurkan TNDE yang merupakan pengembangan Sistem Informasi Kearsipan Dinamis (SIKD) mendukung penerapan e-Government di bidang kearsipan, yang disebut Sekjen Kementan sebagai tonggak penkyelenggaraan kearsipan secara modern di Kementan.
"Kementan siap menyongsong era industri 4.0, sehingga mulai hari ini Kementan meminimalkan arsip-arsip nondigital menuju era arsip digital," kata Syukur.
Jakarta (B2B) - Indonesian National Archives Agency or the ANRI establishes the Agriculture Ministry in the 5th rank of 2018 archival management of 34 ministries after going through external archival supervision by ANRI, previously ranked 12th of archival supervision last year. Currently the agricultural ministry supported 155 archivists across the country, and was ready for digitization of archives.
"The ministry supports paradigm shift that the archive is not ´behind´ so we have to change the mindset and paradigm, that the archives are in the forefront of the organization to become history. The ministry proved it, up from 12th to fifth this year," said Secretary General of Agriculture Ministry, Syukur Iwantoro here on Thursday (October 25).
Mr Iwantoro said the ministry was preparing various tools to answer changes in the industrial era 4.0.
In addition to developing archival management application programs, the ministry has also prepared archival management policies such as official script management, archive classification, archive retention schedule, security classification and archive access which are mandatory instruments as a basis for archive management.
He acknowledged, the ministry is currently supported by 155 archivist officials across the country, but not evenly distributed in each of the first echelon work units, and considered inadequate. "Currently the process is preparing a plan for archival needs analysis, which we have prepared to compile an archivist position map."
"Achievements from 12th to 5th rank are extraordinary, so that of ANRI´s evaluation, supported by infrastructure, as a milestone in the implementation of modern archives," said Deputy for ANRI Archives Development, Andi Kasman represented the Head of ANRI, Mustari Irawan.
On that occasion, Mr Iwantoro launched TNDE which is the development of Dynamic Archival Information Systems or SIKD to support the application of e-Government archives.
"The agriculture ministry is ready ahead of the 4.0 industrial era, starting today to minimize nondigital archives into era of digital archives," Mr Iwantoro said.