Cegah Korupsi Dana Alsintan, Mentan Perkokoh Sinergi dengan KPK
Indonesian Minister Asks the KPK to Eradicate Agricultural Budget Corruption
Reporter : Gusmiati Waris
Editor : Cahyani Harzi
Translator : Dhelia Gani

PUBLISHED: Rabu, 26 September 2018 , 01:09:00 WIB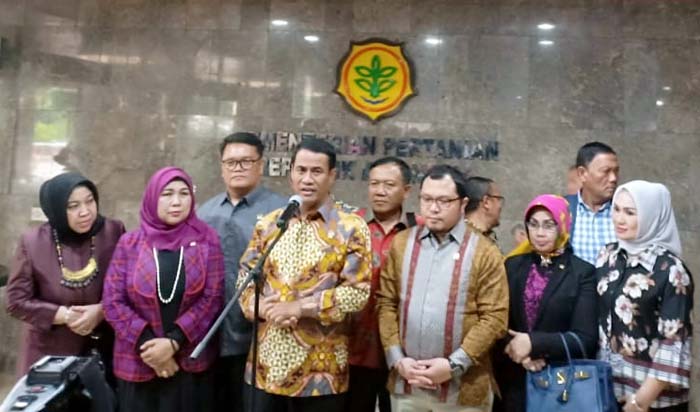 CEGAH KKN: Mentan Amran Sulaiman (ke-3 kiri) menjawab pers usai bertemu tim penyidik KPK di kantornya (Foto: B2B/Mya)
Jakarta (B2B) - Komisi Pemberantasan Korupsi (KPK) diundang oleh Menteri Pertanian RI Andi Amran Sulaiman di kawasan Ragunan, Jakarta Selatan, Selasa (25/9), untuk bersinergi memperkuat upaya pencegahan korupsi dalam penggunaan anggaran Kementerian Pertanian, khususnya anggaran APBN untuk penyediaan alat mesin pertanian (Alsintan) yang sudah disalurkan kepada para petani di seluruh Indonesia.
Mentan Amran Sulaiman mengatakan mengundang KPK untuk menutup peluang pelaku korupsi, kolusi, dan nepotisme (KKN) di kementeriannya, meski telah melakukan hal itu sejak 2015, dengan menempatkan empat orang penyidik KPK untuk mengawasi kinerja kementerian.
Selasa pagi, lima orang dari tim penyidik KPK diundang oleh Mentan Amran Sulaiman untuk membahas fokus pengawasan terhadap anggaran Alsintan, menyikapi ´kabar miring´ tentang penyalahgunaan anggaran untuk pembelian Alsintan yang disalurkan Kementan untuk petani melalui kelompok tani (Poktan) dan gabungan kelompok tani (Gapoktan).
"Kalau ada kabar yang beredar, lapor saja ke saya. Biar hari itu juga kami pecat. Bukan diberi peringatan lagi, tapi langsung pecat," kata Mentan kepada pers.
Mentan berinisiatif mengundang tim penyidik KPK dan melakukan pertemuan tertutup di ruang kerjanya, dan meminta masyarakat segera melapor apabila mendapat informasi tentang penyelewengan atau penyalahgunaan anggaran sektor pertanian.
Mentan menambahkan, selama ini sikap tegasnya terhadap penyelenggaraan pemerintahan yang bersih dan akuntabel sudah diterapkan di kementerian yang dia pimpin sejak penghujung 2014.
Jakarta (B2B) - Indonesian Anti-graft Commission or the KPK coordinating with Agriculture Minister Andi Amran Sulaiman here, Tuesday (September 25) to synergize to prevent and eradicate corruption in the ministry´s budget especially the state budget for agricultural machinery or Alsintan which is given free to farmers across the country.
Minister Sulaiman claimed to invite the KPK to close the opportunity for perpetrators of corruption, collusion and nepotism in his ministry, even though he has done that since 2015, by placing four KPK investigators to monitor the ministry´s performance.
Tuesday morning, five KPK investigators were invited by Minister Sulaiman to discuss the focus of supervision on the agricultural machinery budget addressing rumors about misuse of the budget for purchasing agricultural machinery for farmers.
"If there is a rumor, tell me. I´ll be fire. No longer given a warning, but immediately fire. So check who is the name (who is suspected of corruption), report, we fire," he said.
Minister Sulaiman took the initiative to invite the KPK investigation team and hold a closed meeting in his office, and ask the community to report immediately if they get information about misappropriation or misuse of the agricultural sector budget.
Minister Sulaiman admitted chose to be assertive to eradicate corruption in the ministry he led since late 2014.