13,14 Juta Ton, Ekspor Produk Pertanian RI per April 2019 Naik 1,84%
Indonesia`s Agricultural Commodity Exports Rose 1.84% as of April 2019
Reporter : Gusmiati Waris
Editor : Cahyani Harzi
Translator : Dhelia Gani

PUBLISHED: Senin, 10 Juni 2019 , 00:11:00 WIB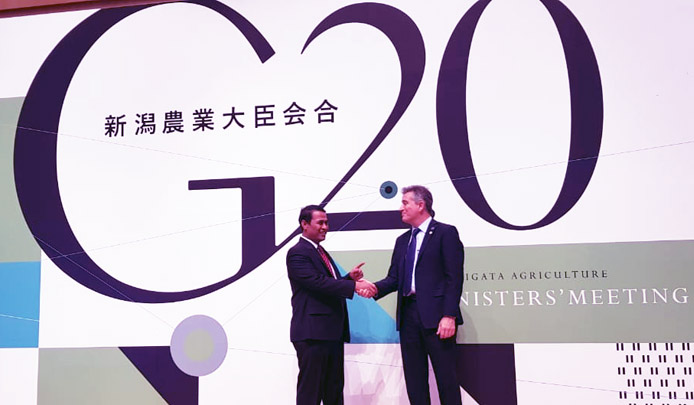 G20 AMM Niigata 2019: Mentan Amran Sulaiman [kiri] hadiri G20 AMM Niigata 2019 di Jepang. Indonesia satu-satunya negara Asia Tenggara [ASEAN] tergabung Kelompok 20 Ekonomi Utama [G20] Foto: Biro Humas Kementan
Jakarta [B2B] - Ekspor produk pertanian Indonesia 2019 menunjukkan trend positif, mengacu realisasi Januari hingga April 2019 mencapai 13,14 juta ton atau naik 1,84% dari periode sama pada 2018, sementara surplus nilai perdagangan komoditas pertanian 2018 mencapai US$10,03 miliar, berkat upaya peningkatan produksi pertanian didukung negosiasi perdagangan dengan negara lain melalui pertemuan bilateral dan multilateral seperti Pertemuan Menteri Pertanian G20 AMM Niigata 2019 di Jepang.
"Melihat trend positif ini, volume ekspor produk pertanian 2019 akan lebih tinggi dari 2018, karena pada Januari hingga April 2019, Indonesia sudah surplus US$2,26 miliar," kata Kepala Biro Humas dan Informasi Publik, Kementrian Pertanian, Kuntoro Boga Andri di Jakarta, Jumat [7/6].
Sebagaimana diketahui, Indonesia meraih surplus neraca perdagangan dalam bentuk dan volume dalam lima tahun terakhir, volume ekspor meningkat 9 juta hingga 10 juta ton di atas volume 2013, yang hanya mencapai 33,5 juta ton kemudian pada 2018 naik pesat menjadi 42,5 juta ton.
"Dengan kata lain, selama periode tersebut ekspor pertanian kita mampu tumbuh 26,9 persen atau rata-rata 5,4 persen per tahun," kata KBA.
Menurutnya, raihan tersebut tak lepas dari upaya Kementerian Pertanian RI di era Joko Widodo - Jusuf Kalla dalam 4,5 tahun terakhir terus membangun kerjasama dan negosiasi perdagangan yang menguntungkan Indonesia, sehingga peningkatan produksi pertanian menguntungkan petani dan menambah devisa negara.
"Artinya, kita terus berupaya mengekspor produk pertanian baik melalui peningkatan produksi dalam negeri maupun kerjasama dan negosiasi perdagangan dengan negara lain," kata KBA.
Dia menambahkan, peluang kerjasama tersebut dibuka melalui pertemuan bilateral maupun multilateral seperti Pertemuan Menteri Pertanian G20 AMM Niigata 2019 di Jepang pada Mei lalu atau pertemuan bilateral seperti dilakukan Menteri Pertanian RI Andi Amran Sulaiman dengan Menteri Pertanian Brazil, Tereza Cristina, belum lama ini.
Dalam pertemuan dengan Menteri Tereza Cristina, Mentan Amran Sulaiman mendorong Brazil membeli aneka komoditas pertanian Indonesia.
"Pemanfaatan peluang ekspor ini harus terus dikejar supaya neraca perdagangan kita tidak defisit, sebaliknya kita harus mampu membuat neraca perdagangan kita meningkat," kata KBA mengutip Mentan Amran Sulaiman.
Jakarta [B2B] - Indonesian exports of agricultural products in 2019 showed a positive trend, refers to realization of January to April 2019 reached 13.14 million tons, up 1.84% of the same period in 2018, while the agricultural commodity trade surplus in 2018 reached US$10.03 billion, supported by increased agricultural production and trade negotiations with other countries through bilateral and multilateral meetings.
"Refers to the positive trend, volume of agricultural product exports 2019 will be higher than 2018, for January to April 2019, Indonesia surplus of US$2.26 billion," said spokesman of Indonesian Agriculture Ministry, Kuntoro Boga Andri here on Friday [June 7].
As is known, Indonesia has a trade balance surplus in form and volume in the last five years, export volume increased by 9 million to 10 million tons above the volume of 2013, only 33.5 million tons then 2018 rose rapidly to 42.5 million tons.
"In other words, during this period Indonesia´s agricultural exports grew 26.9 percent or an average of 5.4 percent per year," KBA said.
According to him, the positive trend is related to efforts of agriculture ministry of Joko Widodo administration continue to foster cooperation and trade negotiations for the sake of Indonesia, so that increased agricultural production will benefit farmers and increase foreign exchange.
"It means, we continue to try to export agricultural products both through increasing domestic production and trade negotiations with other countries," he said.