Jokowi Dorong Mentan Serius Garap Budidaya Porang
Indonesian Govt Encourage Agricultural Exporters to Increase Volume Export
Reporter : Kemal Agus Praghotsa
Editor : Cahyani Harzi
Translator : Dhelia Gani

PUBLISHED: Kamis, 19 Agustus 2021 , 21:32:00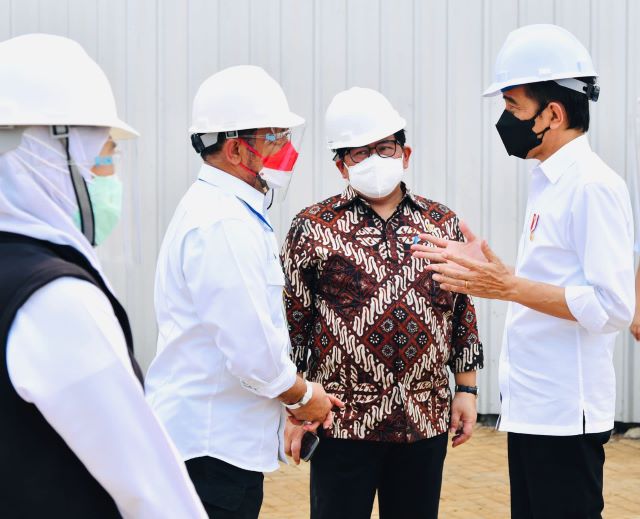 BUDIDAYA PORANG: Presiden Joko Widodo saat memberi instruksi pada Menteri Pertanian RI Syahrul Yasin Limpo di PT Asia Prima Konjac, Madiun. [Foto: Setpres]
Madiun, Jatim [B2B] - Presiden RI Joko Widodo [Jokowi] meminta Menteri Pertanian RI Syahrul Yasin Limpo seriusi budidaya tanaman porang. Sebab, porang bisa menjadi komoditas ekspor andalan baru di Indonesia.
Hal itu disampaikan Jokowi saat mengunjungi pabrik pengolahan porang milik PT Asia Prima Konjac dalam kunjungan kerjanya ke Kabupaten Madiun, Jawa Timur [Jatim], pada Kamis [19/8].
"Saya tadi sudah menyampaikan kepada Menteri Pertanian untuk betul-betul kita seriusi komoditas baru ini komoditas porang," kata Jokowi.
Menurut Jokowi, porang merupakan komoditas baru yang dapat memberikan nilai tambah yang baik tidak hanya bagi perusahaan pengolah porang tetapi juga kepada petani-petani porang.
Berdasarkan data yang diterimanya, dalam satu hektar lahan dapat menghasilkan 15 hingga 20 ton porang. Selain itu, pada musim tanam pertama para petani dapat menghasilkan hingga 40 juta ton porang dalam kurun waktu 8 bulan.
"Ini sebuah nilai yang sangat besar, pasarnya juga masih terbuka lebar," katanya.
Jokowi juga meyakini bahwa porang akan menjadi makanan sehat di masa depan, mengingat porang memiliki kandungan yang sangat bermanfaat bagi tubuh manusia. Mulai dari rendah kalori hingga bebas gula.
"Ini juga bisa menjadi pengganti beras yang lebih sehat karena kadar gulanya sangat rendah," ucap Presiden.
Jokowi berharap komoditas porang ini dapat diekspor tidak hanya dalam bentuk mentahan dan barang setengah jadi, namun sudah dalam bentuk beras porang.
"Insyaallah nanti tahun depan sudah akan menjadi barang jadi yaitu menjadi beras porang," harapnya.
Dalam kunjungan tersebut, Presiden Jokowi juga melakukan groundbreaking perluasan pabrik PT Asia Prima Konjac sekaligus meninjau proses pengolahan porang dari barang mentah menjadi barang setengah jadi. Presiden Jokowi juga menyempatkan diri berdialog dengan beberapa perwakilan petani porang.
Turut mendampingi Presiden Jokowi dalam kegiatan ini adalah Sekretaris Kabinet Pramono Anung, Menteri Pertanian Syahrul Yasin Limpo, Gubernur Jatim, Khofifah Indar Parawansa, dan Direktur Utama PT Asia Prima Konjac, Pin Haris.
Madiun of East Java [B2B] - The movement of Indonesian agricultural commodity exports must begin with the presence of exporters among the people, at the same time opening up employment opportunities widely, by increasing the movement three times exports [GratiEks] so GratiEks became part of the people´s movement to show that Indonesia is a strong country in the agricultural sector, according to according to senior official of Indonesian Statistics Agency.