IPK 3.92, Wisudawan Polbangtan Terbaik 2019 dari Kampus YoMa dan Medan
3.92, the Achievement Index of Best Graduates Indonesia`s Polbangtan
Editor : M. Achsan Atjo
Translator : Dhelia Gani

PUBLISHED: Kamis, 15 Agustus 2019 , 00:12:00 WIB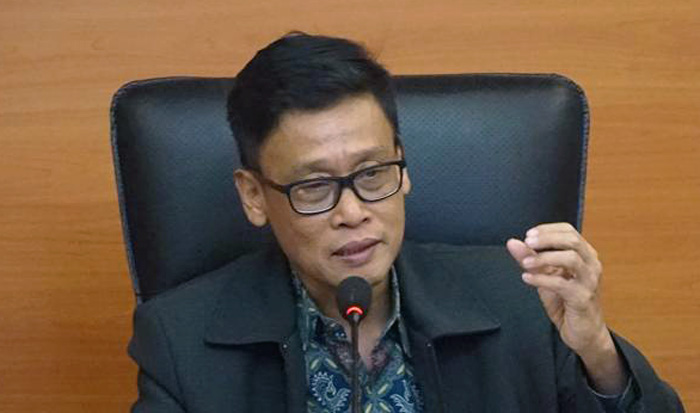 WISUDA NASIONAL POLBANGTAN: Prof [R] Dedi Nursyamsi, Kepala Badan Penyuluhan dan Pengembangan SDM Pertanian - Kementerian Pertanian RI [BPPSDMP Kementan] Foto: Humas BPPSDMP
Jakarta [B2B] - Wisudawan/wati terbaik 2019 dari 821 lulusan pertama Politeknik Pembangunan Pertanian - Kementerian Pertanian RI [Polbangtan] adalah Puri Eka Fortuna, mahasiswi Prodi Penyuluhan Pertanian Berkelanjutan - Polbangtan YoMa, dan Miftah Aulia dari Prodi Penyuluhan Perkebunan Presisi - Polbangtan Medan, setelah keduanya meraih indeks prestasi kumulatif [IPK] tertinggi yakni 3.92.
Mereka adalah dua dari 821 wisudawan Polbangtan dari enam kampus di seluruh Indonesia yang akan diwisuda oleh Menteri Pertanian RI Andi Amran Sulaiman di Jakarta, Selasa pekan depan [20/8] didampingi Kepala BPPSDMP Kementan, Prof [R] Dedi Nursyamsi dan dihadiri para direktur jenderal [pejabat eselon satu] serta seluruh jajaran Kementan yang berkantor pusat di kawasan Ragunan, Jakarta Selatan.
Prof Dedi Nursyamsi mengatakan kegiatan wisuda 20 Agustus 2019 merupakan wisuda nasional dari enam kampus Polbangtan di seluruh Indonesia: Medan [Sumatera Utara], Bogor [Jawa Barat], Yogyakarta - Magelang [DIY dan Jawa Tengah], Malang [Jawa Timur], Gowa [Sulawesi Selatan] dan Manokwari [Papua Barat].
"Mentan Amran Sulaiman akan memberikan graduation speech di depan 821 wisudawan dan menganugerahkan 12 wisudawan terbaik dari enam Polbangtan, yang layak disebut petani milenial berpendidikan tinggi sebagai lulusan dari perguruan tinggi di bawah tanggung jawab Kementan," kata Dedi Nursyamsi kepada pers di kantornya, Rabu [14/8] didampingi Kepala Pusat Pendidikan [Pusdiktan BPPSDMP] Idha Widi Arsanti.
Turut hadir Sekretaris BPPSDMP Kementan, Siti Munifah; Kepala Pusat Penyuluhan Pertanian [Pusluhtan BPPSDMP] Leli Nuryati dan sejumlah pejabat eselon tiga dan empat BPPSDMP.
Dari seluruh wisudawan/wati, 727 di antaranya atau lebih dari 80% adalah siap usaha berkualifikasi [job creator] para penerima Program Pengembangan Wirausaha Muda Pertanian [PWMP] yang telah memiliki pengalaman sebagai kreator lapangan kerja.
Selain itu, 69 wisudawan/wati kualifikasi siap kerja [job seeker], beberapa di antaranya telah diterima bekerja di perkebunan nasional serta 25 wisudawan diterima bekerja pada beberapa instansi pemerintah.
Idha WA menambahkan wisuda nasional para 'petani milenial' dari Polbangtan adalah momentum yang membanggakan bagi kita semua, Polbangtan menghasilkan alumni yang siap kerja dan siap usaha.
"Millenial yang menginspirasi generasi muda yang lain untuk berkecimpung di dunia pertanian sebagai hal sangat membanggakankan," kata Idha WA yang akrab disapa Santi.
Menurutnya, wisuda nasional Polbangtan 2019 akan disemarakkan oleh pameran hasil produk unggulan dari PWMP masing-masing antara lain kopi dari Polbangtan Medan, urban farming dari Polbangtan Bogor, pakan ternak dari Polbangtan YoMa, olahan ternak dari Polbangtan Malang dan Polbangtan Gowa serta olahan komoditas asli Papua dari Polbangtan Manokwari.
Jakarta [B2B] - The best graduate of 821 graduates of the Indonesian Agricultural Development Polytechnic [Polbangtan] is Puri Eka Fortuna, a student of the Sustainable Agriculture Extension diploma program at the Polbangtan YoMa and Miftah Aulia from Plantation Extension at the Polbangtan Medan, after both achieved the highest cumulative achievement index of 3.92.