Dorong Ekspor & Tekan Inflasi, Kementan Gandeng BI dan Pemprov Kepri
Indonesia`s Riau Islands has the Potential to Export Agricultural Commodities
Reporter : Gusmiati Waris
Editor : Cahyani Harzi
Translator : Dhelia Gani

PUBLISHED: Rabu, 03 Oktober 2018 , 01:27:00 WIB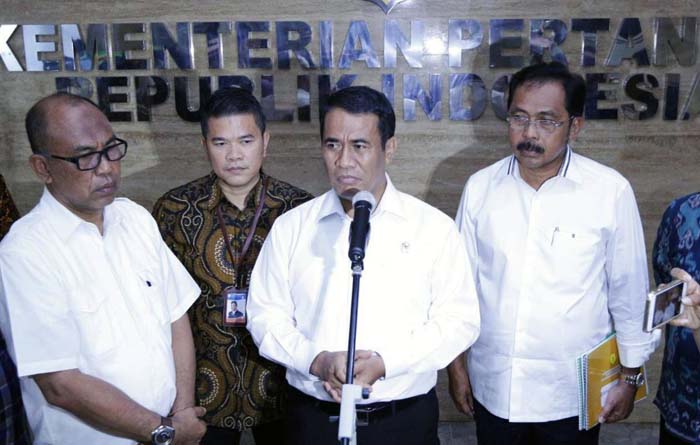 Mentan Andi Amran Sulaiman (ke-2 kiri) menjawab pers (Foto: Humas Kementan)
Jakarta (B2B) - Kementerian Pertanian RI mendorong pengembangan sektor pertanian di wilayah perbatasan Kepulauan Riau untuk peningkatan ekspor komoditas pertanian ke negara tetangga sesama anggota ASEAN, dengan menggandeng Bank Indonesia (BI) dan Pemerintah Provinsi Kepulauan Riau (Pemprov Kepri) untuk mendulang devisa sekaligus mengendalikan inflasi.
Menteri Pertanian RI Andi Amran Sulaiman mengatakan kementeriaanya akan berperan dalam kebijakan pengembangan usaha pertanian, melakukan percepatan investasi, meningkatkan ekspor komoditas pertanian didukung penyediaan data dan informasi tentang produksi pertanian yang diminati negara tujuan ekspor.
"Kepri merupakan salah satu provinsi potensial mendukung target Indonesia menjadi lumbung pangan dunia 2045. Kementan tidak hanya fokus pada wilayah-wilayah yang sudah menjadi sentra produksi pertanian, juga pada wilayah yang belum tergali potensinya, salah satu wilayah suboptimal yang menjadi fokus saat ini adalah perbatasan Kepri," kata Mentan Amran Sulaiman kepada pers di Jakarta, Selasa (2/10) usai menandatangani kerjasama strategis tersebut.
Menurutnya, Kepri memiliki keunggulan dalam perdagangan internasional karena kawasan Batam, Bintan dan Karimun masuk dalam kawasan perdagangan bebas, dan Kabupaten Lingga dibidik untuk menjadi kawasan sentra produksi pertanian untuk memasok kebutuhan pangan provinsi maupun pasar internasional.
Meningkatnya jumlah penduduk Batam, Tanjungpinang, dan kabupaten lain mendorong peningkatan kebutuhan pangan, sementara saat ini pasokan pangan dan hortikultura sangat terbatas sehingga memicu lonjakan harga pada kondisi tertentu lantaran cuaca, distribusi kurang lancar, dan gagal panen di Sumatera dan Jawa.
"Kepri dapat menjadi hub untuk ekspor, dan salah satu negara yang berpotensi menjadi pasar produk pertanian Indonesia adalah Singapura, yang setiap hari membutuhkan 2.500 ton komoditas hortikultura, dan saat ini Indonesia hanya dapat memasok enam persen dari total kebutuhan pangan warga Singapura," kata Mentan.
Jakarta (B2B) - Indonesian Agriculture Ministry encourages development of agricultural sector in Riau Islands border region, to increase agricultural commodity exports to neighboring ASEAN member states in cooperation with Bank Indonesia and Riau Islands provincial government to gain foreign exchange and control the inflation.
Agriculture Minister Andi Amran Sulaiman said his ministry would support agricultural business development policies, increasing foreign investment, increasing exports of agricultural commodities supported by the provision of data and information on agricultural production that are of interest to export destinations.
"Riau Islands is one of the potential provinces to support Indonesia´s target to become the 2045 world´s food barn. The ministry does not only focus on areas that have become centers of agricultural production, also in areas that have not developed agricultural potential especially the border of the Riau Islands," Minister Sulaiman told the press here on Tuesday (October 2).
According to him, Riau Islands has an advantage in international trade because the Batam, Bintan and Karimun areas are included in the free trade area, and Lingga district is targeted to be a center for agricultural production to supply provincial and international food needs.
The increasing number of residents of Batam, Tanjungpinang, and other districts encourages an increase in food needs, while currently the supply of food and horticulture is very limited, triggering a surge in prices in certain conditions due to weather, poor distribution, and crop failure in Sumatra and Java.
"Riau Islands can become a hub for exports, and one of the countries that has the potential to become Indonesia´s agricultural product market is Singapore, that every day requires 2,500 tons of horticultural commodities, and currently Indonesia can only supply six percent of the total food needs of Singaporeans," Mr Sulaiman said.