Atasi Paceklik, PJ Upsus Sumsel Ajak Petani OKI Tanam Padi IP 300
Indonesian Govt Invites Farmers to Rice Harvest 3 Times a Year
Editor : M. Achsan Atjo
Translator : Dhelia Gani

PUBLISHED: Jum'at, 24 Agustus 2018 , 01:32:00 WIB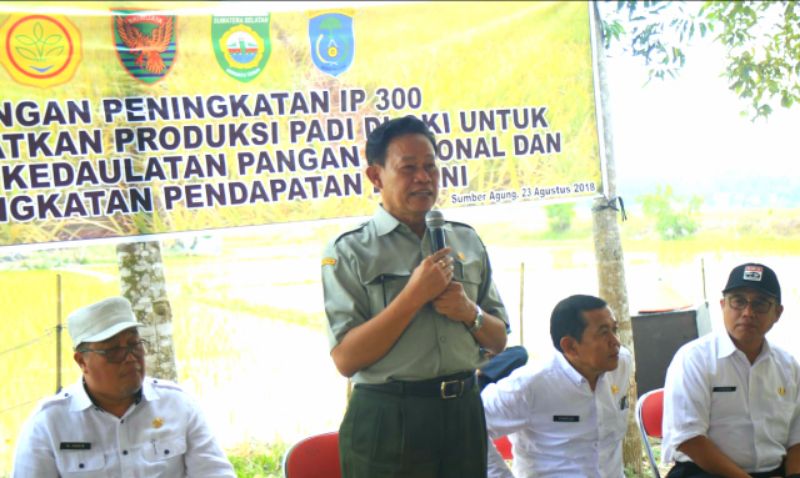 KOMITMEN LTT: PJ Upsus Sumsel, Momon Rusmono (berdiri) didampingi Sekda Pemkab OKI, H Husin MM (kiri), Kadistan OKI Syarifudin, Kabid TP Pemprov Sumsel, Ilfantria (Foto: Humas BPPSDMP/Pito)
Kayu Agung - OKI, Sumsel (B2B) - Pemerintah RI menginstruksikan pemangku kepentingan sektor pertanian pada 17 kabupaten/kota di Provinsi Sumatera Selatan menyokong petani melakukan indeks pertanaman IP 300 pada sawah irigasi teknis, hal itu ditempuh Kementerian Pertanian RI untuk mendukung langkah mengantisipasi masa paceklik 2018.
Seruan tersebut dikemukakan oleh Penanggung Jawab Upaya Khusus Sumatera Selatan - PJ Upsus Sumsel - Momon Rusmono pada ´tanam perdana IP 300 padi´ bersama Poktan Sido Makmur di Desa Sumber Agung, Kecamatan Lempuing, Kabupaten Ogan Komering Ilir (OKI), Kamis siang (23/8).
"Petani harus merasa rugi kalau sawahnya tidak digunakan selama empat bulan. Apa nggak sayang, selama empat bulan tidak menghasilkan apa-apa. Ingat, petani adalah profesi, bukan pekerjaan maka harusnya disebut profesional, karena menghasilkan uang dan membuka peluang kerja seperti bayar operator TR2," kata Momon Rusmono, yang juga menjabat Kepala Badan Penyuluhan dan Pengembangan SDM Pertanian (BPPSDMP) Kementan.
Menurutnya, Kementan mengawal ketat produksi padi di bulan Agustus sampai Oktober yang merupakan masa paceklik produksi padi akibat musim kemarau. Pengawalan ini penting agar pemerintah secara dini dapat menyelesaikan persoalan yang dihadapi petani di masa paceklik agar mereka tetap memperoleh nafkah dari hasil kerja kerasnya, bahkan meningkatkan pendapatan.
"Setiap hari ada tanam. Setiap hari ada panen. Semua itu tidak lepas dari dukungan inovasi telnologi, faktor sosial, dan peran petani sebagai ujung tombak dalam mendukung luas tambah tanam disingkat LTT sebagai jembatan untuk mencapai swasembada pangan," kata Momon Rusmono yang sukses mengantar Kalimantan Barat (Kalbar) masuk ´tiga besar´ capaian LTT nasional.
Tampak hadir PJ Upsus OKI Prof Risfaheri; Sekda Pemkab OKI, H Husin MM; Kadistan OKI, Syarifudin; Kabid Tanaman Pangan Pemprov Sumsel, Ilfantria, Ketua Gapoktan Sido Makmur, Sutrisno; dan Kasie Penyuluhan Pemprov Sumsel, Erwin Jauhari; Koordinator Penyuluh Pemprov Sumsel, Ernizal; dan Kasie Serealia, Rafli Rasyad.
Kabid Ilfantria mengajak petani di seluruh Sumsel tetap melakukan olah lahan, kemudian menanam padi setelah turun hujan pada lahan tadah hujan dan lahan kering melalui pemanfaatan pompa air membangun embung, longstorage, dam-parit, dan sumur air tanah dangkal.
Kadistan Syarifudin mengingatkan masa paceklik yang kerap terjadi pada Agustus sampai Oktober, harus disikapi dengan tetap mengolah lahan, begitu turun hujan pada September barulah menanam padi.
South Sumatera (B2B) - Indonesian government instructs stakeholders of the agricultural sector in 17 districts/cities in South Sumatra province or the Sumsel support farmers to do an IP 300 cropping index on technical irrigated rice fields, the Ministry of Agriculture´s policy is to anticipate the 2018 dry season.
The instruction is stated by Person in Charge of Increase Rice Production for the Sumsel, Momon Rusmono on ´rice planting of IP 30´´ with the Sido Makmur farmer group in Sumber Agung village of Lempuing subdistrict, Ogan Komering Ilir district.
"The farmers must feel disadvantaged if their fields are not planted with rice for four months. It must be regretted that the rice fields for four months did not produce anything. Please remember, farmers are professions, not an ordinary job then it should be called a professional," Mr Rusmono said.
According to him, the ministry oversees the tight production of rice from August to October which is called a famine due to the dry season. This policy is important so that the government can solve problems faced by farmers early in the dry season, so that farmers continue to earn a living from hard work, even increasing income.
"Every day there is planting. Every day there is a harvest. This is supported by technological innovation, social factors, and the role of farmers support the extensification of rice planting or the LTT as the bridge to achieve food self-sufficiency," Mr Rusmono said.
Ilfantria invite the farmers across the province to continue to cultivate the land, then planting rice after it rained on rain-fed land and dry land utilizes water pumps to build ponds, longstorage, ditches, and shallow groundwater wells.
Syarifudin reminded that the dry season often occurs from August to October must cultivate the land so that when it rained in September immediately planted rice.