1 Desa 1 Penyuluh, BPPSDMP Kementan Satukan Tekad Kembangkan Posluhdes
Indonesian Agriculture Ministry to Develop Agricultural Extensionist Centers in each Village
Editor : M. Achsan Atjo
Translator : Dhelia Gani

PUBLISHED: Senin, 22 Oktober 2018 , 01:44:00 WIB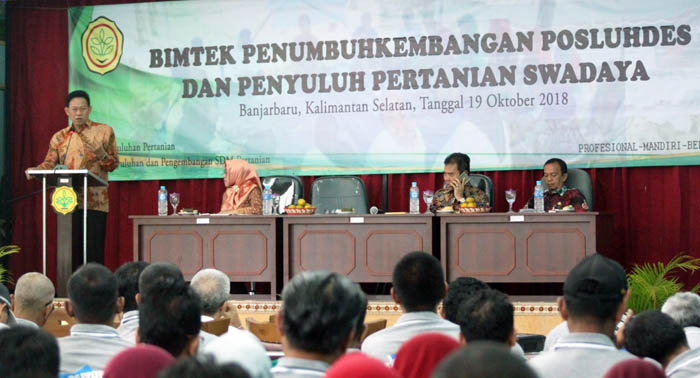 PENYULUH SWADAYA: Kepala BPPSDMP Kementan, Momon Rusmono memberi arahan yang dihadiri Kapusluhtan Siti Munifah. (Foto: Humas BPPSDMP Kementan/Eka Saputra)
Banjarbaru, Kalsel (B2B) - Kementerian Pertanian RI mengembangkan program penyuluhan pertanian sebagai proses pembelajaran bagi pelaku utama serta pelaku usaha agar mau dan mampu menolong dan mengorganisasikan dirinya dalam mengakses informasi pasar, teknologi, permodalan, dan sumberdaya lainnya, sebagai upaya untuk meningkatkan produktivitas, efisiensi usaha, pendapatan, dan kesejahteraannnya.
Kepala Badan Penyuluhan dan Pengembangan SDM Pertanian (BPPSDMP) Kementan, Momon Rusmono mengingatkan tentang amanat dari UU Perlindungan dan Pemberdayaan Petani No 19/2013 bahwa satu desa potensi pertanian, harus didukung seorang penyuluh pertanian.
"Amanat serupa ditegaskan dalam UU Sistem Penyuluhan Pertanian No 16 tahun 2006 bahwa penyuluh pertanian terdiri atas penyuluh pemerintah, penyuluh swadaya, dan penyuluh swasta," kata Momon Rusmono di Banjarbaru, Kalimantan Selatan pada Jumat (19/10).
Dia mengingatkan tentang jumlah penyuluh PNS saat ini mencapai 30 ribu orang, 12 ribu tenaga harian lepas - tenaga bantu (THL-TB) didukung BPTP delapan ribu orang. Dari 32 ribu penyuluh PNS dan THL-TBP terdapat 72 ribu desa potensi pertanian, sehingga seorang penyuluh pertanian mengawal dua hingga tiga desa.
"Untuk mencukupi jumlah penyuluh, Kementan mempunyai kebijakan menumbuhkembangkan penyuluh swadaya karena amanat UU tersebut," kata Momon Rusmono yang berada di Kalsel dalam kaitan peringatan Hari Pangan Sedunia - HPS ke-38.
Dia mengharapkan Pusat Penyuluhan Pertanian (Pusluhtan) di BPPSDMP Kementan dapat bekerja maksimal mencukupi kebutuhan penyuluhan melalui penyuluh swadaya sehingga dapat terpenuhi rasio satu desa didukung seorang penyuluh pertanian. (Liene)
Banjarbaru of South Borneo (B2B) - Indonesia´s Ministry of Agriculture develops agricultural extension programs to support the farmers to increase agricultural production, develop farmer organizations, utilize technological innovations, access banking capital, and other resources to support food self-sufficiency and improve farmers´ welfare, according to senior ministry officials.
The Director General of Agency for Agricultural Extension and Human Resources Development or the BPPSDMP, Momon Rusmono remind the mandate of Law Protection and Empowerment of Farmers Number 19/2013 about the village as the agricultural production center must be supported by an agricultural extensionist.
"A similar mandate is affirmed in the Agriculture Extension System Law Number 16/2006 that agricultural extensionist consist of civil servants, independent and private agricultural extensionist," Mr Rusmono said here on Friday (October 19).
He reminded about 30 thousand civil servant extensionist and 12 thousand honorary employees. While across the country there are 72 thousand villages agricultural potential, so that an agricultural extension officers support two to three villages.
"To fulfill the number of agricultural extensionist, the ministry applies the development of independent extensionist according to the law´s instructions," Mr Rusmono said.
He expects the Pusluhtan to work optimally to meet the needs of agricultural extensionist with self-help workers so that the ratio of the number of agricultural extension workers can be fulfilled.