BPPSDMP Era Jokowi - JK, Tingkatkan Profesionalitas Tiga Pilar SDM Pertanian
Indonesia`s Widodo Focus of Professional Agricultural HR Development
Editor : M. Achsan Atjo
Translator : Dhelia Gani

PUBLISHED: Selasa, 27 November 2018 , 01:48:00 WIB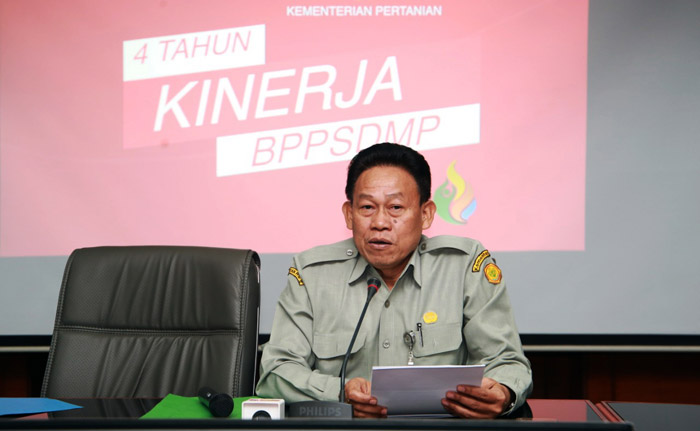 REGENERASI PETANI: Kepala BPPSDMP Kementan, Momon Rusmono (Foto: Humas BPPSDMP/Pito)
Jakarta (B2B) - SDM pertanian Indonesia mandiri, profesional dan berdaya saing menjadi target capaian Badan Penyuluhan dan Pengembangan SDM Pertanian (BPPSDMP) Kementerian Pertanian RI fokus pada tiga pilar SDM pertanian: penyuluhan, pendidikan dan pelatihan dalam empat tahun terakhir di era Pemerintahan Joko Widodo dan Jusuf Kalla pada 2015 - 2018.
Kepala BPPSDMP Kementan, Momon Rusmono mengatakan Menteri Pertanian RI Andi Amran Sulaiman menekankan visi pengembangan SDM pertanian adalah mewujudkan SDM pertanian yang profesional, mandiri, dan berdaya saing untuk mendukung pencapaian kedaulatan pangan dan kesejahteraan petani.
Visi dan misi Jokowi - JK diwujudkan melalui program peningkatan penyuluhan, pelatihan pertanian, dan pendidikan pertanian yang dijabarkan melalui dua program aksi: Gerakan Pemberdayaan Petani Terpadu (GPPT) dan Gerakan Regenerasi Petani.
"Pusat Penyuluhan Pertanian atau Pusluhtan melakukan penguatan fungsi balai penyuluhan pertanian sebagai kelembagaan penyuluhan pertanian di kecamatan. Didukung penguatan kelembagaan penyuluhan pertanian di desa, yang lebih dikenal sebagai pos penyuluhan desa atau kelurahan disingkat Posluhdes," kata Momon Rusmono kepada pers di Jakarta, Senin siang (26/11).
Pusat Pendidikan Pertanian (Pusdiktan) mengembangkan program Penumbuhan Wirausahawan Muda Pertanian (PWMP) sejak 2016 untuk menumbuhkan, meningkatkan minat, keterampilan, dan jiwa kewirausahaan generasi muda di bidang pertanian.
"Pusdiktan telah melakukan transformasi enam Sekolah Tinggi Penyuluhan Pertanian atau menjadi Politeknik Pembangunan Pertanian disingkat Polbangtan, yang semula berorientasi menghasilkan penyuluh pertanian menjadi job creator dari tiga menjadi 13 program studi," kata Momon Rusmono didampingi Sekretaris BPPSDMP Kementan, Andriko Noto Susanto.
Dari sisi peningkatan kompetensi SDM pertanian, Pusat Pelatihan Pertanian (Puslatan) mengembangkan pelatihan teknis pertanian dengan menerapkan pola pelatihan on the job trainning disingkat OJT yakni tematik, sekolah lapang, dan kegiatan magang sehingga petani dapat lebih cepat mengadopsi teknologi baru.
Tampak hadir Kapusluh Siti Munifah; Kapusdik Idha Widi Arsanti, Kapuslat Bustanul Arifin Caya. Sejumlah pejabat eselon tiga di antaranya Kabag Evalap Titin Gartini; Kabid Penyelenggaraan Penyuluhan Pusluhtan, Zahron Helmy; Kabid Kelembagaan dan Ketenagaan Pendidikan Pusdiktan, Inneke Kusumawaty; Kabid Program dan Kerjasama Pendidikan Puslatan, Eka Herissuparman dan para pejabat eselon empat di antaranya Kasubbid Informasi dan Materi Penyuluhan Pusluhtan, Septalina Pradini dan Kasubbid Ketenagaan Pendidikan Pusdiktan, Erwin Zulkarnain. (Cha)
Jakarta (B2B) - Indonesian agriculture SDM independent, professional and competitive became the target of the Directorate General of Extension and Development of HR Agriculture or BPPSDMP at the Indonesian Agriculture Ministry focus on agricultural HR pillars: agricultural extension, education and agricultural training in the last four years of in the Joko Widodo administration.
The Director General of BPPSDMP, Momon Rusmono Agriculture Minister Andi Amran Sulaiman emphasizing the vision of developing professional, independent and competitive agricultural human resources to support achievement of food sovereignty and welfare of farmers.
The vision and mission is improvement of agricultural extension, agricultural training, and agricultural education in the action program: integrated farmer empowerment movement and farmer regeneration.
"The Agricultural Extension Center or Pusluhtan strengthening agricultural extension centers in the subdistrict supported by strengthening village agricultural extension services," Mr Rusmono told reporters here on Monday evening (November 26).
The Agricultural Education Center or Pusdiktan developing the Agriculture Young Entrepreneur Development program or PWMP since 2016 to increase the interests, skills and entrepreneurial spirit of the younger generation in the agricultural sector.
"The Pusdiktan has made transformation of Agricultural Extension College or STPP into Agricultural Development Polytechnic or Polbangtan of orientation graduated as agricultural extensionist become job creators," said Mr Rusmono who was accompanied by Secretary of BPPSDMP Andriko Noto Susanto.
Related to the competency of agricultural HR, Agricultural Training Center or Puslatan develop agricultural technical training with training patterns ´on the job trainning´ or OJT through thematic training, field practice, and apprenticeship programs so farmers are faster to adopt new technologies.