Mentan Ingatkan Wisudawan STPP Manokwari Wajib Dukung Regenerasi Petani
Indonesian Agricultural Extentionist must be Support the Farmer Regeneration
Reporter : Adipati Edonizar
Editor : Cahyani Harzi
Translator : Dhelia Gani

PUBLISHED: Kamis, 16 Agustus 2018 , 02:02:00 WIB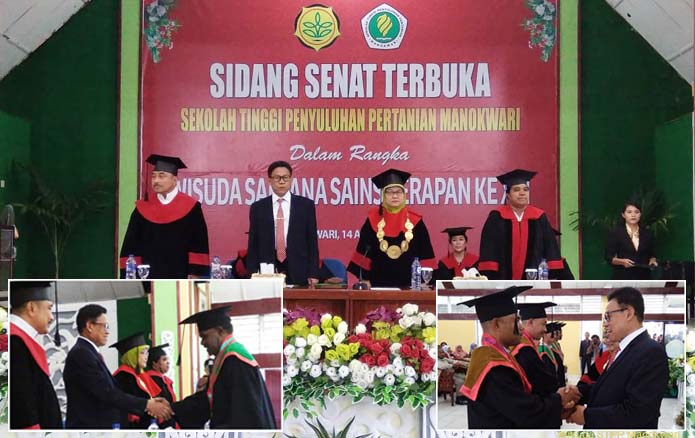 Kiri ke kanan (foto utama) Wakil Ketua Komisi IV DPR Michael Wattimena; Kepala BPPSDMP Momon Rusmono; dan Ketua STPP Manokwari, Maya Purwanti. Kabadan SDM Kementan menyalami para wisudawan (Foto2: Humas BPPSDMP/Alief)
Manokwari, Papua Barat (B2B) - Wisudawan Sekolah Tinggi Penyuluhan Pertanian - STPP Manokwari, Provinsi Papua Barat diharapkan mendukung program pengembangan regenerasi petani, karena Indonesia setiap tahun rata-rata kehilangan 2% rumah tangga petani setelah beralih profesi, sementara petani yang ada saat ini diperkirakan 61% di antaranya berusia di atas 45 tahun dan bakal mengancam pengembangan pertanian nasional.
"Generasi muda akan tertarik pada pertanian apabila didukung teknologi sehingga tidak terkesan kumuh dan terbelakang, diversifikasi usaha tani dan berwawasan lingkungan sehingga dapat berkelanjutan, maka penyuluh pertanian diharapkan berdomisili di dekat tempatnya bekerja," kata Kepala Badan Penyuluhan dan Pengembangan SDM Pertanian (BPPSDMP) Kementerian Pertanian, Momon Rusmono dalam arahannya kepada 42 wisudawan STPP Manokwari, di Manokwari pada Selasa (14/8).
Momon Rusmono berada di Manokwari dalam kaitan wisuda di STPP Manokwari mewakili Menteri Pertanian RI Andi Amran Sulaiman, dan kegiatan wisuda dihadiri Wakil Ketua Komisi IV DPR Michael Wattimena. Turut hadir sebagai tuan rumah adalah Ketua STPP Manokwari, Maya Purwanti.
Momon menambahkan penyuluh pertanian diharapkan berdomisili di wilayah kerjanya agar mengenal baik para petani yang menjadi target penyuluhan, memahami kondisi lingkungan dan agroklimat, dan faham harus kemana mengembangkan jejaring kerjasama bisnis yang potensial.
"Regenerasi petani ini diharapkan dapat mendukung cita-cita pemerintah dalam jangka menengah dan panjang untuk meningkatkan kesejahteraan petani dan kedaulatan pangan serta menjadikan Indonesia sebagai Lumbung Pangan Dunia 2045," kata Momon Rusmono.
Menurutnya, kita harus optimistis bahwa hal itu bisa dilakukan dengan mengacu pada tren keberhasilan yang terlihat meningkatnya produksi berbagai komoditas pertanian, dan membaiknya kinerja petani setelah didukung aksi nyata penyuluh pertanian, peneliti, mahasiswa, dosen dan TNI dalam upaya peningkatan produksi di sentra produksi pangan.
Dalam arahan Mentan Amran Sulaiman yang dibacakan oleh Momon Rusmono, Kementan berupaya menumbuhkan minat generasi muda pada sektor pertanian dengan mengubah paradigma petani bahwa sektor pertanian merupakan sektor yang menarik dan menjanjikan apabila dikelola dengan sungguh-sungguh.
"Pemerintah telah menetapkan harga beli minimal terhadap hasil pertanian yang menguntungkan petani, dan memprotes keras terhadap praktik kartel yang mengakibatkan disparitas harga yang merugikan petani," kata Mentan seperti disampaikan Momon.
Manokwari of West Papua (B2B) - The graduates of Manokwari´s Agricultural Extension College or the STPP Manokwari, West Papua Province are expected support the farmer regeneration development program, because every year Indonesia loses 2% of farm households, while current farmers are estimated to be 61% over 45 years, according to Indonesian senior official.
"The young generation will be interested in agriculture if supported by technology so as not to impress the slums and underdeveloped, diversification of farming and environmentally friendly so that it can be sustainable," the Director General of Agency for Agricultural Extension and Human Resources Development (BPPSDMP) Momon Rusmono in his speech press here on Tuesday (August 14) to 420 graduates of the STPP Manokwari.
Mr Rusmono was in Manokwari of the capital of West Papua province represent the Agriculture Minister Andi Amran Sulaiman, and graduation ceremony was attended by Vice Chairman of House´s Commission IV, Michael Wattimena. Also attended Rector of STPP Manokwari, Maya Purwanti.
The agricultural extension workers are expected to be domiciled in their working areas to get to know the farmers who are the target of counseling, to understand the environment and agro-climate, and to understand where to develop a network of potential business cooperation, he added.
"Regeneration of farmers is expected to support the government´s goals in the medium and long term to improve the welfare of farmers and food sovereignty and make Indonesia as the 2045 world´s food barn," Mr Rusmono said.
According to him, we should be optimistic that it can be done by referring to the successful trend of increasing production of various agricultural commodities, and improving the performance of farmers after being supported by agricultural extension workers, researchers, students, lecturers and the army.
Minister Sulaiman in his speech read by Mr Rusmono said the ministry seeks to arouse the interest of the young generation in the agricultural sector, change the paradigm of farmers that the agricultural sector is an interesting and promising sector of the future.
"The government has set a minimum purchase price on agricultural products that benefit farmers, and protests against cartel practices that trigger price disparities that are detrimental to farmers," said Minister Sulaiman as quoted by Mr Rusmono.