Donasi Palu, Polbangtan Bogor Kerahkan `Marching Band` Ketuk Hati Publik
Indonesian Students Raise Funds for Palu Quake Victims
Editor : M. Achsan Atjo
Translator : Dhelia Gani

PUBLISHED: Kamis, 11 Oktober 2018 , 02:28:00 WIB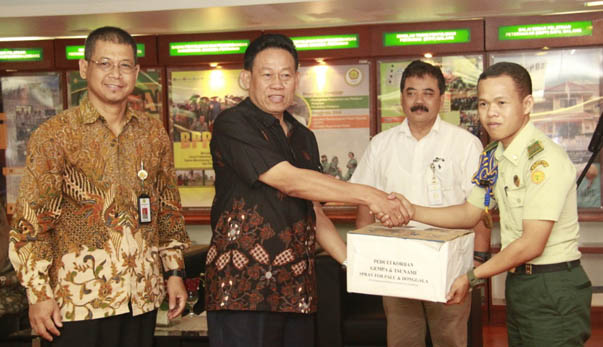 ATRAKSI AMALKetua BEM Polbangtan Bogor, Yandri M Ramadhan serahkan donasi pada Kepala BPPSDMP Kementan, Momon Rusmono didampingi Sesba Andriko NS (Foto: Banupito)
Jakarta (B2B) - Politeknik Pembangunan Pertanian - Polbangtan Bogor terbukti mampu mengumpulkan donasi hampir Rp100 juta untuk korban Gempa Palu Donggala, tanpa harus mengerahkan mahasiswa membawa kotak amal, tapi mengerahkan marching band dari Drumband Canka Lembayung Muda, yang dikenal sebagai drumband terbaik dari unit pelaksana teknis (UPT) Badan Penyuluhan dan Pengembangan SDM Pertanian - Kementerian Pertanian RI.
"Drumband Canka Lembayung Muda melakukan kirab seni di beberapa titik di Kota Bogor sejak 5 Oktober , untuk mengumpulkan dana kemanusiaan bagi korban Gempa Palu di Sulawesi Tengah," kata Ketua Badan Eksekutif Mahasiswa - BEM Polbangtan Bogor, Yandri M Ramadhan sebelum menyerahkan donasi Rp85,4 juta plus pakaian layak pakai kepada Kepala BPPSDMP Kementan, Momon Rusmono di Jakarta, Rabu (10/10).
Yandri menambahkan kegiatan penggalangan dana kemanusiaan Polbangtan Bogor dikoordinasikan dengan unit kegiatan mahasiswa yang dilakukan di sekitar kampus dan Kota Bogor, yang dipusatkan di jurusan pertanian di Cibalagung dan Cinagara untuk jurusan peternakan.
Menurutnya, donasi yang berhasil dikumpulkan mencapai Rp95.449.200 dan disisihkan Rp10 juta kepada salah seorang mahasiswa, karena keluarganya di Palu turut menjadi korban gempa dan tsunami, "jadi kami serahkan langsung donasi tersebut untuk rekan kami yang sedang ditimpa kemalangan."
Momon Rusmono mengapresiasi semangat dan kiat mahasiswa Polbangtan Bogor mengumpulkan donasi untuk Palu, sebagai bukti bahwa civitas academica pendidikan tinggi vokasi pertanian BPPSDMP memahami dan mengamalkan prinsip ´how to live together´ dan bukan sekadar faham pada ´how to know´ dan how to be´ untuk hidup selaras dan peduli pada masyarakat.
"Kami harapkan semangat dari prinsip ini berlaku di seluruh UPT pendidikan dari BPPSMP Kementan, dan bukan hanya Polbangtan Bogor," kata Momon Rusmono.
Sekretaris BPPSDMP Kementan, Andriko Noto Susanto mengatakan bahwa Polbangtan Medan di Sumatera Utara juga mengumpulkan donasi senilai Rp42 juta untuk Palu.
Dalam kesempatan yang sama, Dewan Pimpinan Pusat Dharma Wanita (DPP-DW) BPPSDMP Kementan juga menyerahkan hasil penggalangan dana, yang diserahkan oleh Sekretaris DPP-DW BPPSDMP, Santi Ambarwati.
Jakarta (B2B) - Indonesian´s Bogor Agricultural Development Polytechnic or the Polbangtan Bogor raise humanitarian funds almost IDR100 million for Palu Quake victims, by holding the marching band performance by Canka Lembayung Muda Drumband, which is known as the best drumband of the technical implementation unit of Directorate General of Agricultural HR Development or the BPPSDMP.
"Drumband Canka Lembayung Muda performed at several points in Bogor city since October 5, to raise humanitarian funds for the Palu Quake victims in Central Sulawesi province," said Chairman of the Student Senate, Yandri M Ramadhan here on Wednesday (October 10).
Mr Ramadhan said the Polbangtan Bogor humanitarian fundraising activity was coordinated with the student activity unit which was carried out around the campus and Bogor city.
According to him, the donations collected reached IDR95,449,200 and were set aside IDR10 million to one of the students, because his family in Palu was hit by earthquake and tsunami.
The Director General of BPPSDMP, Momon Rusmono, appreciated the enthusiasm of the students of Bogor Polbangtan to collect donations for Palu, as proof that the civitas academica of Indonesian agricultural vocational higher education understands and implements the principle of ´how to live together´ and not merely understand the ´how to know´ and how to be´ to live in harmony and care for the community.
"We hope the spirit of humanity applies in Polbangtan across the country, not just Polbangtan Bogor," said Mr Rusmono.
Secretary of the BPPSDMP Andriko Noto Susanto said that Polbangtan Medan, North Sumatra province also collected donations of IDR42 million for Palu.
In the same occasion, the union of wives the BPPSDMP also handed over donations to the Palu earthquake victims, submitted by the Secretary of the DPP-DW BPPSDMP, Santi Ambarwati.