162 Korban Tewas Dampak Gempa 5,2 M di Cianjur
Hunt for Buried Survivors After Indonesia Quake Kills162
Editor : Taswin Bahar
Translator : Novita Cahyadi

PUBLISHED: Selasa, 22 November 2022 , 15:07:00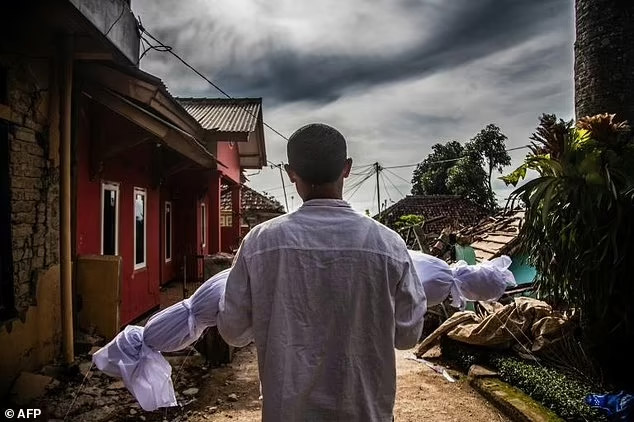 BENCANA ALAM: Seorang warga menggotong anaknya yang sudah meninggal melewati jalanan Cianjur. (Foto: AFP)
Cianjur, Jabar [B2B] - Sebanyak 162 tewas dan ratusan orang luka-luka setelah gempa berkekuatan magnitudo 5,2 yang terjadi di Kota Cianjur, Jawa Barat, pada Senin Siang [21/11].
Pusat gempa tersebut berada di dekat kota Cianjur di Jawa Barat, di mana sebagian besar korban tewas dipicu bangunan runtuh dan tanah longsor.
Tim penyelamat Search and Rescue [SAR] berupaya menyelamatkan korban selamat yang masih berada di bawah puing-puing di daerah yang sulit dijangkau oleh banyaknya rintangan yang dilemparkan ke jalan akibat gempa.
Salah satu dari belasan penyelamat, Dimas Reviansyah, 34 tahun, mengatakan tim menggunakan gergaji mesin dan ekskavator untuk menerobos tumpukan pohon yang ditebang dan puing-puing untuk mencapai daerah di mana warga sipil diyakini terjebak.
"Saya belum tidur sama sekali sejak kemarin, tapi saya harus tetap jalan karena ada korban yang belum ditemukan," ujarnya.
Rekaman drone yang diambil oleh AFP, menunjukkan tingkat tanah longsor yang dipicu gempa di mana dinding tanah coklat hanya diselingi oleh pekerja yang menggunakan alat berat untuk membersihkan jalan.
Presiden Joko Widodo mengunjungi daerah itu pada hari Selasa, menawarkan kompensasi bagi para korban dan memerintahkan lembaga bencana dan penyelamatan untuk "memobilisasi personelnya" untuk memprioritaskan evakuasi para korban.
"Atas nama saya sendiri, atas nama pemerintah, saya ingin menyampaikan belasungkawa yang sedalam-dalamnya," katanya.
Badan Nasional Penanggulangan Bencana Indonesia, atau BNPB, mengatakan sedikitnya 25 orang masih terkubur di bawah reruntuhan di Cianjur saat kegelapan turun Senin.
"Ada kemungkinan masih ada korban lagi," kata Rudy Saladin, seorang kepala militer setempat, kepada AFP.
BNPB menawarkan angka kematian yang lebih rendah dari 103 pada Selasa pagi dan mengatakan 31 orang masih hilang.
Beberapa yang tewas adalah siswa di sebuah pesantren sementara yang lain terbunuh di rumah mereka ketika atap dan dinding ambruk menimpa mereka.
"Kamar runtuh dan kaki saya terkubur di bawah reruntuhan. Semuanya terjadi begitu cepat," kata siswa berusia 14 tahun Aprizal Mulyadi kepada AFP.
Cianjur of West Java [B2B] - Rescuers searched for survivors buried under rubble on Tuesday after an earthquake on Indonesia´s main island of Java killed 162 people, injured hundreds and left more feared trapped in collapsed buildings.
As bodybags emerged from crumpled buildings in Indonesia´s most populous province, rescue efforts turned to any survivors still under debris in areas made hard to reach by the mass of obstacles thrown onto the roads by the quake.
The epicentre of the shallow 5.6-magnitude quake on Monday was near the town Cianjur in West Java where most of the victims were killed as buildings collapsed and landslides were triggered.
One of the dozens of rescuers, 34-year-old Dimas Reviansyah, said teams were using chainsaws and excavators to break through piles of felled trees and debris to reach areas where civilians were believed trapped.
"I haven´t slept at all since yesterday, but I must keep going because there are victims who have not been found," he said.
Drone footage taken by AFP showed the extent of a quake-triggered landslide where a wall of brown earth is only punctuated by workers using heavy machinery to clear a road.
President Joko Widodo visited the area on Tuesday, offering compensation for victims and ordering disaster and rescue agencies to "mobilise their personnel" to prioritise the evacuation of victims.
"On behalf of myself, on behalf of the government, I would like to express my deepest condolences," he said.
Indonesia´s national disaster mitigation agency, or BNPB, said at least 25 people were still buried under the rubble in Cianjur as darkness fell Monday.
"There´s a possibility there are still more victims," Rudy Saladin, a local military chief, told AFP.
The BNPB offered a lower death toll of 103 as of Tuesday morning and said 31 people remain missing.
Some of the dead were students at an Islamic boarding school while others were killed in their homes when roofs and walls caved in on them.
"The room collapsed and my legs were buried under the rubble. It all happened so fast," 14-year-old student Aprizal Mulyadi told AFP.