Audiensi Gubernur DIY, Sultan HB X Dukung STPP Magelang jadi Polibangtan
Indonesia`s Yogyakarta Governor Support Agricultural Development Polytechnic
Editor : M. Achsan Atjo
Translator : Dhelia Gani

PUBLISHED: Jum'at, 25 Mei 2018 , 02:32:00 WIB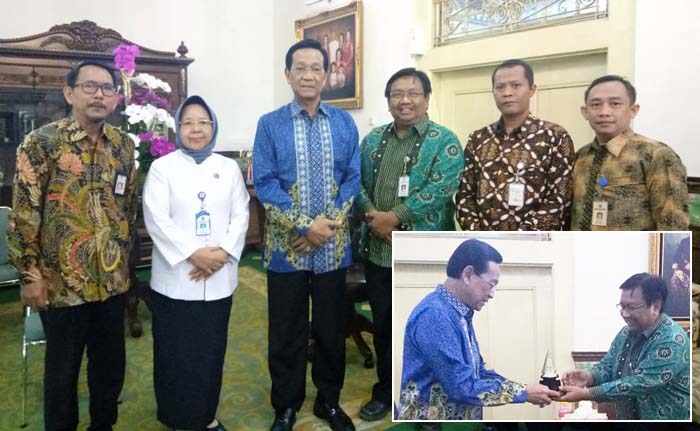 Gubernur DIY Sri Sultan HB X (batik biru) bersama Ketua STPP Magelang, Ali Rachman (ke-3 kanan), Wakil Ketua I, Radjiman (ke-2 kanan); Kepala BKPP DIY Arofa Noror (kanan) dan Kabag Administrasi Umum, Irwan Johan Sumarno
Yogyakarta (B2B) - Gubernur Daerah Istimewa Yogyakarta (DIY) Sri Sultan Hamengkubuwono X menyambut baik dan mendukung transformasi pendidikan tinggi pertanian, Sekolah Tinggi Penyuluhan Pertanian (STPP) di seluruh Indonesia, khususnya STPP Magelang jurusan penyuluhan pertanian (Jurluhtan) di Yogyakarta menjadi Politeknik Pembangunan Pertanian (Polibangtan).

Hal itu dikemukakan Sultan HB X saat menerima audiensi Ketua STPP Magelang, Ali Rachman didampingi Wakil Ketua I, Radjiman; Kabag Administrasi Umum, Irwan Johan Sumarno, dan Ketua Jurluhtan, R Hermawan di Kantor Kepatihan Jl Malioboro pada Rabu (23/5).

"Pemprov DIY mendukung baik langkah dan kebijakan Kementerian Pertanian RI mengembangkan STPP menjadi Polibangtan, khususnya STPP Jurluhtan Yogyakarta untuk menghadirkan sarjana penyuluhan pertanian andal dan profesional, sehingga dapat mendukung pencapaian swasembada pangan di DIY dan seluruh Indonesia," kata Sultan HB X didampingi Kepala Badan Ketahanan Pangan dan Penyuluhan (BKPP) DIY, Arofa Noror.

Ali Rachman mengatakan bahwa transformasi tersebut sesuai amanah UU Pendidikan Tinggi No 12/2012, yang mengisyaratkan kelembagaan pendidikan tinggi di Kementerian Pertanian RI mengerucut pada perubahan kelembagaan menjadi pendidikan vokasional atau politeknik.

Menurutnya, transformasi pendidikan pertanian tidak hanya menyangkut transformasi kelembagaan, juga menyangkut tranformasi penyelenggaraan pembelajaran, tenaga pengajar, program dan kerjasama dalam mempersiapkan perubahan STPP di bawah kendali tugas Badan Penyuluhan dan Pengembangan SDM Pertanian (BPPSDMP) Kementerian Pertanian RI.
Kepala BPPSDMP Kementan, Momon Rusmono dalam berbagai kesempatan mengingatkan bahwa Polibangtan bertumpu pada ilmu-ilmu pertanian terapan yang mengadopsi konsep ´teaching factory´ dengan orientasi pada produksi dan bisnis, maka politeknik akan menghasilkan tenaga vokasi terampil dan bukan sekadar penyuluh pertanian.
Dia mengharapkan lulusan Politani dapat menghasilkan beragam inovasi di bidang pertanian yang dapat diterapkan di lapangan, sehingga mampu memberikan terobosan untuk mendukung kedaulatan pangan, dengan melakukan penyesuaian seperti penyiapan program studi baru, prasarana dan sarana hingga penambahan tenaga pengajar.
Model TEFA
Polibangtan akan mengintegrasikan proses pembelajaran dengan produksi dan menumbuhkan jiwa wirausaha pada pelajar dan mahasiswa melalui model pembelajaran utama adalah teaching factory dan teaching farm (TEFA).

"Kementan menerapkan TEFA sebagai pembelajaran yang berorientasi produksi dan bisnis. Targetnya, adalah proses penguasaan keahlian atau keterampilan yang dilaksanakan berdasarkan prosedur dan standar bekerja yang sesungguhnya, untuk menghasilkan produk atau jasa sesuai kebutuhan konsumen," kata Ali Rachman.

Prinsip dasar TEFA adalah mengintegrasikan pengalaman dunia kerja ke dalam kurikulum sekolah, yang merupakan perpaduan dari pembelajaran berbasis produksi dan pembelajaran kompetensi.

"Semua peralatan dan bahan serta pelaku pendidikan disusun dan dirancang untuk melakukan proses produksi dengan tujuan menghasilkan produk atau jasa," katanya.
Yogyakarta (B2B) - Indonesia´s Yogyakarta Governor Sri Sultan Hamengkubuwono X called the Sultan HB X welcomes and supports the transformation of agricultural extension college accross the country, especially Magelang´s Agricultural Extension College or STPP Magelang become an Agricultural Development Polytechnic or the Polibangtan.

It was stated by Sultan HB X during an official visit of Rector of STPP Magelang, Ali Rachman accompanied by Deputy Rector, Radjiman; Head of General Affairs, Irwan Johan Sumarno; and Head of the Faculty of Agricultural Extension R Hermawan here on Wednesday (23/5).

"The Yogyakarta provincial government supports policy of Indonesian Agriculture Ministry to develop STPP into Polibangtan, especially STPP in Yogyakarta to provide reliable and professional agricultural extension counselors, so it can support food self-sufficiency in Yogyakarta and across the country," said Sultan HB X accompanied by Head of Yogyakarta Food Security Office, Arofa Noor.

Rector Ali Rachman said the transformation is in accordance with the Act of Higher Education Number 12/2012, which suggests higher education in the ministry of agriculture to institutional change into vocational or polytechnic education.

According to him, the transformation of agricultural education is not only about institutions, as well as transformation of learning, lecturers, programs and cooperation into Polibangtan.
Director General of BPPSDMP Momon Rusmono expects the graduates to apply their knowledge to the farmers, so that it can support the increase of food production.
"Obviously, we will add lecturers, infrastructure and facilities to support teaching factory," Mr Rusmono said.
TEFA Model
The Polibangtan will integrated learning process with production and entrepreneurship to students through teaching factory and teaching farm, or TEFA.

"The ministry will implement TEFA as learning-oriented production and business. The goal, is the process of mastering skills based on actual procedures and working standards for products and services according to the needs of consumers," Mr Rachman said.

The basic principle of TEFA is the integration of work experience into the school curriculum as a combination of production-based learning and competence.

"Equipment and teachers are designed for the process of making products or services," he said.