Bupati Manokwari Apresiasi BPP Prafi Dukung Kinerja Petani
Indonesian Manokwari`s Agricultural Extensionists Ready to Support Farmers
Editor : M. Achsan Atjo
Translator : Dhelia Gani

PUBLISHED: Senin, 14 September 2020 , 00:24:00 WIB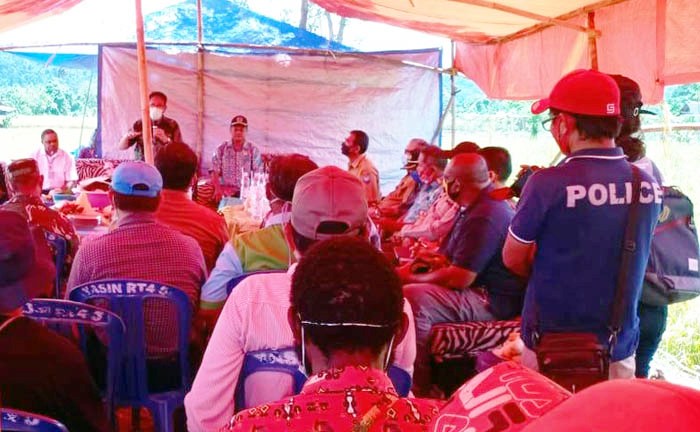 DIALOG PETANI: Bupati Manokwari Edi Budoyo [depan berdiri] dialog dengan petani dan penyuluh BPP Prafi usai panen padi di Kampung Desay, Distrik Prafi [Foto: Pusdiktan]
Manokwari, Papua Barat [B2B] - Bupati Manokwari Edi Budoyo mendukung penuh dan mengapresiasi kinerja BPP Prafi, yang tengah berproses menjadi Komando Strategis Pembangunan Pertanian [KostraTani] di Provinsi Papua Barat, untuk terhubung pusat data pertanian Agriculture War Room [AWR] Kementerian Pertanian RI di Jakarta.
Bupati Edi Budoyo menilai BPP Prafi telah melaksanakan perannya sebagai pusat gerakan pembangunan pertanian. Hal itu ditunjukkan ketika mendengar keluhan petani tentang jalannya usaha tani dan pembuatan saluran pembuangan air [sodetan] pada lahan sawah, untuk dipecahkan BPP Prafi.
"Kami akan sampaikan pada Dinas Pekerjaan Umum Kabupaten Manokwari dan dinas terkait lainnya, agar petani mengoptimalkan usaha taninya," katanya pada kegiatan panen padi sawah di Kampung Desay, Prafi pada Sabtu [12/9].
Salah seorang penyuluh BPP Prafi, Carko berharap agar aspirasi petani terutama perbaikan irigasi lahan sawah segera direspon. Pasalnya, apabila kebutuhan tersebut terpenuhi, potensi sawah yang dikelola akan berproduksi dengan baik, menghasilkan produktivitas rata-rata 7,2 ton gabah kering panen [GKP] per hektar.
Bupati Manokwari mengingatkan sambil menunggu respons dari dinas terkait, para penyuluh di Manokwari, khususnya di BPP Prafi memotivasi petani mengatasi kendala dan tantangan lapangan seperti irigasi, dengan memberi pemahaman tentang teknologi yang tepat.
"Terkait pandemi Covid-19, supaya tetap mengikuti Protokol Kesehatan dalam beraktifitas, khususnya saat mengolah lahan sawah," kata Edi Budoyo.
"Pandemi Covid-19 masih belum nampak titik terangnya, namun pertanian tidak boleh berhenti. Insan pertanian harus tetap menjaga produksi pangan karena merupakan kebutuhan pokok manusia yang tidak bisa ditunda apalagi distop," kata Mentan Syahrul.
Dedi Nursyamsi selaku Kepala Badan Penyuluhan dan Pengembangan SDM Pertanian [BPPSDMP] mengingatkan penyuluh BPP untuk terus meningkatkan kinerjanya.
"Lima peran utama BPP Kostratani secara perlahan harus diterapkan oleh BPP-BPP yang ada sekarang," katanya melalui keterangan tertulis dari Pusat Pendidikan Pertanian [Pusdiktan BPPSDMP].
BPP Model KostraTani berperan sebagai pusat data dan informasi, pusat gerakan pembangunan pertanian, pusat pembelajaran, pusat konsultasi agribisnis, dan pusat pengembangan jejaring dan kemitraan. [Nsd/Vtr]
Manokwari of West Papua [B2B] - Indonesia´s Agricultural Development Strategy Command or KostraTani will carry out and oversee Indonesia´s agricultural development into the digital era. Empowerment of duties, functions and roles of the Agricultural Extension Agency or BPP refers to the qualifications for the 4.0 industrialization era, according to senior official of the ministry.