PEPI Serpong, Kemenpan RB Dukung Percepatan Izin Prinsip Pendirian
Indonesian´s Agricultural Engineering Polytechnic Waiting Governor`s Recommendation
Editor : M. Achsan Atjo
Translator : Dhelia Gani

PUBLISHED: Minggu, 10 Februari 2019 , 00:31:00 WIB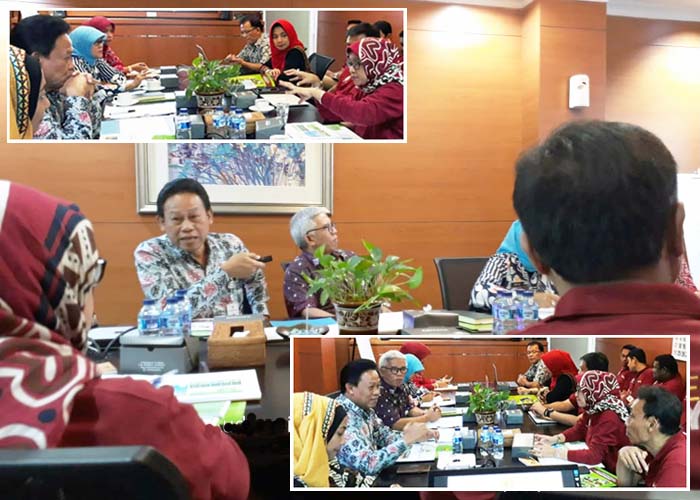 AUDIENSI: Kepala BPPSDMP Momon Rusmono (batik) paparkan PEPI Serpong pada Deputi Kemenpan RB, Rini Widayanti (kaos merah) didampingi Kapusdiktan Idha WA (hijab kuning) Foto2: Humas Pusdiktan/Nismah)
Jakarta (B2B) - Kementerian Pendayagunaan Aparatur Negara - Reformasi Birokrasi RI (Kemenpan RB) mendukung percepatan pendirian Politeknik Enjiniring Pertanian Indonesia (PEPI) oleh Kementerian Pertanian RI, dan menunggu surat rekomendasi Gubernur Banten, mengingat lokasi kampus PEPI Serpong berada di Kabupaten Tangerang, Provinsi Banten.

Hal itu mengemuka dari pertemuan Kepala Badan Penyuluhan dan Pengembangan SDM Pertanian (BPPSDMP) Momon Rusmono dengan Deputi Bidang Kelembagaan dan Tata Laksana Kemenpan RB, Rini Widayanti di Jakarta, Jumat (8/2) yang dihadiri Kepala Pusat Pendidikan Pertanian (Pusdiktan) Idha Widi Arsanti; dan Kepala Biro Organisasi dan Kepegawaian Setjen Kementan, Abdul Halim.

"Prinsipnya, Kemenpan RB mendukung percepatan proses pendirian PEPI Serpong, dan akan membantu memproses penerbitan surat izin prinsip pendirian setelah keluarnya surat rekomendasi dukungan Gubernur Banten telah ada," kata Momon R kepada B2B usai audiensi di kantor Kemenpan RB.

Menurutnya, PEPI Serpong sebagai unit pelaksana teknis (UPT) pendidikan dari BPPSDMP Kementan telah memenuhi syarat pembentukan UPT yang diatur UU Pendidikan Tinggi No 12/2012, Permenpan No 18/2008 tentang Pedoman Organisasi UPT Kementerian dan Lembaga Pemerintah Non Kementerian (LPNK), Permentan No 4/2019 tentang Pedoman Gerakan Pembangunan SDM Pertanian menuju Lumbung Pangan Dunia 2045, Pasal 6 Ayat 1 dan Pasal 20, Permenristekdikti No 51/2018 tentang Pendirian, Perubahan, Pembubaran PTN, dan Pendirian, Perubahan dan Pencabutan ijin PTS, dan Permentan No 11/2017 tentang Standar Pendidikan Tinggi Vokasi lingkup Kementerian Pertanian.

"Semua persyaratan telah dipenuhi PEPI Serpong sesuai Permenpan Nomor 18 tahun 2008 Pasal 6, Pasal 7, dan Pasal 8. Namun masih terkendala rekomendasi kepala daerah, Gubernur Banten yang diatur pada Pasal 8d," kata Momon R.

Turut hadir pada audiensi BPPSDMP Kementan dengan Kemenpan RB antara lain Kabid Kelembagaan dan Ketenagaan Pusdiktan - BPPSDMP, Inneke Kusumawaty; Kasubbid Kelembagaan, Erwin Zulkarnain.

Program Studi
PEPI Serpong akan dibangun mulai tahun ini, dengan tiga program studi jenjang diploma tiga: teknologi mekanisasi pertanian, tata air pertanian, dan teknologi hasil pertanian. Profil lulusan adalah teknisi alat dan mesin pertanian (Alsintan), teknisi irigasi pertanian, dan teknisi penanganan hasil pertanian.

Kepala Pusdiktan BPPSDMP Kementan, Idha WA mengatakan sesuai arahan Menteri Pertanian RI Andi Amran Sulaiman, kampus PEPI didirikan di Serpong untuk mendukung Kawasan Ekonomi Khusus (KEK) Pendidikan Sains dan Enjiniring. Sinergi PEPI dengan BB Mektan akan mengembangkan kegiatan penelitian, perekayasaan, dan pengembangan enjiniring pertanian mulai dari hulu sampai hilir secara efisien, berkelanjutan, dan ramah lingkungan.

"Kebutuhan SDM pertanian Indonesia yang menguasai produksi Alsintan, modernisasi pertanian di pedesaan, dan pemberdayaan masyarakat petani kian mendesak untuk menjawab tantangan pertanian masa depan di era industrialisasi 4.0," kata Kapusdik Idha WA.

Menurutnya, lulusan PEPI Serpong diharapkan mampu menjadi solusi mengisi kekosongan tenaga kerja di bidang Alsintan, dan akan berdampak langsung terhadap peningkatan hasil produksi pertanian," katanya.
Jakarta (B2B) - Indonesian´s Administrative and Bureaucratic Reform Ministry or the Kemenpan RB support acceleration of establishment of the Serpong´s Indonesian Agricultural Engineering Polytechnic or the PEPI Serpong by Indonesian Agriculture Ministry, and waiting for the Banten Governor´s recommendation letter, considering location of campus in Tangerang district of Banten province.

It was revealed of meeting of the Directorate General of Extension and Agricultural HR Development or the BPPSDMP, Momon Rusmono with Deputy of Institution and Management Kemenpan RB, Rini Widayanti here on Friday (February 8) was attended by Director of Agricultural Education Center, Idha Widi Arsanti; and and Head of Organization and Personnel Bureau, Abdul Halim.

"In principle, the Kemenpan RB supports administrative process of PEPI Serpong, and will support process of issuing principle licenses after the Banten Governor´s recommendation letter came out," Rusmono told the B2B.

According to him, the PEPI Serpong as the technical education implementing unit of BPPSDMP has fulfilled formation requirements regulated by the University Education Law Number 12 of 2012, Regulations of Indonesian´s Administrative and Bureaucratic Reform Minister Number 18 of 2008, Regulations of Agriculture Minister Number 4 of 2019 and Number 11 of 2017, and Regulations of Menristek Dikti Number 51 of 2018.

"All requirements have been met by PEPI Serpong according to regulations, but it is still constrained by the Banten Governor´s recommendation letter," Rusmono said.

Study Program
The PEPI Serpong construction begins this year with three study programs: agricultural mechanization technology, agricultural water management and agricultural technology. The profile of graduates is agricultural equipment and machinery technicians, agricultural irrigation technician, and technicians for processing agricultural products.

Arsanti said according to direction of Indonesian Agriculture Minister Andi Amran Sulaiman that PEPI was established in Serpong to support the Special Economic Zone or KEK. The PEPI will developing research, engineering and agricultural engineering development activities from upstream to downstream in an efficient, sustainable and environmentally friendly manner.

"Agricultural HR needs with agricultural engineering expertise for agricultural machinery production, agricultural irrigation management, added value of agricultural products, modernization of rural agriculture, and empowerment of farming communities," she said.

"The PEPI Serpong graduates are expected to be the solution to the lack of competent HR in agricultural machinery to support increased agricultural production," Arsanti said.