Pemanfaatan Alsintan Tidak Optimal, Kementan Tarik dan Pindahkan ke Tempat Lain
The Optimization of Agricultural Machinery in Indonesian`s Aceh
Editor : M. Achsan Atjo
Translator : Dhelia Gani

PUBLISHED: Minggu, 18 Maret 2018 , 03:12:00 WIB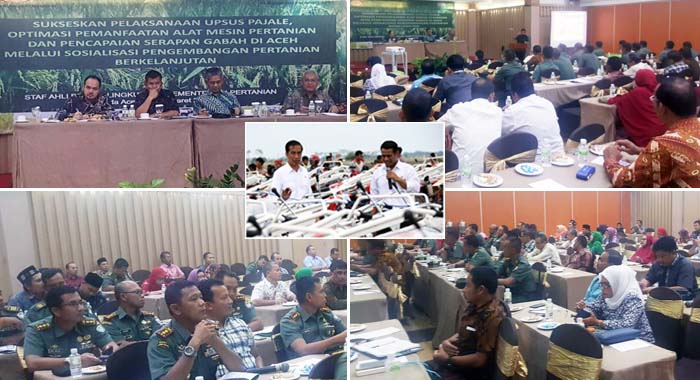 Rakor dihadiri Staf Ahli Mentan bidang Lingkungan Kementan, Mukti Sardjono; Sekretaris BPPSDMP Kementan Surachman Suwardi; Kasdam Iskandar Muda Brigjen TNI Achmad Daniel Chardin (Foto2L Humas Kementan)
Banda Aceh, Aceh (B2B) - Kementerian Pertanian RI didukung dinas pertanian dan TNI AD akan memantau dan mengevaluasi pemanfaatan alat mesin pertanian (Alsintan), apabila kelompok tani (Poktan) di satu wilayah gagal memanfaatkan Alsintan secara optimal akan dicabut dan dipindahkan ke tempat lain yang lebih membutuhkan, dan ketentuan ini berlaku di seluruh Indonesia termasuk di Provinsi Nangroe Aceh Darussalam.
Hal itu dikemukakan oleh Staf Ahli Menteri Pertanian (SAM) Bidang Lingkungan Kementan, Mukti Sardjono; Sekretaris Badan Penyuluhan dan Pengembangan SDM Pertanian (BPPSDMP) Surachman Suwardi; Kepala Staf Kodam Iskandar Muda (Kasdam) Brigjen TNI Achmad Daniel Chardin dalam rapat koordinasi di Banda Aceh, Jumat (15/3) yang dihadiri oleh Komandan Korem 012/Teuku Umar (TU) Kolonel Inf Nefra Firdaus; Kepala Divre Bulog Aceh, Fatah Yasin; para komandan Kodim dan kepala dinas pertanian dari seluruh Aceh.
Mukti Sardjono mengatakan sesuai instruksi Mentan Andi Amran Sulaiman telah dibentuk ´Tim Khusus Optimalisasi Alsintan´ yang bertugas memantau dan mengevaluasi pendistribusian dan pemanfaatan Alsintan dalam tiga tahun terakhir. Hasil evaluasi memastikan kuantitas Alsintan sebanding dengan luas lahan pertanian sehingga akan terukur bagaimana pemanfaatannya berkorelasi dengan peningkatan hasil produksi pertanian.
"Apabila pemanfaatan Alsintan tidak optimal, maka Kementan akan menarik dan memindahkannya ke wilayah atau kelompok tani lain yang lebih membutuhkan," kata Mukti Sardjono.
Sekretaris BPPSDMP Kementan, Surachman Suwardi menambahkan bahwa kementerian telah berkoordinasi dengan seluruh dinas pertanian dan TNI AD untuk memantau secara harian pemanfaatan Alsintan mulai dari olah tanah, penanaman, panen, hingga pasca panen.
Kasdam Iskandar Muda, Brigjen TNI Achmad Daniel Chardinmengingatkan bahwa TNI AD akan terus mengawal dan berperan dalam peningkatan luas tambah tanam (LTT), serapan gabah petani (Sergap), hingga optimalisasi Alsintan.
"Khusus Alsintan, sesuai pedoman teknisnya maka Alsintan yang tidak diioperasionalkan dengan selayaknya maka kami dorong untuk dicabut dan dipindahkan ke tempat lain yang membutuhkan. Alsintan tidak boleh berhenti pengoperasiannya. Manusianya boleh berhenti atau berganti orang yang mengoperasikannya," kata Kasdam.
Mukti Sardjono menambahkan Aceh untuk musim tanam (MT) 2017/2018 menargetkan luas tanam padi 507.549 hektar yang terbagi untuk MT rendeng (Oktober 2017 - Maret 2018) di posisi 14 Maret 2018 terealisasi 271.884 hektar dari data LTT harian.
"Sementara pada periode yang sama, realisasi penanaman jagung mencapai 36.681 hektar dan kedelai seluas 8.518 hektar," katanya.
Banda Aceh, Aceh (B2B) - Indonesian Agriculture Ministry supported regional agriculture office and the Army will monitor and evaluate the utilization of agricultural machinery or Alsintan, if a farmer group or Poktan in one area fails to utilize it optimally it will be revoked and moved to another more needy place, especially in Aceh Nangroe Darussalam province, according to senior officials of the ministry.
It was stated by by Expert Staff of Agriculture Minister of the Environment, Mukti Sardjono; Secretary of the Directorate General of Agricultural Extension and HR Development of Agriculture (BPPSDMP) Surachman Suwardi; Chief of Staff of Aceh´s Iskandar Muda Regional Military Command, Brigadier General Achmad Daniel Chardin in coordination meeting here on Friday (March 15), and was attended by Commander of Korem 012 / Teuku Umar Colonel Inf Nefra Firdaus; Head of Bulog Division of Aceh, Fatah Yasin.
Mukti Sardjono said according instruction of Minister Andi Amran Sulaiman has formed a special team to monitor and evaluate the distribution and utilization of Alsintan in the last three years. The reason is quantity is proportional to the area of agricultural land so it will be measurable how the utilization correlates with increase of agricultural production.
"If not optimal, the ministry will revoke and move to other areas or farmer groups who need more," Mr Sardjono said.
Secretary of BPPSDMP said the ministry has coordinated with the regional agriculture office and the Army to monitor daily use of Alsintan from tillage, planting, harvesting, to post-harvest.
Brigadier General Chardin cautioned that the Army would continue to oversee the planting area, the purchase of grain by the logistics agency, and optimization of Alsintan.
"As per technical guidance, Alsintan that is not operating maximally will be revoked and moved to another place in need. Alsintan must continue working. Farmers may stop or change farmers who operate it," he said.
Mr Sardjono said the Aceh province for the 2017/2018 planting season targeting rice planting area of 507,549 hectares, for the rainy season in October 2017 to March 2018 so that realization until March 14, 2018 of 271,884 hectares by daily data.
"While in the same period, realization for corn 36,681 hectares and 8,518 hectares of soybeans," he said.