Pejabat Baru STPP Yogya, Ali Rachman Ingatkan Jabatan adalah Amanah
New Officials of the STPP Yogyakarta were Inaugurated by Rector Ali Rachman
Editor : M. Achsan Atjo
Translator : Dhelia Gani

PUBLISHED: Selasa, 22 Mei 2018 , 03:28:00 WIB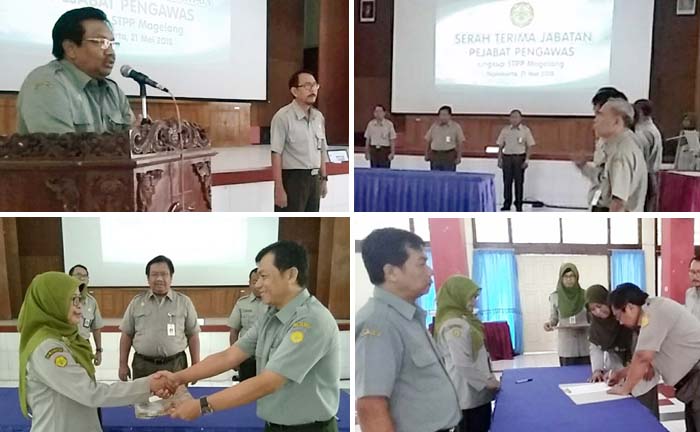 Ketua STPP Jurluhtan Yogyakarta Ali Rachman memberikan arahan usai pelantikan tiga pejabat baru di kantornya disaksikan sejumlah pejabat dan dosen (Foto2: Humas STPP Yogyakarta)
Yogyakarta (B2B) - Etos kerja di Kementerian Pertanian RI, khususnya di Sekolah Tinggi Penyuluhan Pertanian - STPP Yogyakarta menuntut para pejabat baru melaksanakan makna bekerja, yakni mengabdi untuk kemandirian pangan dan kesejahteraan petani serta menjunjung tinggi nilai-nilai dasar sebagai abdi masyarakat untuk mencapai visi misi Indonesia sebagai lumbung pangan dunia 2045.
Hal itu dikemukakan oleh Ketua STPP Yogyakarta jurusan penyuluhan pertanian (Jurluhtan) Ali Rachman di Yogyakarta, Senin (21/5) saat melantik dua pejabat baru, Sukinah sebagai Kasubag Kemahasiswaan dan Alumni menggantikan Radjendra Rochyat yang mengisi posisi Kepala Bagian Administrasi Umum STPP Medan, sementara M Tegap Armunantoko menjabat sebagai Kasubag Tata Usaha (TU) STPP Yogyakarta menggantikan Sukinah.
"Harus kita pahami bersama, jabatan bukan merupakan hak, akan tetapi merupakan amanah dari Allah SWT, sehingga harus selalu siap untuk dievaluasi," kata Ali Rachman pada pidato arahannya usai melantik ketiga pejabat dari unit pelaksana teknis (UPT) Badan Penyuluhan dan Pengembangan SDM Pertanian (BPPSDMP) Kementan.
Menurutnya, penggantian pejabat juga mencerminkan dinamika organisasi untuk menghadapi tantangan lingkungan strategis yang terus berubah dan tuntutan masyarakat yang terus meningkat.
"Kita tidak bisa hanya menjalani tugas jabatan dengan cara kerja biasa tetapi harus berprestasi mengingat tantangan ke depan kita akan menghadapi tahun-tahun yang cukup berat. Kita harus mengambil peran dan tanggung jawab terhadap ketahanan pangan kita," kata Ali Rachman.
Tampak hadir para pejabat STPP Yogyakarta di antaranya Kabag Administrasi Umum, Irwan Johan Sumarno; Kepala Bagian Administrasi Akademik dan Kemahasiswaan, Endra Prasetyanta, para dosen dan pejabat struktural.
"Masa orientasi tugas sangat singkat. Namun kita dihadapkan pada tantangan ke depan yang semakin berat dan untuk mencapai target tersebut, diperlukan peningkatan kinerja yang lebih tinggi," kata Ali Rachman.
Yogyakarta (B2B) - The work ethic in the Indonesian Agriculture Ministry, particularly in Yogyakarta´s Agricultural Extension College or the STPP Yogyakarta for food self-sufficiency, the welfare of farmers and as the public servant to achieve the vision and mission of Indonesia as the 2045 world food barn.
It was stated by Rector of STPP Yogyakarta, Ali Rachman while inaugurating new officials ie Sukinah, Radjendra Rochyat and M Tegap Armunantoko as the third and fourth echelon officials here on Monday (May 21).
"We must understand, the position is not a right, but is a mandate of God, so it must always be ready to be evaluated," said Mr Rachman in his speech after inaugurated officials of the technical implementation unit of the ministry.
According to him, the replacement of officials also reflects the dynamics of the organization to face the challenges of the strategic environment and the needs of society.
"Do not do the job with business as usual but be able to perform because the challenges ahead we will face tough years. We must take on the role and responsibility for our food security," Mr Rachman said.
It was attended by the officials of STPP Yogyakarta among them are Head of Head of General Affairs, Irwan Johan Sumarno; Head of Academic and Student Affairs, Endra Prasetyanta, lecturers and structural officials.
"The task orientation period is very short, but we are faced with challenges ahead, and performance improvements," Mr Rachman said.