Capaian BPPSDMP 2018: 15.192 Posluhdes, 1.013 Kelompok PWMP dan 18 SKKNI
Village Agricultural Extension Posts the Key Success of Indonesia`s Agriculture
Editor : M. Achsan Atjo
Translator : Dhelia Gani

PUBLISHED: Selasa, 27 November 2018 , 03:36:00 WIB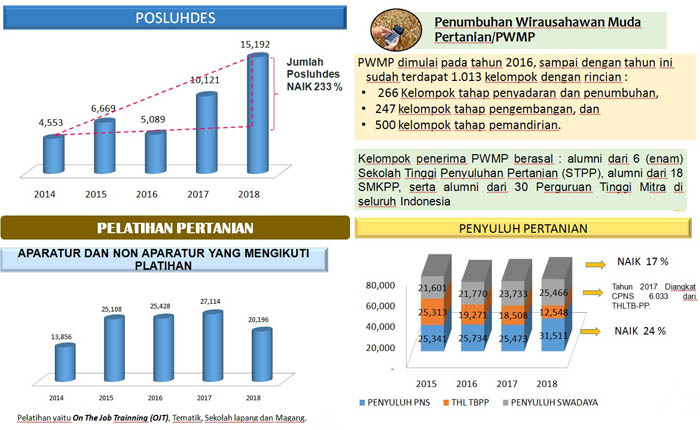 Tabel dan Data: BPPSDMP Kementerian Pertanian
Jakarta (B2B) - Kementerian Pertanian RI dalam empat tahun terakhir, 2014 - 2018, mendorong dan mendukung pengembangan 15.192 Pos Penyuluhan Desa (Posluhdes), 1.013 kelompok Penumbuhan Wirausahawan Muda Pertanian (PWMP) dan 18 Standar Kompetensi Kerja Nasional (SKKNI) sesuai target Pemerintahan Joko Widodo - Jusuf Kalla mengembangkan SDM pertanian yang mandiri, profesional dan berdaya saing.
Hal itu dikemukakan oleh Kepala Badan Penyuluhan dan Pengembangan SDM Pertanian (BPPSDMP) Kementan, Momon Rusmono kepada pers di Jakarta, Senin siang (26/11) pada kegiatan ´Bincang Asyik Pertanian Indonesia´ disingkat Bakpia terkait tiga pilar SDM pertanian yakni penyuluhan, pendidikan dan pelatihan pada Empat Tahun Pemerintahan Jokowi - JK.
"Jumlah Poluhdes saat ini mencapai 15.192 unit di seluruh Indonesia, naik 233 persen dari 2014 sebagai upaya penguatan kelembagaan penyuluhan pertanian di desa mendukung tugas pokok dan fungsi dari Balai Penyuluhan Pertanian atau BPP di kecamatan," kata Momon Rusmono didampingi Sekretaris BPPSDMP Kementan, Andriko Noto Susanto.
Menurutnya, Pusat Penyuluhan Pertanian (Pusluhtan) di BPPSDMP Kementan terus mendorong kinerja Posluhdes mendukung capaian target 72.000 penyuluh swadaya 36.000 Posluhdes di seluruh Indonesia melaksanakan prinsip penyuluhan pertanian tentang bagaimana mewujudkan better farming, better business, dan better income.
Sementara Pusat Pendidikan Pertanian (Pusdiktan) mengembangkan Penumbuhan Wirausahawan Muda Pertanian (PWMP) sejak 2016, dan sampai tahun ini terdapat 1.013 kelompok PWMP dengan rincian 266 kelompok tahap penyadaran dan penumbuhan, 247 kelompok tahap pengembangan, dan 500 kelompok tahap pemandirian.
"Program PWMP merupakan bagian dari upaya regenerasi petani, dengan strategi utama mengubah stigma tentang pertanian di kalangan generasi muda, bukan hanya budidaya tanaman di sawah, melainkan pengembangan sektor agribisnis dari subsistem hulu sampai hilir yang membuka peluang kerja dan peluang usaha.
Capaian kinerja Pusat Pendidikan Pelatihan (Puslatan) adalah peningkatan kualitas dan daya saing SDM pertanian Indonesia melalui sertifikasi profesi. Sejak 2014 sampai Juli 2018, Puslatan sudah menghasilkan 18 SKKNI dan enam Kerangka Kualifikasi Nasional Indonesia (KKNI) sektor pertanian dengan 25 jenis jabatan serta 105 skema sertifikasi profesi bidang pertanian dengan 13 bidang kompetensi.
"BPPSDMP Kementan juga telah membentuk Lembaga Sertifikasi Profesi atau LSP, 39 tempat uji kompetensi disingkat TUK, dan 321 orang asesor sektor pertanian. Tujuannya, meningkatkan daya saing dan kompetensi SDM pertanian memasuki dunia usaha dan industri melalui sertifikasi SDM pertanian sebanyak 5.421 orang," kata Momon Rusmono.
Tampak hadir Kapusluh Siti Munifah; Kapusdik Idha Widi Arsanti, Kapuslat Bustanul Arifin Caya. Sejumlah pejabat eselon tiga di antaranya Kabag Evalap Titin Gartini; Kabid Penyelenggaraan Penyuluhan Pusluhtan, Zahron Helmy; Kabid Kelembagaan dan Ketenagaan Pendidikan Pusdiktan, Inneke Kusumawaty; Kabid Program dan Kerjasama Pendidikan Puslatan, Eka Herissuparman dan para pejabat eselon empat di antaranya Kasubbid Informasi dan Materi Penyuluhan Pusluhtan, Septalina Pradini dan Kasubbid Ketenagaan Pendidikan Pusdiktan, Erwin Zulkarnain. (Cha)
Jakarta (B2B) - Indonesian Agriculture Ministry in the last four years, 2014 - 2018, support development of 15 192 village agricultural extension posts or Posluhdes, 1,013 groups of young agricultural entrepreneurs or PWMP, and 18 National Work Competency Standards according to Joko Widodo´s administration targets to developing independent, professional and competitive agricultural human resources.
It was stated by the Directorate General of Extension and Development of HR Agriculture or BPPSDMP, Momon Rusmono to the press here on Monday evening (November 26).
"The number of Poluhdes currently reaches 15,192 units across the country, up 233 percent of 2014 as an effort to strengthen institution of agricultural extension in the village support agricultural extension centers at the subdistrict level," said Mr Rusmono who was accompanied by Secretary of BPPSDMP Andriko Noto Susanto.
According to him, the Agricultural Extension Center or Pusluhtan encourage performance of Posluhdes to support achievement of target of 72,000 self-supporting agricultural extensionist and 36,000 Posluhdes across the country implement the principles of agricultural extension related to better farming, better business, and better income.
While the Agricultural Education Center or Pusdiktan developing the PWMP program since 2016, and until this year 1,013 PWMP groups have been established with details of 266 beginner groups, 247 middle groups and 500 independent groups.
"The PWMP program is part of farmers´ regeneration program, change the stigma about agriculture among the younger generation, not only plant cultivation in rice fields, but rather development of agribusiness sector of upstream to downstream which opens employment opportunities and business opportunities.
Performance achievements of the Training Education Center or Pusluhtan to improve the quality and competitiveness of Indonesian agricultural human resources with professional certification. Since 2014 until July 2018, Puslatan has produced 18 SKKNI and six Indonesian National Qualifications Frameworks or KKNI with 25 types of work and 105 professional certification schemes in agriculture with 13 fields of competence.
"The ministry has also established the Professional Certification Agency or LSP, 39 places competency test, and 321 assessors of the agricultural sector. The goal is to improve the professional and competency of agricultural HR in the industry," Mr Rusmono said.