Mentan Gagas Gesbuk, Gerakan Seratus Ribu untuk Kemanusiaan
Indonesian Agriculture Ministry Raise Funds for Palu Quake Victims
Reporter : Gusmiati Waris
Editor : Cahyani Harzi
Translator : Dhelia Gani

PUBLISHED: Selasa, 02 Oktober 2018 , 03:42:00 WIB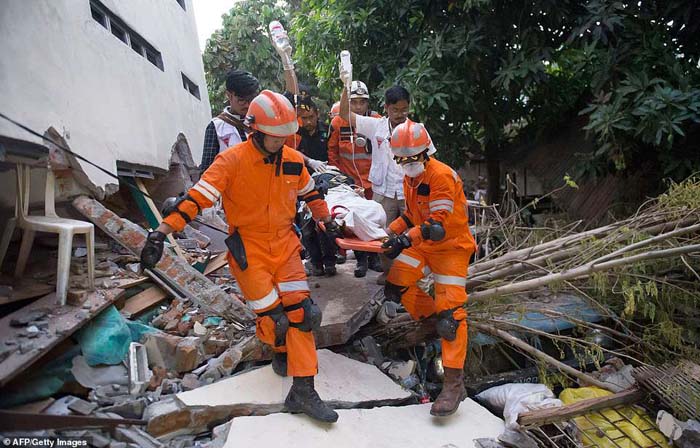 Korban selamat dari gempa Palu dievakuasi petugas Basarnas (Foto: MailOnline)
Jakarta (B2B) - Kementerian Pertanian RI bergerak cepat menggalang dana kemanusiaan untuk membantu korban gempa Palu dan Donggala di Provinsi Sulawesi Tengah, yang digagas Menteri Pertanian Andi Amran Sulaiman melalui Gesbuk, singkatan dari ´Gerakan Seratus Ribu untuk Kemanusiaan´ pada Senin pagi (1/10).
"Kami mengharapkan seluruh jajaran ASN di lingkup Kementan untuk aktif mendukung Gesbuk, membantu saudara-saudara kita yang sedang ditimpa bencana gempa bumi dan tsunami di Palu dan Donggala," kata Mentan pada upacara peringatan Hari Kesaktian Pancasila di kantor pusat Kementan di kawasan Ragunan, Jakarta Selatan.
Dia memastikan Kementan sebagai instansi pemerintah akan memobilisasi bantuan teknis dan dukungan perbaikan prasarana dan sarana pertanian pasca bencana melalui unit pelaksana teknis (UPT) di Sulawesi Tengah, yakni Stasiun Karantina Pertanian di Bandara Mutiara Palu, dan Badan Pengkajian Teknologi Pertanian (BPTP) Sulteng sudah membentuk Posko Bencana, yang melayani internal Kementan, dan terlibat langsung dengan Posko Nasional di bawah kendali Kementerian Politik, Hukum dan Keamanan (Kemenkopolhukam).
Mentan Amran Sulaiman menegaskan akan melakukan kegiatan yang sama seperti pada Bencana Lombok, untuk mendukung petani memulihkan produksi pertanian melalui Asuransi Tani.
Jakarta (B2B) - Indonesia´s Agriculture Ministry is moving quickly to raise humanitarian funds to help the earthquake victims of Palu and Donggala in Central Sulawesi province, initiated by Minister Andi Amran Sulaiman through the Hundred Thousand Movement program for Humanity or Gesbuk here on Monday (October 1).
"I expect civil servants at the ministry to actively support the Gesbuk, to help victims of the earthquake and tsunami disaster in Palu and Donggala," Minister Sulaiman said.
He ensured that his ministry would mobilize technical assistance and support for improvement of agricultural facilities after the disaster through the technical implementation unit (UPT) in Central Sulawesi, namely the Agricultural Quarantine Station at Mutiara Palu Airport, and the Agricultural Technology Assessment Agency (BPTP) by setting up disaster relief posts.
Minister Sulaiman stressed that he would carry out the same activities as the Lombok Disaster, to support farmers to restore agricultural production through Farmer Insurance.