Kepala BPPSDMP Harapkan Pejabat Baru Eselon II Penuhi Target Kementan
Senior Indonesian Officials Must Answer the Challenges of the Times
Editor : M. Achsan Atjo
Translator : Dhelia Gani

PUBLISHED: Selasa, 20 Maret 2018 , 03:46:00 WIB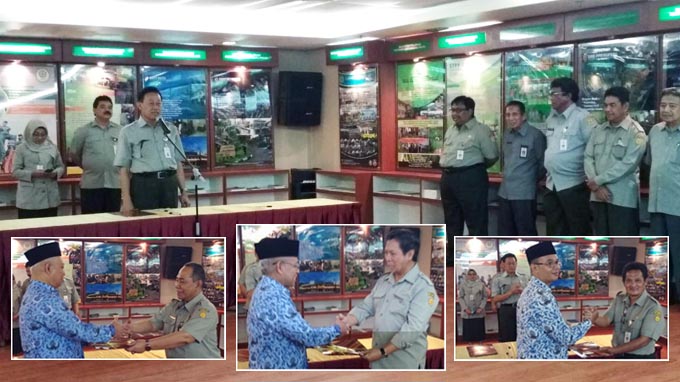 SERTIJAB ESELON II: Kepala BPPSDMP Kementan Momon Rusmono memimpin serah terima jabatan (Sertijab) empat pejabat eselon II di antaranya Surachman Suwardi menjadi Ketua STPP Malang (inset tengah) Foto2: Humas BPPSDMP/Romi
Jakarta (B2B) - Kepala Badan SDM Pertanian di Kementerian Pertanian RI, Momon Rusmono menegaskan komitmen Pemerintah RI untuk memilih pejabat eselon II yang kapabel dan berkompeten pada tugas dan wewenangnya, dan bukan berdasarkan urut kacang atau karena faktor like or dislike. Bangsa dan negara membutuhkan pejabat yang komitmen pada peningkatan produksi pangan strategis mencapai swasembada pangan.

"Mari kita bekerja profesional dan bukan sekadar mencari jabatan. Jangan berharap pada kenaikan pangkat atau jabatan karena faktor urut kacang atau like or dislike, hal itu sudah tidak berlaku lagi saat ini ketika pemerintah bekerja keras untuk mencapai target swasembada pangan," kata Momon Rusmono di Jakarta, Senin (19/3), pada serah terima jabatan (Sertijab) pejabat eselon II di lingkungan Badan Penyuluhan dan SDM Pertanian (BPPSDMP) Kementan.

Dia mengharapkan para pejabat eselon II dapat menjadi roda penggerak organisasi dalam melaksanakan fungsi-fungsi manajemen dan administrasi, untuk menjawab tantangan dan kebutuhan internal BPPSDMP dan tuntutan dari luar sistem birokrasi.

Sebelumnya di hari yang sama, Mentan Andi Amran Sulaiman melantik 12 pejabat eselon II di lingkungan Kementan, dan empat di antaranya ditempatkan di lingkungan BPPSDMP Kementan.

Mereka adalah Andriko Noto Susanto menjadi Pj Sekretaris BPPSDMP Kementan, Surachman Suwardi (Ketua Sekolah Tinggi Penyuluhan Pertanian Malang - STPP Malang), Chandra Indrawanto (Ketua STPP Medan), dan Wisnu Wasisa Putra (Pj Kepala Balai Besar Pelatihan Kesehatan Hewan - BBPP Cinagara).

Tampak hadir Kepala Pusat Penyuluhan Pertanian (Kapusluhtan) Siti Munifah, Kepala Pusat Pelatihan Pertanian (Kapuslatan) Widi Hardjono, Ketua STPP Yogyakarta, Ali Rachman; Ketua Balai Besar Pelatihan Peternakan Kupang - BBPP Kupang, Adang Warya; Kepala BBPP Malang, Apri Handono; Kepala Balai Besar Pelatihan Pertanian Batang Kalukku - BBPP Batang Kalukku, Kemal Mahfud dan sejumlah kepala unit pelayanan teknis (UPT) di lingkungan BPPSDMP Kementan.

Momon Rusmono menambahkan bahwa kegiatan pelantikan, mutasi jabatan, dan penempatan pejabat secara umum bertujuan untuk mewujudkan efektifitas pengelolaan organisasi dan upaya penyegaran dan peningkatan kinerja aparatur, mutasi dan promosi akan menjadi kebutuhan selama organisasi menghendakinya.

Dia mengingatkan bahwa promosi dan mutasi adalah hal yang wajar melakukan pembenahan, dan pemantapan organisasi untuk meningkatkan kinerja penyelenggaraan tugas dan pelayanan umum BPPSDMP Kementan.

"Parameter utama untuk menentukan jabatan bagi setiap pegawai dilakukan melalui pertimbangan kapasitas, kompentensi, integritas, loyalitas, moralitas, pendidikan dan pelatihan, nilai pengabdian, dan komitmen terhadap tugas dan tanggung jawab kepada negara," kata Momon Rusmono seperti dilansir melalui siaran pers Humas BPPSDMP Kementan.
Jakarta (B2B) - Director General of Agricultural Human Resource Development or BPPSDMP, Momon Rusmono reiterated the government´s commitment to choose officials capable, and competent in the tasks and responsibilities, not because sequence numbers and the like or dislike. The government requires officials who committed to the achievement of self-sufficiency in the next three years.

"Let´s work professionals and not just look for important positions. Do not expect to rank or position because of the sequence numbers and the like or dislike, is irrelevant when the government work hard to achieve self-sufficiency," said Mr Rusmono in his speech here on Monday (March 19).

He expected second senior officials to be driver of organization carrying out functions of management and administration functions to respond the internal and external challenges and needs, according to senior ministry official.

Earlier in the same day, Agriculture Minister Andi Amran Sulaiman inaugurated 12 second echelon of the ministry and four of them are placed in the minstry´s BPPSDMP.

Andriko Noto Susanto as the Secretary of BPPSDMP, Surachman Suwardi (Rector of Malang´s Agriculture Training Center - STPP Malang), Chandra Indrawanto as the Rector of STPP Medan, and Wisnu Wasisa Putra as the Director of Cinagara´s Animal Health Training Center.

Mr Rusmono said that the inauguration, mutation and promotion of office in general for organizational effectiveness and performance improvement of civil servants, so that mutation and promotion of office is as long as the organization wants it.

Promotion and mutation of ministry officials is natural thing for stabilization of organization in improving the performance and public services of the BPPSDMP, he added.

"The main parameters of determining civil servant positions are taken into account with capacity, competence, integrity, loyalty, morality, education and training, service values, and commitment to tasks and responsibilities to the state," Mr Rusmono said trough the written statement.