PTPN III Dukung Program Magang Mahasiswa dan Dosen Polbangtan
Indonesian Plantation SOEs Support the Polbangtan Apprenticeship Program
Editor : M. Achsan Atjo
Translator : Dhelia Gani

PUBLISHED: Kamis, 10 Januari 2019 , 00:36:00 WIB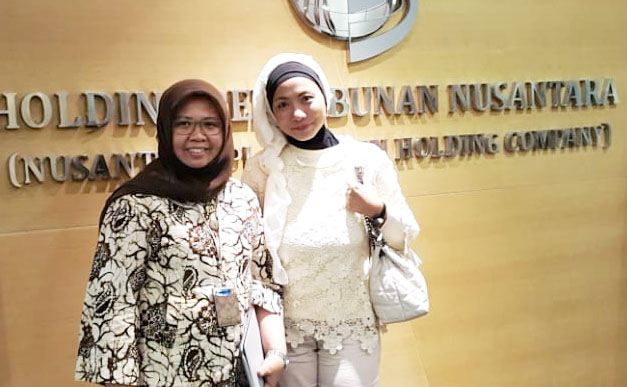 BUMN PERKEBUNAN: Kepala Pusdiktan BPPSDMP Kementan, Idha Widi Arsanti (kanan) dan Kepala Divisi SDM PTPN III, Hj Amalia Nasution usai pertemuan di Jakarta (Foto: Humas Pusdiktan/Hasan Latuconsina)
Jakarta (B2B) - BUMN perkebunan, PT Perkebunan Nasional III (PTPN III) akan mendukung program magang mahasiswa dan dosen Politeknik Pembangunan Pertanian (Polbangtan) selama enam bulan, untuk meningkatkan kualitas mahasiswa sebagai job creator setelah lulus kuliah pendidikan vokasi Polbangtan, dan meningkatkan kompetensi dosen yang memahami kebutuhan dunia usaha dan industri di sektor pertanian.
Program magang Polbangtan di PTPN III menjadi bahasan utama pertemuan Kepala Pusat Pendidikan Pertanian (Pusdiktan) Idha Widi Arsanti dengan Kepala Divisi SDM PTPN III, Hj Amalia Nasution di Jakarta, Senin (9/1).
"Program kerjasama dengan PTPN III adalah magang mahasiswa dan dosen selama enam bulan yang akan dilaksanakan tahun ini," kata Idha WA melalui keterangan tertulis.
Sebelumnya, Kapusdiktan Idha WA menggandeng banyak mitra kerjasama untuk Polbangtan antara lain PIS Agro dan PT Indofood, mengingat jagat usaha dan industri menjadi tujuan lulusan Polbangtan sebagai job creator dan bukan lagi sekadar pencari kerja (job seeker) seperti diamanatkan Menteri Pertanian RI Andi Amran Sulaiman kepada Badan Penyuluhan dan Pengembangan SDM Pertanian (BPPSDMP) Momon Rusmono.
Idha WA menambahkan transformasi Sekolah Tinggi Penyuluhan Pertanian (STPP) menjadi Polbangtan merupakan pengejawantahan komitmen Pemerintah RI mengantisipasi perubahan dan tantangan sektor pertanian ke depan, sekaligus implementasi UU Pendidikan Tinggi, yang mensyaratkan konsep pembelajaran yang menekankan praktik 70% melalui teaching factory disingkat TeFa ketimbang teori hanya 30%.
"Model pembelajaran TeFa mengajak mahasiswa masuk ke lingkungan sesungguhnya di tempat kerja. Tujuannya menumbuhkan kemampuan kewirausahaan dari mahasiswa yang mengembangkan produk berorientasi pasar dan diminati konsumen," kata Kapusdiktan.
Jakarta (B2B) - Indonesian plantation SOEs, Perkebunan Nasional III or the PTPN III will support the apprenticeship program of students and lecturers of Agricultural Development Polytechnic or the Polbangtan for six months, to improve the quality of students as job creators and improve lecturers´ competencies towards the needs of the business and industry.
The Polbangtan apprenticeship program at PTPN III was discussed by Director of Agricultural Education Center, Idha Widi Arsanti with the PTPN III HR General Manager, Hj Amalia Nasution here on Monday (January 9).
"The collaboration program with PTPN III is a six-month internship for students and lecturers starting this year," Arsanti said through written statement.
Previously, Arsanti collaborated with many private companies to become partners of the Polbangtan such as PIS Agro and PT Indofood, because the business and industry are the goals of Polbangtan graduates as job creators as instructed Agriculture Minister Andi Amran Sulaiman to the Director General of Extention and Agricultural Human Resource Development, Momon Rusmono.
Arsanti said the transformation of Agricultural Extension College or the STPP into Polbangtan manifestation of commitment of Indonesian government to anticipate change and challenges of the agricultural sector going forward, and implementation of University Education Law, which requires a learning concept that emphasizes 70% practice and 30% theory through the teaching factory or TeFa.
"The TeFa´s learning model invites students to enter the work environment. The aim is to foster entrepreneurial abilities from students who develop market-oriented products and demand by consumers," she said.