Songsong Pensiun, 715 Personel Polda Jateng `Belajar jadi Peternak` di STPP Magelang
Indonesia`s STPP Magelang: "Retirement is Not the End of the World"
Editor : M. Achsan Atjo
Translator : Dhelia Gani

PUBLISHED: Rabu, 07 Maret 2018 , 04:42:00 WIB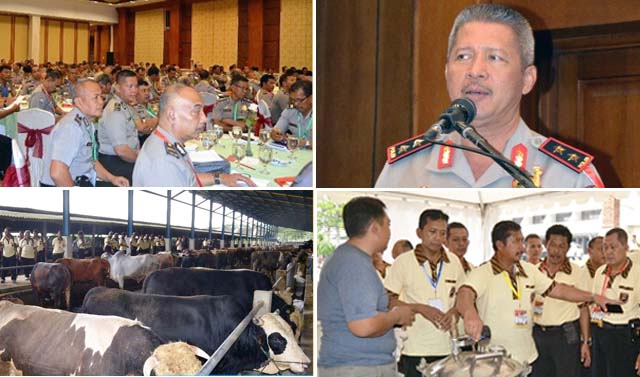 PELATIHAN JELANG MPP POLRI: Kapolda Jateng, Irjenpol Condro Kirono (kanan atas), pelatihan di Semarang, kunjungan lapangan ke peternakan STPP Magelang dan latihan mengolah susu sapi (Foto2: Humas STPP Magelang)
ADA BANYAK pilihan setelah pensiun bekerja, dan hal terpenting adalah persiapan menyongsong pensiun. Namun sebagian besar calon pensiunan dihantui bayangan hidup tanpa kegiatan. Pemasukan pun merosot drastis akibat menjadi ´pengangguran dengan sertifikat´ dari negara.

Hal itu terjadi lantaran pensiun adalah kata yang terasa jauh ketika seseorang berada di puncak karier. Namun datang terlampau cepat, ketika harus mengakhiri karier.

Bagi mereka yang optimistis maka masa pensiun ´bukan akhir segalanya´ dan hal itu dilakukan oleh 715 orang dari Polda Jawa Tengah terdiri atas perwira, bintara, dan pegawai negeri sipil (PNS) untuk mengikuti ´pembekalan dan pelatihan keterampilan bagi pegawai yang menjelang purna tugas´ yang berlangsung empat hari pada penghujung Februari 2018.

Mereka berbondong-bondong datang ke pelatihan untuk menyongsong masa persiapan pensiun (MPP) dan memilih menjadi agropreneur atau wirausaha di bidang peternakan setelah pensiun. Mayoritas dari mereka adalah pria yang menjadi tulang punggung keluarga dan beberapa di antaranya adalah wanita.

Kegiatan pelatihan diselenggarakan oleh Sekolah Tinggi Penyuluhan Pertanian - STPP Magelang jurusan penyuluhan peternakan (Jurluhtan) didukung oleh Universitas Negeri Yogyakarta dan Universitas Negeri Semarang yang ditunjuk oleh Polda Jateng sebagai narasumber pelatihan.

"Latihan keterampilan bagi personel Polri dan PNS agar dapat menjalani masa pensiun dengan semangat mandiri dalam mengelola keuangan, menjadi wirausahawan di sektor pertanian, lebih dekat dengan Tuhan YME, dan tetap mampu berkarya," kata Kapolda Jateng Irjenpol Condro Kirono.

Kapolda menambahkan mengatakan usaha pertanian khususnya peternakan dipilih karena sektor ini merupakan salah satu kegiatan wirausaha yang dapat dikembangkan dengan modal secukupnya dan tidak banyak menyita waktu dalam pengelolaannya.

Kabag Administrasi Umum STPP Magelang, Irwan Johan Sumarno mengatakan selain pemberian materi dan praktik kunjungan lapangan, juga dipamerkan beberapa produk-produk hasil hilirisasi inovasi teknologi tepat guna produk penelitian yang dapat dikembangkan menjadi alternatif usaha bagi para personel menjelang pensiun.

Mengubah Mental
Kegiatan pelatihan menjadi penting untuk mengubah mental personel menjelang MPP, dengan mengalihkan kegiatan yang selama ini di bawah kendali Polri menjadi kegiatan mandiri yang menyenangkan, menyehatkan dan menjadi sumber pendapatan bagi keluarga.

"Pelatihan ini penting sebagai persiapan psikologi bagi para calon purna bakti untuk siap dan senang memasuki masa pensiun. Pemilihan komoditas pertanian yang menjadi bahan pelatihan juga berdasarkan keinginan para peserta sehingga bekal teknis dan manajemen untuk meningkatkan kemampuan wirausaha," kata Irwan JS melalui pernyataan tertulis.

Metode pelatihan dirancang secara cermat untuk mengakomodasi kebutuhan peserta dengan memadukan teori, praktik dan kunjungan lapangan di lingkungan STPP Magelang.

"Kami harapkan peserta mendapat bekal penting terkait teknik dan analisis kelayakan usaha pertanian yang akan digeluti, sehingga dana pensiun yang akan mereka terima dapat bermanfaat," kata Irwan JS.

Sementara kegiatan kunjungan lapangan untuk membuka wawasan mereka bahwa wirausaha sebagai kegiatan menyenangkan untuk menyalurkan bakat dan kemampuan sekaligus menjadi sumber pendapatan baru mereka.
RETIREMENT is a word that feels far away when you are still working with an important position. But retirement seemed to be coming very quickly, when it had to stop working because of age limit.

Employees who nearing retirement worry about in old age without activities. No salary. Just relying on pension fund. Despite that talk about ´retirement´ is often avoided because of is not easy to find a job in the elderly.

For those who are optimistic, retirement is not ´the end of the world´ and it was done by 715 people from Central Java Regional Police consisting of officers, non-commissioned officers, and civil servants to attend a four-day retirement skills training course at the end of February 2018.

They flocked to the training to meet the preparation period of retirement, and chose to become agropreneur after retirement. Most of them are men and some are women.

The training activities are organized by the Magelang´s Agriculture College or STPP Magelang faculty of livestocks extention was supported by Yogyakarta State University and Semarang State University appointed by Central Java Regional Police as the training resources.

"Training for police personnel and civil servants to enter retirement in an independent spirit to manage finances, become entrepreneurs in the agricultural sector, closer to God, and keep working," said Central Java Police Chief, Inspector General Condro Kirono.

Mr Kirono added that the agriculture sector especially farms was chosen because it is one of the entrepreneurial activities which can be developed with sufficient capital and relatively easy to do.

The Head of General Affairs of STPP Magelang, Irwan Johan Sumarno said in addition to training materials and field visit practices, also exhibited some downstream products of innovative technology innovations that can be developed into business alternatives.

Changes Attitudes
The training becomes important to change attitudes before the retirement, by changing the attitude of employees to become farmers as the work is fun, healthy, and benefit from the harvest into income for the family.

"The traiing is important as preparation for them to be ready and happy before the retirement. Selection of commodities into the training materials are also based on the interests of participants, so as to improve the ability to be entrepreneurs," Mr Sumarno said.

According to him, training methods designed to accommodate the needs of participants with a combination of theory, practice and field trips around STPP Magelang, farmland and agricultural entrepreneurs who successfully in Yogyakarta.

"We expect the participants have technical knowledge, and feasibility analysis of agriculture so that their pension funds would be beneficial," he said.

Mr Sumarno reminded the field trips aims to opened their minds that entrepreneurs in the agricultural sector as a fun activity according to their interests and abilities."