Pelamar 28.420 Diterima 795 Orang, Mentan Sebut CPNS Kementan `Orang-orang Pilihan`
Indonesian Agriculture Ministry Strictly Selects Prospective Civil Servants
Reporter : Gusmiati Waris
Editor : Cahyani Harzi
Translator : Dhelia Gani

PUBLISHED: Selasa, 12 Februari 2019 , 00:47:00 WIB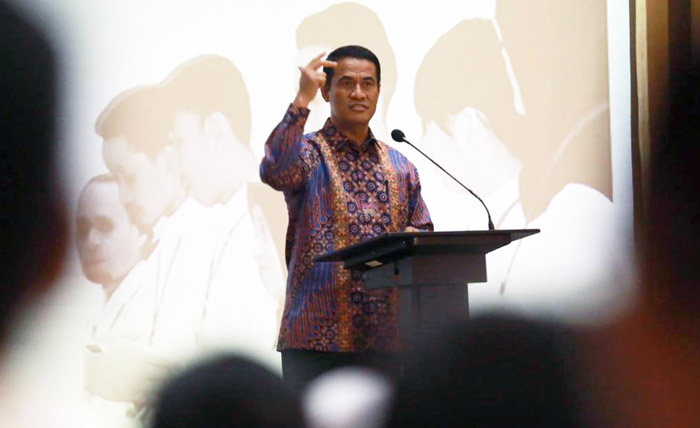 SELEKSI KETAT: Mentan Amran Sulaiman memberi arahan pada 795 CPNS baru Kementan formasi 2018 (Foto: Humas Kementan)
Jakarta (B2B) - Menteri Pertanian RI Andi Amran Sulaiman mengapresiasi 795 calon pegawai negeri sipil (CPNS) Kementerian Pertanian RI sebagai ´orang-orang pilihan´ lantaran seleksi ketat terhadap 28.420 orang pelamar online dari seluruh Indonesia, dan yang diterima hanya 795 orang untuk mengabdi sebagai aparatur sipil negara (ASN) pada 11 unit eslon satu Kementan.
"Setelah melalui seleksi ketat, objektif dan transparan, hari ini kalian berhasil bergabung dalam keluarga besar Kementerian Pertanian. Dari 28.420 orang pelamar, hanya 795 orang yang diterima, ini artinya kalian orang-orang pilihan," kata Mentan Amran Sulaiman dalam arahannya saat menerima CPNS baru di Jakarta, Senin (11/2).
Mentan berharap para CPNS tersebut dibina dengan baik agar menjadi generasi penerus sektor pertanian, untuk sukses sebagai pegawai harus dapat mengubah mindset (pola pikir), berdisiplin tinggi, petarung dan pantang menyerah terhadap tugas yang diberikan pimpinan, bekerja dengan sungguh-sungguh, dan belajar tanpa henti untuk menemukan inovasi-inovasi teknologi di bidang pembangunan pertanian.
"Saya berharap seluruh rangkaian pembekalan dan orientasi CPNS ini dapat mengubah pola pikir, pola tindak, dan lingkungan kerja CPNS menjadi Aparatur Kementerian Pertanian yang profesional dan bertanggungjawab" tegas Amran.
Kepala Biro Organisasi dan Kepegawaian Kementan, Abdul Halim mengatakan 795 CPNS terdiri dari formasi khusus, tamatan S1 dan S2, yang sebelumnya telah mengikuti seleksi kompetensi dasar dan telah memenuhi passing grade.
"Total 28.420 jumlah pelamar online yang tersaring hanya 795 orang. Mereka terdiri dari 77 orang lulusan cumlaude atau lulusan terbaik, 14 orang penyandang disabilitas, 14 orang dari Papua dan Papua Barat, dan 690 orang posisi umum," kata Abdul Halim.
Jakarta (B2B) - Indonesian Agriculture Minister appreciated 795 candidates for civil servants or the CPNS in the Agriculture Ministry as ´chosen people´ because of the rigorous selection of 28,420 online applicants across the country, and only 795 people passed the selection to serve as the CPNS.
"The selection is strict, objective and transparent, and today you have successfully joined the big family of the ministry. Of the 28,420 applicants, only 795 were accepted, meaning you were the chosen people," said Minister Sulaiman in his direction here on Monday (February 11).
Minister Sulaiman hopes that the CPNS will be properly fostered in order become the next generation of agricultural sector to be successful as employees must be able to change the mindset, discipline, fighter and never give up on the tasks given by the leader, work earnestly, and learn without stopping to find technological development in agricultural development.
"I hope the whole series of debriefing and orientation can change the mindset, action pattern, and work environment of CPNS become professional and responsible civil servants," Minister Sulaiman said.
Head of Organization and Personnel Bureau, Abdul Halim said 795 CPNS consisted of special formations, graduates of level one and two, who have taken basic competency selection and passed the passing grade.
"Total 28.420 online applicants, who passed only 795 people. They consist of 77 scholars cumlaude, 14 disabilities, and 14 from Papua and West Papua," Halim said.