795 CPNS Kementan 2019: Alokasi Terbanyak Karantina Pertanian, 220 Orang
795 CPNS for Indonesian Agriculture Ministry in 2019: Minister
Reporter : Gusmiati Waris
Editor : Cahyani Harzi
Translator : Dhelia Gani

PUBLISHED: Selasa, 12 Februari 2019 , 18:03:00 WIB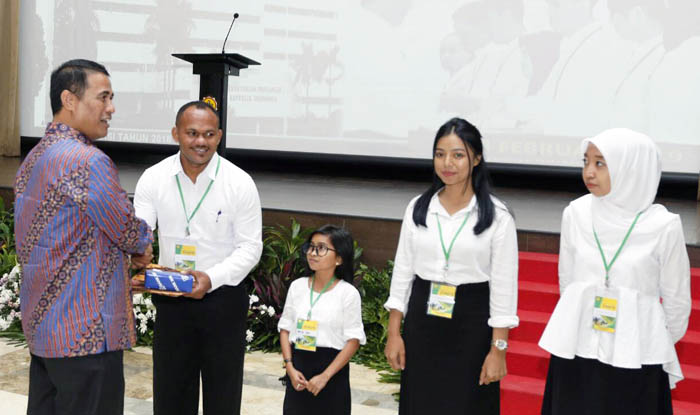 ARAHAN MENTAN: 795 CPNS Kementan 2019 terdiri atas 77 sarjana cumlaude, 14 penyandang disabilitas, 14 putra Papua dan 690 orang posisi umum (Foto2: Humas Kementan/Fajar)
Jakarta (B2B) - Badan Karantina Pertanian (Barantan) menerima alokasi terbanyak calon pegawai negeri sipil (CPNS) untuk 2019, 220 orang dari 795 CPNS Kementerian Pertanian RI, sementara Inspektorat Jenderal (ItJenTan) hanya mendapat 10 orang CPNS.
Sebanyak 795 CPNS baru Kementan diterima oleh Menteri Pertanian RI Andi Amran Sulaiman, yang mengingatkan mereka sebagai generasi penerus sektor pertanian dengan mengubah pola pikir, pola tindak dan lingkungan kerja CPNS menjadi aparatur kementerian yang profesional dan bertanggung jawab.
"Saya ucapkan selamat kepada saudara-saudara yang telah diterima menjadi CPNS di Kementan formasi 2018," kata Mentan Amran Sulaiman kepada 795 CPNS pada ´pembekalan dan orientasi CPNS´ di Jakarta, Senin (11/2).
Kepala Biro Organisasi dan Kepegawaian Kementan, Abdul Halim mengatakan 795 CPNS Kementan disebar pada 11 unit eselon satu: Badan Karantina Pertanian (Barantan) mendapat alokasi terbanyak, 220 orang; 211 CPNS di Badan Penelitian dan Pengembangan Pertanian (Balitbangtan), 97 CPNS di Direktorat Jenderal Peternakan dan Kesehatan Hewan (PKH), 77 CPNS di Badan Penyuluhan dan Pengembangan SDM Pertanian (BPPSDMP); 61 CPNS di Direktorat Jenderal Perkebunan; 46 CPNS di Sekretariat Jenderal (Setjen); dan 25 CPNS di Direktorat Jenderal Tanaman Pangan.
Sementara empat unit eselon satu lain mendapat alokasi di bawah 20 orang yakni: 18 CPNS di Direktorat Jenderal Prasarana dan Sarana Pertanian (PSP); 17 CPNS di Badan Ketahanan Pangan (BKP); 13 CPNS di Direktorat Jenderal Hortikultura; dan 10 CPNS di Inspektorat Jenderal (ItJenTan).
Abdul Halim menambahka CPNS baru akan ditempatkan di 11 unit eselon satu sesuai dengan formasi yang mereka lamar saat mendaftar, dan sebelum bekerja maka terlebih dahulu mendapatkan pembekalan di Pusat Pelatihan Manajemen dan Kepemimpinan Pertanian Ciawi Bogor (PPMKP Ciawi).
"Mereka akan mendapat orientasi selama dua hari yaitu pengarahan umum dan dua hari dibina secara teknis di masing-masing eselon satu," katanya.
Jakarta (B2B) - Director General of Indonesian Agricultural Quarantine or Barantan get the most prospective new civil servants, 220 of 795 CPNS at the Agriculture Ministry while the Inspectorate General or ItJenTan only gets 10 CPNS.
At least 795 new CPNS for the agriculture ministry´s audience with Minister Andi Amran Sulaiman, which reminded of their role as the next generation of Indonesia´s agricultural sector, must apply the mindset of a professional and responsible civil servant.
"I congratulate all of you who have been accepted as the CPNS in the ministry," said Minister Sulaiman here on Monday (February 11).
Head of Organization and Personnel Bureau, Abdul Halim said 795 new CPNS will be placed in 11 first echelon units: Barantan 220 CPNS; 211 CPNS for the Directorate General of Agricultural Research and Development or Balitbangtan; 97 CPNS for the Directorate General of Livestock and Animal Health; 77 CPNS for the Directorate General of Extension and Agricultural HR Development or the BPPSDMP; 61 CPNS for the Directorate General of Plantation; 46 CPNS for the Secretariat General; 25 CPNS for the Directorate General of Food Crops.
Meanwhile the other four first echelon units get CPNS under 20 people: 18 CPNS for the Directorate General of Agricultural Infrastructure and Facilities (PSP); 17 CPNS for the Directorate General of Food Security (BKP); 13 CPNS for the Directorate General of Horticulture; and 10 CPNS for ItJenTan.
Abdul Halim added before working they must first get debriefing at the Bogor´s Ciawi Management and Leadership Training Center or PPMKP Ciawi.
"They will get a two-day orientation for technical guidance in the ministry´s work unit," he said.