`Bakpia` 2019, BPPSDMP Tingkatkan Komunikasi Insan Pers dengan Kementan
Indonesian Govt Focus of Professional Agricultural HR Development
Reporter : Gusmiati Waris
Editor : Cahyani Harzi
Translator : Dhelia Gani

PUBLISHED: Rabu, 13 Maret 2019 , 00:47:00 WIB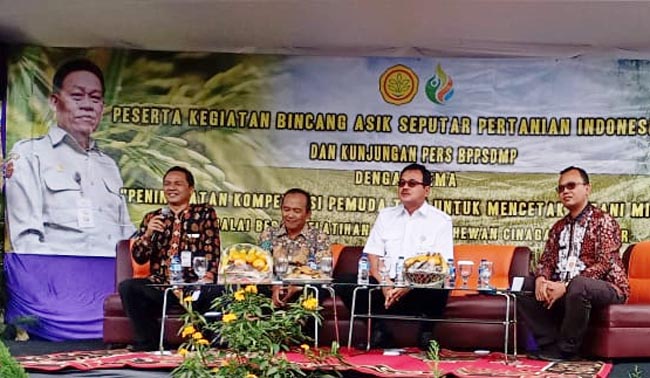 BINCANG ASYIK PERTANIAN: Kapuslat Bustanul AC (kemeja putih) menjawab pers didampingi Kepala Kepala BBPKH Cinagara, Wisnu Wasesa Putra (kanan) dan Kabid Eka Herisuparman (kiri) (Foto: B2B/Mya)
Bogor, Jabar [B2B] - Pers nasional berperan penting mendukung penyebarluasan informasi pembangunan pertanian, khususnya pengembangan SDM pertanian untuk meningkatkan produktivitas rakyat melalui masyarakat tani yang profesional, mandiri dan berdaya saing oleh tiga pilar Badan Penyuluhan dan Pengembangan SDM Pertanian - Kementerian Pertanian RI [BPPSDMP] yakni penyuluhan, pendidikan dan pelatihan.
"Visi pengembangan SDM pertanian dari Kementan adalah mewujudkan SDM pertanian profesional, mandiri, dan berdaya saing mendukung pencapaian kedaulatan pangan dan kesejahteraan petani. Pers berperan penting menyampaikan capaian tersebut kepada publik," kata Kepala BPPSDMP Kementan, Momon Rusmono dalam arahannya yang disampaikan oleh Kepala Pusat Pelatihan Pertanian [Puslatan] Bustanul Arifin Caya di Cinagara - Bogor, Selasa [12/3] saat membuka kegiatan Bakpia 2019.
Menurutnya, Pusat Penyuluhan Pertanian atau Pusluhtan melakukan penguatan fungsi balai penyuluhan pertanian sebagai kelembagaan penyuluhan pertanian di kecamatan. Pusat Pendidikan Pertanian (Pusdiktan) mengembangkan program Penumbuhan Wirausahawan Muda Pertanian [PWMP] sehingga lulusan dari lembaga pendidikan, Politeknik Pembangunan Pertanian [Polbangtan] sebagai job creator dan job seeker.
"Dari sisi peningkatan kompetensi SDM pertanian, Puslatan mengembangkan pelatihan teknis pertanian dengan menerapkan on the job trainning atau OJT melalui pelatihan tematik, sekolah lapang, dan kegiatan magang sehingga petani dapat lebih cepat mengadopsi teknologi baru, termasuk pengembangan Pusat Pelatihan Pertanian dan Perdesaan Swadaya atau P4S," kata Bustanul AC mengutip Momon Rusmono, yang berhalangan hadir karena memimpin kegiatan Pusdiktan di Bekasi, Selasa pagi.
Lebih dari 15 jurnalis mengikuti kegiatan ´bincang asyik seputar pertanian´ disingkat Bakpia atau lazim dikenal sebagai press tour [kunjungan pers] untuk meningkatkan komunikasi dan kemitraan BPPSDMP Kementan dengan media massa cetak, elektronik dan online. Bakpia 2019 BPPSDMP Kementan digelar di Balai Besar Pelatihan Kesehatan Hewan (BBPKH) Cinagara - Caringin, Kabupaten Bogor selama dua hari, hingga hari ini, Rabu (13/3). (Cha2)
Bogor of West Java [B2B] - Indonesian press plays an important role supporting the national agricultural development, in particular human resource development of agriculture to increase people´s productivity through the professional, independent and competitive farming communities by the three pillars of Directorate General of Extension and Agricultural HR Development at the Agriculture Ministry or the BPPSDMP namely agricultural extension, education and training.
"The vision of developing agricultural human resources is to realize professional, independent and competitive agricultural human resources to support the achievement of food sovereignty and welfare of farmers," said Director General of BPPSDMP, Momon Rusmono in his speech was delivered by Director of Agricultural Training Center here on Tuesday [March 12].
According to him, the Agricultural Extension Center or Pusluhtan is strengthening agricultural extension centers in the subdistrict supported by strengthening village agricultural extension services. The Agricultural Education Center or Pusdiktan developing the Agriculture Young Entrepreneur Development program or PWMP to increase the interests, skills and entrepreneurial spirit of the younger generation in the agricultural sector.
Related to the competency of agricultural HR, Agricultural Training Center or Puslatan develop agricultural technical training with training patterns ´on the job trainning´ or OJT through thematic training, field practice, and apprenticeship programs so farmers are faster to adopt new technologies," said Caya cited Rusmono.