Peluh Berpadu Lumpur tidak Halangi Mereka Masuk Istana Negara
Indonesia`s Best Farmers CIlebrate Independence Day in the Presidential Palace
Editor : M. Achsan Atjo
Translator : Dhelia Gani

PUBLISHED: Senin, 20 Agustus 2018 , 06:39:00 WIB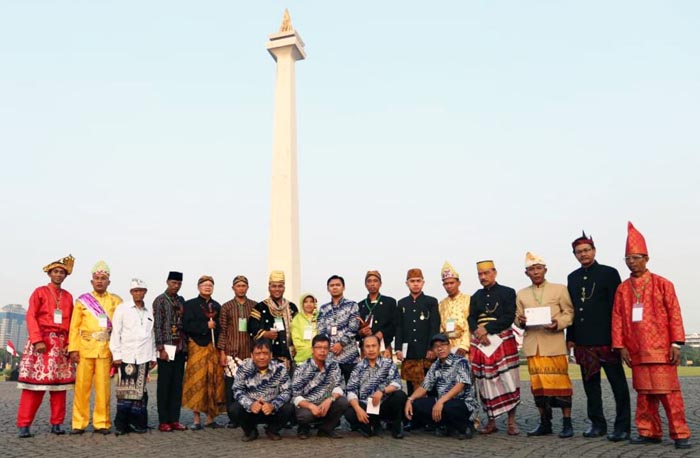 SOSOK TELADAN: Kasubbid Pemberdayaan Kelembagaan Petani - Pusluhtan, Yoyon Haryanto (batik berdiri) bersama 15 penerima penghargaan Kementan 2018 setelah dari Istana Negara (Foto2: Humas Pusluhtan)
FAHNIDA dari Kabupaten Hulu Sungai Utara, Provinsi Kalimantan Selatan tidak pernah menyangka pengabdiannya bagi kemajuan petani di Kecamatan Amuntai Tengah mengantarnya ke Jakarta, ibukota RI.
Bukan cuma itu, penyuluh pertanian THLTB-PP kelahiran Haruai, 30 Desember 1983 bersama 14 peraih penghargaan teladan dan berprestasi sektor pertanian juga berbangga, setelah diundang ke Istana Negara untuk menghadiri Upacara Detik-Detik Proklamasi Kemerdekaan 17 Agustus 1945 dipimpin Presiden Joko Widodo sebagai inspektur upacara bendera.
Kebanggaan dan rasa tidak percaya juga menghinggapi Ujang Margana, petani berprestasi dari Kabupaten Bandung, Jawa Barat. Meskipun perjalanan ke Jakarta bukan hal baru baginya lantaran kampung halamannya di Kecamatan Cimenyan hanya berjarak 150 km dari Jakarta, namun masuk Istana Negara sebagai ´tamu presiden´ adalah pengalaman sekali seumur hidup baginya.
Keberhasilan sebagai penangkar benih bawang merah bersama petani anggota Poktan Tani Tricipta yang dia dirikan pada 2015 mengantarnya berjumpa para petinggi Kementerian Pertanian.
Mereka antara lain Sekjen Kementan Syukur Iwantoro mewakili Menteri Pertanian Andi Amran Sulaiman, Kepala Badan Penyuluhan dan Pengembangan SDM Pertanian (BPPSDMP) Kementan, Momon Rusmono dan Kepala Pusat Penyuluhan Pertanian (Pusluhtan) Siti Munifah.
"Mereka mengaku senang, bangga sekaligus terharu karena jerih payah mereka diakui dan dihargai oleh negara," kata Kasubbid Pemberdayaan Kelembagaan Petani Pusluhtan - BPPSDMP Kementan, Yoyon Haryanto mewakili Kabid Penyelenggaraan Penyuluhan, Zahron Helmy.
Menurut Yoyon, mereka yang hadir di Istana Negara berharap di masa-masa mendatang akan lebih banyak para teladan dan berprestasi sektor pertanian bisa hadir di Istana Negara menyaksikan upacara bendera HUT Kemerdekaan RI.
Total ada 27 sosok teladan dan berprestasi yang meraih penghargaan dari Kementan; masing-masing tiga orang dari tujuh kategori yakni petani, gabungan kelompok tani (Gapoktan), kelembagaan ekonomi petani (KEP), penyuluh pertanian, balai penyuluhan pertanian (BPP), pusat pelatihan pertanian perdesaan swadaya (P4S), widyaiswara.
"Sosok teladan dan berprestasi diharapkan menjadi panutan dan motivator bagi petani dan generasi muda lainnya," kata Syukur Iwantoro mengutip Mentan usai menyerahkan penghargaan pemerintah pada Jumat siang (17/8).
FAHNIDA from Hulu Sungai Utara district in South Kalimantan provincde never thought of her service drove her to Jakarta, the capital of Indonesia, after hard work supporting farmers to increase strategic agricultural production.
Not only that, honorary agricultural extensionist were born in Haruai, 30 December 1983 with 14 colleagues across the country invited to the Presidential Palace to attend the commemoration of Indonesia´s Independence Day.
Pride and disbelief Pride are also experienced by Ujang Margana, outstanding farmers from Bandung regency, West Java. Although a trip to Jakarta is not new to him because of his hometown in Cimenyan sub-district only 150 km from Jakarta, but invited to the palace as a ´presidential guest´ is a once in a lifetime experience for him.
The success of breeding red onion seeds with members of the Tani Tricipta farmer group which he founded in 2015 led him to meet with officials of the agriculture ministry.
They include the Secretary General of Agriculture Ministry Syukur Iwantoro representing Minister Amran Sulaiman, the Director General of Agency for Agricultural Extension and Human Resources Development (BPPSDMP) Momon Rusmono and Head of the Agricultural Extensionist Center Siti Munifah.
"They claimed to be happy, proud and touched because their hard work was recognized and appreciated by the state," said Head of Subdivision for Farmer Institutional Empowerment Yoyon Haryanto represented the Head of Organizing Extentionist, Zahron Helmy.
According to Mr. Haryanto, those who attended the Presidential Palace hoped that in the future more farmers would visit Jakarta.
As is known, the Indonesian government annually awards the best farmers, the best agricultural economic institutions, the best agricultural extensionist, the best agricultural extensionist center, and the best agricultural lecturer after undergoing rigorous selection by the related directorates in the ministry.
"The best farmers and achievers are expected to be role models and motivators for farmers and young people," said Mr Iwantoro.