Direktur Polbangtan, Mentan Lantik Rajiman Pimpin Kampus Yogyakarta - Magelang
Indonesian Minister Inaugurate Directors of Agricultural Development Polytechnic
Editor : M. Achsan Atjo
Translator : Dhelia Gani

PUBLISHED: Selasa, 13 November 2018 , 07:58:00 WIB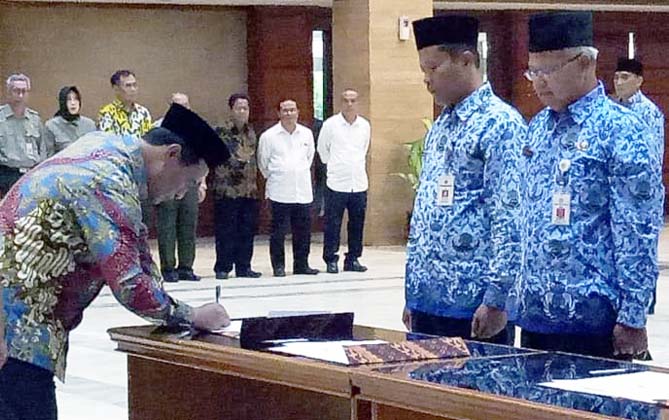 PENDIDIKAN VOKASI: Mentan Andi Amran Sulaiman menandatangani SK pengangkatan Dr Rajiman SP, MP sebagai Direktur Polbangtan Yogyakarta - Magelang.(Foto: Polbangtan Yoma/Irwan Johan Sumarno)
Jakarta (B2B) - Dr Rajiman SP, MP, salah satu dari enam dosen senior Politeknik Pembangunan Pertanian (Polbangtan) dilantik sebagai Direktur Polbangtan Yogyakarta - Magelang oleh Menteri Pertanian RI Andi Amran Sulaiman di Jakarta, Senin (12/11). Keenam diirektur Polbangtan dilantik Mentan bersamaan dengan pelantikan sembilan pejabat struktural di Kementerian Pertanian RI.
Lima dosen senior lain yang dilantik menjadi direktur Polbangtan adalah Ir Yuliana Kansrini M.Si sebagai Direktur Polbangtan Medan; Dr Ir Siswoyo MP (Bogor), Dr Bambang Sudarmanto S.PT, MP (Malang); Dr Ir Syarifuddin, MP (Gowa); dan Drh Purwanta, M.Kes (Manokwari) untuk memimpin pengembangan perguruan tinggi di lingkungan Kementan di bawah koordinasi Badan Penyuluhan & Pengembangan SDM Pertanian (BPPSDMP).
"Polbangtan merupakan contoh pendidikan tinggi vokasi pertanian bertaraf internasional. Polbangtan merupakan masa depan pertanian Indonesia, yang nantinya harus kuat serta mampu bersaing dengan negara lain," kata Mentan Amran Sulaiman dalam arahannya usai pelantikan yang dihadiri sejumlah pejabat eselon satu dan dua Kementan.
Mentan Amran Sulaiman mengatakan transformasi Sekolah Tinggi Penyuluhan Pertanian (STPP) menjadi Polbangtan merupakan pengejawantahan komitmen Pemerintah RI mengantisipasi perubahan dan tantangan sektor pertanian ke depan, sekaligus implementasi UU Pendidikan Tinggi, yang mensyaratkan konsep pembelajaran yang menekankan praktik 70% melalui teaching factory disingkat TeFa ketimbang teori hanya 30%.
"Transformasi STPP menjadi Polbangtan bukan sekadar mencetak tenaga terampil di sektor pertanian. Lebih dari itu, menciptakan para wirausahawan muda pertanian. Lulus dari Polbangtan harus menjadi job creator, bukan mencari kerja," kata Mentan.
Menurutnya, STPP yang semula berorientasi menghasilkan penyuluh pertanian dan peternakan, maka lulusan Polbangtan diarahkan menjadi job creator yang berjiwa wirausaha atau socioagropreneur dengan keahlian tertentu di bidang pertanian, peternakan, dan perkebunan.
"Kami harapkan kerja keras para direktur mengawal Polbangtan menjadi agen perubahan di sektor pertanian, untuk menghadapi tantangan pertanian masa depan," kata Mentan.
Jakarta (B2B) - Dr. Rajiman SP, MP is one of six senior lecturers of Indonesia´s Agricultural Development Polytechnic or the Polbangtan appointed as the Director of Polbangtan Yogyakarta - Magelang by Indonesian Agriculture Minister Andi Amran Sulaiman here on Monday (November 12).
Five other senior lecturers who were appointed as the directors of Polbangtan were Ir Yuliana Kansrini M.Sc as Director of Polbangtan Medan, Dr Bambang Sudarmanto S.PT, MP (Malang); Dr Ir Syarifuddin, MP (Gowa); and Drh Purwanta, M.Kes (Manokwari) to lead development of higher education in agriculture ministry under coordination of Directorate General of Agricultural HR Development or the BPPSDMP.
"Polbangtan is Indonesian vocational higher education with international standards as the future of Indonesian agriculture," Minister Sulaiman said in his direction after the inauguration of the second echelon officials at the ministry.
Minister Sulaiman said the transformation of the Agricultural Extension College or the STPP into Polbangtan is manifestation of the commitment of Indonesian government to anticipate change and challenges of the agricultural sector going forward, as the implementation of the University Education Law, which requires a learning concept that emphasizes 70% practice and 30% theory through the teaching factory or TeFa.
"The transformation is not just forming skilled scholars in the agricultural sector. More than that, creating young agricultural entrepreneurs. The Polbangtan graduates must be job creators, not looking for work," Minister Sulaiman said.
According to him, STPP which was originally oriented for agricultural and livestocks extension, then the Polbangtan graduates were directed to be job creators with entrepreneurial spirit or socioagropreneur with certain expertise in agriculture, livestocks and plantations.
"We hope hard work of the directors will oversee the Polbangtan as an agent of change in the agricultural sector to face the challenges of future agriculture," Minister Sulaiman said.