Klasifikasi Baku Jabatan Indonesia, Puslatan dan BNSP Susun Peta Okupasi Pertanian
Indonesian Govt Compiled Occupational Maps of the Agricultural Sector
Editor : M. Achsan Atjo
Translator : Dhelia Gani

PUBLISHED: Jum'at, 28 Desember 2018 , 09:43:00 WIB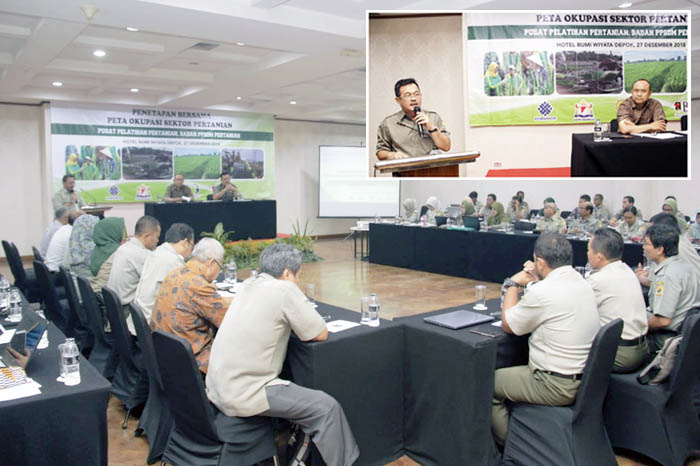 SONGSONG KBJI: Kepala Puslatan, Bustanul Arifin Caya (inset) membuka Rakor mewakili Kepala BPPSDMP Kementan, Momon Rusmono, pembicara utama Ir Surono M. Phil dari BNSP (Foto2: Humas BPPSDMP/Eka Saputra)
Depok, Jabar (B2B) - Lebih dari 50 peserta mengikuti penetapan bersama peta okupasi dalam kerangka kualifikasi nasional Indonesia area fungsi sektor pertanian di Depok, Kamis (27/12) yang diadakan Kementerian Pertanian RI bekerjasama dengan Badan Nasional Sertifikasi Profesi (BNSP) untuk menyempurnakan Peta Okupasi Profesi Sektor Pertanian dalam ´kerangka kualifikasi nasional area fungsi pertanian´ akan menjadi bagian dari Klasifikasi Baku Jabatan Indonesia (KBJI).
Kepala Pusat Pelatihan Pertanian (Puslatan) Bustanul Arifin Caya mengatakan Kementan menyadari penyusunan peta okupasi SDM pertanian sangat penting untuk mengetahui kebutuhan pasar sesuai keahlian di sektor pertanian, yang dipetakan oleh Badan Penyuluhan dan Pengembangan SDM Pertanian (BPPSDMP), dan Puslatan akan mengembangkan pelatihan vokasi sesuai kebutuhan pasar, dunia usaha dan industri di Indonesia.
"Penyusunan peta okupasi profesi sektor pertanian mengacu pada area fungsi bidang tertentu, yang merupakan alternatif strategi percepatan dalam rangka memenuhi tuntutan profesi dunia usaha dan industri," kata Bustanul AC didampingi Kepala Bidang Standardisasi Sertifikasi Profesi Puslatan, Zuroqi Mubarok.
Menurutnya, penyusunan peta okupasi profesi berdasarkan pada ´okupasi´, maksudnya adalah sekumpulan pekerjaan yang mempunyai rangkaian tugas yang sama atau berhubungan satu dengan yang lainnya. Dalam pelaksanaan tugas tersebut memerlukan kecakapan, pengetahuan, keterampilan, dan kemampuan yang juga sama.
"Peta okupasi tersebut akan dijadikan acuan oleh dunia usaha dan industri serta dunia pendidikan dan pelatihan dalam mengembangkan standar khusus, nasional maupun internasional," kata Bustanul AC.
Peta okupasi yang tersusun akan disepakati bersama antara Kementan, Kementerian Ketenagakerjaan, Badan Perencanaan Pembangunan Nasional (Bappenas), Kamar Dagang dan Industri (Kadin) dan BNSP, yang selanjutnya akan dijadikan acuan oleh Bappenas dalam perencanaan tenaga kerja nasional (national manpower planning), dan digunakan untuk menentukan kebutuhan standar khusus, nasional, dan internasional.
"Sektor pendidikan dapat menggunakan peta okupasi sektor pertanian untuk menentukan pilihan profesi berdasarkan setelah lulus sekolah atau kuliah, sehingga dapat digunakan untuk dunia usaha dan industri dan fokus pada personal branding," kata Bustanul AC.
Depok of West Java (B2B) - More than 50 participants attended a working meeting occupational map of the agricultural sector here on Thursday (December 27), held by Indonesian Agriculture Ministry with National Professional Certification Board to complete the Agriculture Sector Professional Occupation Map which will be part of Standard Classification of Indonesian Job Positions.
Director of Indonesian Agricultural Training Center, Bustanul Arifin Caya said the ministry realizes that the preparation of occupational maps of agricultural HR is very important to find out the market needs according to expertise in the agricultural sector, which was mapped by Directorate General of Extention and Agricultural Human Resource Development or BPPSDMP to developing vocational training according to the needs of business and industry in Indonesia.
"Compilation of professional occupational maps in the agricultural sector refers to the functions of certain fields, which is an accelerating strategy to meet the professional demands of the business and industry," said Mr Caya who was accompanied by Head of Professional Certification Standard, Zuroqi Mubarok.
Occupational profession is a group of jobs with the same set of tasks or related to others. which requires the same skills, knowledge, skills and abilities.
"The occupational map will be used as a reference by business, industry, education and training to developing special, national and international standards," Mr Caya said.
Map occupational profession are arranged to be mutually agreed upon by the Agriculture Ministry, Manpower Ministry, National Development Planning Agency or Bappenas, Indonesian Chamber of Commerce and Industry or Kadin, and BNSP, which will then be used as a reference by Bappenas in national manpower planning, and is used to establish specific standards requirements, national, and international.
"The education sector can use occupational maps of the agricultural sector to determine profession choices based on graduating from school or college, so that it can be used by business and industry and focus on personal branding," Mr Caya said.