Antisipasi Kemarau, PJ Upsus Sumsel Pimpin Olah Lahan se-Provinsi
Indonesian Govt Anticipates the Dry Season in South Sumatra province
Editor : M. Achsan Atjo
Translator : Dhelia Gani

PUBLISHED: Rabu, 22 Agustus 2018 , 10:11:00 WIB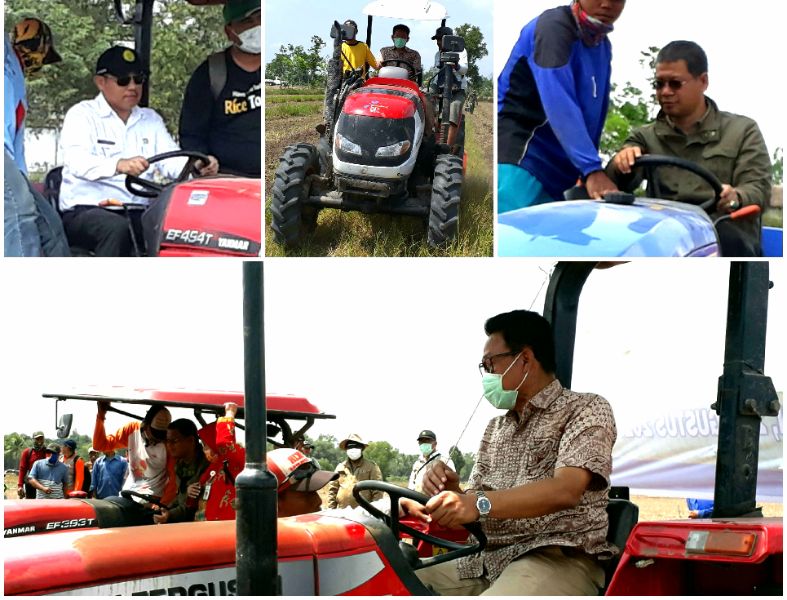 OLAH LAHAN: PJ Upsus Sumsel, Momon Rusmono (bawah) kemudikan TR4 pimpin olah lahan di Banyuasin; PJ Upsus Banyuasin, Andriko Ns (kanan atas) dan Kabid TP Pemprov Sumsel, Ilfantara (Foto2: B2B/Mac)
Banyuasin, Sumsel (B2B) - Mengantisipasi musim kemarau di Provinsi Sumatera Selatan pada Agustus 2018, PJ Upsus Momon Rusmono memutuskan untuk ´roadshow` memimpin olah lahan persawahan di seluruh kabupaten diawali dari Kabupaten Ogan Ilir pekan lalu, dilanjutkan ke Banyuasin hari ini (21/8) dan Kamis depan (23/8) di Ogan Komering Ilir.
"Kita manfaatkan puncak kemarau, Agustus ini, untuk optimalkan olah lahan sehingga September dan Oktober menjadi puncaknya tanam setelah turun hujan," kata Momon Rusmono kepada pers usai memimpin olah lahan di Desa Telang Jaya, Kecamatan Muara Telang, siang ini.
Pengolahan lahan sebelum menanam padi menjadi kunci keberhasilan panen, karena lahan sawah merupakan tempat mengambil cadangan hara yang dibutuhkan tanaman padi. Pertumbuhan tanaman akan dipengaruhi sejauh mana proses pengolahan sebelum menanam padi.
Perjalanan ke Banyuasin dengan speedboat via Sungai Musi selama 1,5 jam dan naik mobil pengangkut beras melintasi jalan desa yang rusak dan berdebu, tak menyurutkan langkah Momon Rusmono dan PJ Upsus Banyuasin, Andriko Notosusanto memimpin olah lahan.
"Kami sengaja sediakan waktu ke sini meski perjalanannya tidak mudah, tapi kami senang dapat mengemudikan sendiri TR4. Asyik kok kayak bawa mobil, bedanya hanya pada azas manfaat," kata Momon.
Keduanya mengemudikan sendiri traktor roda empat (TR4) didampingi operator dari usaha pelayanan jasa Alsintan (UPJA) setempat untuk mengolah lahan.
Tampak hadir Kabid Tanaman Pangan Dinas Pertanian Pemprov Sumsel, Ilfantara; Pasiter Korem 044/GAPO Letkol Ferianda, dan Pabandya Kodam II/Sriwijaya Letkol Debok; Tim Upsus PJ Sumsel, Revo Agri Muis; Tim Upsus Banyuasin Siti Nurjanah dan Septalina Pradini; Kepala SMK-PPN, Matobii; dan Korlap BPP Edi Sarwono.
Banyuasin of South Sumatera (B2B) - Anticipate the dry season of Indonesia´s South Sumatra province or the Sumsel in August 2018, Person in Charge of Increase Rice Production for the Sumsel, Momon Rusmono lead the processing of rice fields in all districts of the province from Ogan Ilir district last week, continued to Banyuasin yesterday and next Thursday (August 23) in Ogan Komering Ilir district.
"We take advantage of the peak of the dry season, this August to optimize the cultivation of paddy fields so that September and October become the peak for planting after rain," Mr Rusmono told the press here yesterday (August 21).
The land cultivation before rice planting is the key to success of rice harvest, because rice fields are a place to take the nutrient reserves needed by rice. The growth of rice plants will be affected by the extent of processing before planting.
Going to Banyuasin district by speedboat via the Musi River for 1.5 hours then hitching a rice transport vehicle across a broken and dusty village road, not dampening Mr Rusmono and PJ Upsus Banyuasin, Andriko Notosusanto led the rice field processing activities.
"We provide time to come here even though it is far and difficult to reach but we are happy to help farmers," Mr Rusmono said.
They drove a four-wheeled tractor engine accompanied by an operator hired from a local agricultural machinery rental.