Bukan cuma Tim Medis, Petani dan Penyuluh juga Pejuang Lawan Covid-19
Indonesian Agriculture Anticipate Covid-19 by Weaker Health Systems
Reporter : Gusmiati Waris
Editor : Cahyani Harzi
Translator : Dhelia Gani

PUBLISHED: Jum'at, 17 April 2020 , 10:12:00 WIB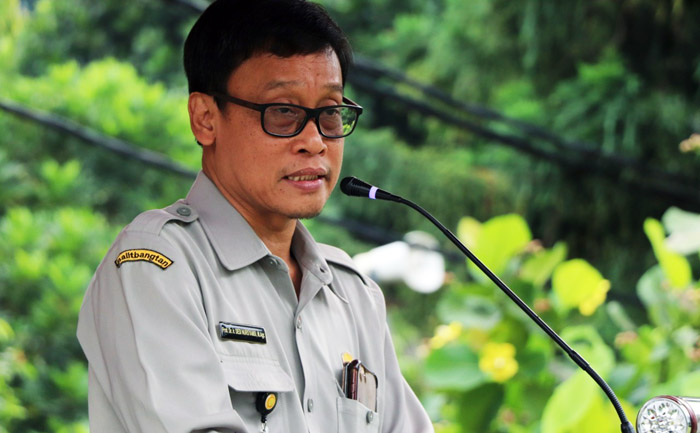 KOMITMEN PERTANIAN: Kepala BPPSDMP Kementan, Prof Dedi Nursyamsi mengingatkan tentang tantangan-tantangan baru yang harus bisa dihadapi dan diadaptasi oleh masyarakat, tak terkecuali penyuluh dan petani [Foto: Humas BPPSDMP]
Jakarta [B2B] - Di tengah keprihatinan adanya pandemi Covid-19 saat ini ternyata tidak menyurutkan semangat para penyuluh dan petani meningkatkan kinerjanya dengan memanfaatkan Kostratani yang ada di tiap Kecamatan. Apabila saat ini orang banyak berdiam diri di rumah, tidak demikian halnya penyuluh pertanian dan petani yang setiap harinya bekerja di lahan pertanian demi mendukung ketersediaan pangan.
Menteri Pertanian RI Syahrul Yasin Limpo [SYL] mengatakan sejak awal dengan Kostratani, pertanian lebih maju mandiri bahkan dengan pengolahan menggunakan tehnik yang lebih modern.
"Pertanian harus menjadi kekuatan bangsa ini dengan menggunakan teknologi yang lebih baik, memanfaatkan sains dan riset yang lebih kuat untuk menghadirkan kemampuan-kemampuan kita," tegas Mentan Syahrul.
Menghadapi pandemi Covid 19, Mentan SYL menegaskan masyarakat tidak perlu khawatir soal pangan, 11 komoditas bahan pokok dikawal pemerintah secara intens.
Terbukti di beberapa kabupaten dan provinsi panen padi tengah berlangsung yang sebagian besar berlangsung hingga Mei dan Juni 2020. Ini artinya ketersediaan stok pangan kita aman.
Seperti dilaporkan oleh Harijanti, Kostratani BPP Panko, Pulang Pisau, Kalimantan Tengah menyampaikan di wilayahnya saat ini sudah tanam untuk mengejar panen. "Kami tetap semangat tanam, meskipun Covid-19 kami tetap ada di lapangan. Kami takut sama Covid-19, tapi kami lebih takut jika pasokan pangan kurang," kata Harijanti.
Kepala Badan PPSDMP, Dedi Nursyamsi juga menegaskan langsung kepada penyuluh, petani dan dan petani milenial melalui videoconference KostraTani pada Jumat [17/4] tentang dampak pandemi Covid 19 mempengaruhi perekonomian bangsa, namun tidak demikian halnya dengan pertanian, yang justru makin kokoh berdiri lantaran dukungan kinerja petani dan penyuluh yang tetap bekerja di lapangan mengejar pencapaian produksi pangan.
"Masyarakat Indonesia semua butuh pangan. Dari pangan yang sehat dan bergizi maka akan membuat imunitas tubuh yang kuat, otomatis membuat bangsa kita sehat. Dan ketersediaan pangan dan olahan yang sehat itu semua berkat kalian sebagai pahlawan pertanian, sebagai pejuang dalam melawan Covid-19 ini," kata Dedi Nursyamsi.
Dia mengingatkan tentang tantangan-tantangan baru yang harus bisa dihadapi dan diadaptasi oleh masyarakat, tak terkecuali penyuluh dan petani, maka para pelaku utama dan pelaku usaha ini agar memanfaatkan perkembangan teknologi.
"Sekarang penyuluh dalam memberikan penyuluhan sudah bisa menggunakan sistem online, video conference, Petani menggarap lahan menggunakan mekanisasi Alsintan, Petani milenial menjadi start up pertanian, menggunakan metode distribusi yang kekinian bahkan meraup omzet hingga puluhan dan ratusan juta. Ini yang dimaksud pertanian maju, mandiri dan modern. Apalagi ditengah masa Covid 19 seperti ini, semua peluang ada di sektor pertanian. Semua bisa produktif karena pertanian tidak boleh berhenti", kata Dedi Nursyamsi. [Cha]
Jakarta [B2B] - Indonesia´s Agriculture Ministry is in intensive care after testing positive for the novel coronavirus, as civil servants in head office and across the country were ordered to close over the health threat. The World Health Organization has said it is particularly concerned about high-risk nations with weaker health systems, which who may lack the facilities to identify cases, according to senior official of Indonesian Agriculture Ministry.